SSBF Success Stories
YES FORCE Training Program
YES FORCE Training Programme for newly recruited Customer Relationship Partners (CRPs) and Business Relationship Partners (BRPs) from 11.04.2016 to 06.05.2016.
SSBF was selected by YES BANK to run a four week long non-residential Induction Programme for a batch of 26 newly recruited Customer Relationship Partners (CRPs) and Business Relationship Partners (BRPs) who have been deployed in the Bank's Retail Banking Channel. The programme was held in the SSBF campus. The course structure – comprising banking and product related subjects, soft skills, confidence building and communication skill development modules was specially developed by SSBF in consultation with YES BANK to build, hone and strengthen the knowledge base and skill sets of the participants so as to make them industry ready in the shortest possible time. In preparation for the programme, YES BANK organised a special Train-the-Trainer workshop at their head office in Mumbai after which the programme was taken forward by our selected Trainers who possess the relevant domain knowledge and prior industry work experience. The sessions were lively and highly interactive with a plethora of role plays, case studies and situation settings. On two weekends, participants were assigned tasks to be completed at their branches. Their performance was closely monitored through regular written tests. The programme was a resounding success and was greatly appreciated by the Bank.
Union Bank of India (UBI) - Orientation Training Program
SSBF Conduced Orientation Training Program for Union Bank employees (for Officers) at SSBF from 18th January to 25th January 2017. Total 50 employees attended the training program. Program content was developed to suit Institute of Banking Personnel Selection (IBPS) exam for the promotion of employees. It was designed in such a way that Technical and Soft skills aspects are covered.
SSBF also Conduced Orientation Training Program for Union Bank employees (for Clerical) at SSBF from 5th Apr to 12th Apr 2017.Total 40 employees attended the training program.
SSBF conducted Union Bank of India Orientation Training Program for their employees in the month of May 2018. Total 28 employees participated in the program.
SSBF has conducted Union Bank of India Orientation two Training Programs simultaneous for Officers in the month of January.
Total 185 executives have participated in the program.
Overall program was a great success.
Also conducted Orientation program for Union Bank of India for their employees in the month of May and June 2019. Total 98 employees participated.
SSBF has successfully conducted Orientation Training Program for two batches simultaneously for the officer`s levels in the month of January.
Total 130 executives have participated in the program
Training Programme for Union Bank of India
Date: 12th October 2022 to 20th October 2022
Duration: 10.00 am to 5.00 pm
Number of Attendees:Around 60 Officials
Training Description On 12th October 2022, Symbiosis School of Banking and Finance organized the training Programme for the Union Bank of India Officials on Orientation Training Programme for Promotion from Clerical to Officer at Sandipani (Learning and Development Centre).
The Training program started with welcoming the participants and followed by the screening for SIU film, SSBF film and other offerings of SSBF.
The Zonal Head of Union Bank of India attended the Inauguration.
This training mainly covered the topics like Commercial Law, Practical Banking, Accountancy, English and IT awareness.
The accountancy sessions were conducted by Dr. Neha Parashar (Director – SSBF) and Dr. Deepa Pillai (Faculty – SSBF) with lecture and other fun activity. English Sessions were conducted by Ms. Beena Mandrekar. All participants enjoyed the learning activity.
The Lunch was arranged at Sandipani in Mkahawa Café participants enjoyed the food and were impressed with Sandipani infrastructure and accommodation facilities.
Few Participants expressed their views. Overall Feedback was taken from the Participants.
Overall take away from this training programme for the participants were that they gained more knowledge on the topics mentioned above. This helped them in building confidence and motivation towards their work.
The training session was closed by the vote of thanks and group photograph.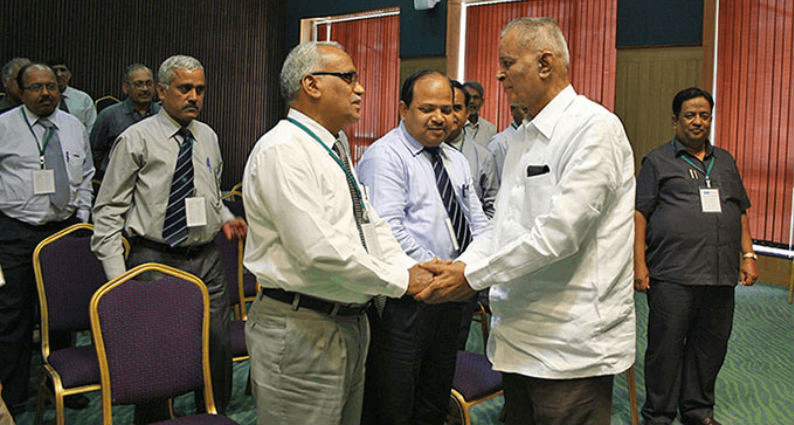 As part of the initiative to expand its presence in the field of higher level banking training and education, SSBF has been actively marketing its capabilities as a centre of excellence in this field. As a result, it was entrusted with the mandate to train recently promoted senior executives of a leading public sector bank in critical aspects of banking, leadership and management skills, decision making, stress management and effective communication.
Over a period of 6 weeks during the months of July and August 2013, SSBF conducted two very successful, fully residential Executive Training Programmes for senior bank executives at the University's facilities on the Lavale Campus.
These were as under:
Executive Training Programme for recently promoted Chief Managers (SMGS IV).
Executive Training Programme for recently promoted Assistant General Managers (SMGS V).
The course curricula for both these programmes were exclusively designed by SSBF in consultation with the bank. The pedagogy involved a mix of lectures, interactive discussions, role plays, audio-video clips and also the screening of a movie with the objective of analyzing it from the angles of team management, strategic planning, stress management, use of technology etc. A highly professional group of local and outstation faculty and trainers was tapped by SSBF to deliver the course content in the manner decided by SSBF and the Bank.
In addition, with a view to giving the participants a holistic experience, the day began with a one hour Fitness and Wellness Session conducted by the SCHC in Lavale. This was very well received and also helped set the tone for the day's events and activities.
The programme for Chief Managers successfully trained 150 executives in four weekly batches.
The one week programme for AGMs successfully trained over 30 executives in several critical aspects related to their higher management roles and functions. The programme was further embellished with an extremely well received panel discussion on the subject of Corporate – Banking Interface and the Expectations of the Corporate Sector from Banks. Experts from Industry, a chamber of commerce and the banking industry brought in a variety of perspectives and shared their thoughts with participants in a very lively and active session.
The programme commenced with a ceremonial Inaugural Function. Each succeeding weekly programme started with a formal inauguration programme. Members of the Management of the University who kindly graced these events were the Dr. Vidya Yeravdekar, Principal Director, Symbiosis Society, Dr.Rajani Gupte, Vice–Chancellor [SIU], Brigadier Rajiv Divekar, Director SIMS, Dr. Rajiv Yeravdekar, Director SCHC and Dr. Bhama Venkataramani, Director SSBF & Dean of Faculty of Management.
SSBF is currently in talks with a variety of banks in the public, private and cooperative sectors with offerings of customized training programmes for them and based on their needs.
SSBF successfully conducted 2 batches of Executive Development Program for Canara Bank.