Guest Lectures (Years)
On the 18th of February 2023, the distinguished Alumni Committee of Symbiosis School of Banking and Finance hosted an event wherein Mr. Siddharth Raghuvanshi, a notable alumnus of the 2016-18 batch and co-founder of Birds of Paradyes, was invited to share his entrepreneurial journey with the students. The event was marked by Mr. Raghuvanshi's insightful anecdotes and the valuable lessons he imparted to the attendees.
During the interactive session, Mr. Raghuvanshi was asked a range of questions regarding his prior experiences before embarking on his entrepreneurial journey. The students inquired about the inception of his hair colour company, his experience of raising equity at the famed Indian television show "Shark Tank India," and his takeaways from the show.
Mr. Raghuvanshi graciously responded to each query, highlighting his varied experiences in the corporate world and the small business he had started with his graduation friends. He shared how his prior work experiences had instilled discipline and given him a unique perspective on the corporate world. He also recounted the fascinating story of how his wife's interest in hair colour sparked the idea for Birds of Paradyes, a unique concept in the temporary hair colour industry.
Furthermore, Mr. Raghuvanshi provided valuable insights into his experience of raising equity at "Shark Tank India," dispelling popular myths and misconceptions about the show. He explained how the process was a long and rigorous one, involving extensive background checks and restrictions such as not meeting the sharks beforehand. He also highlighted the tremendous learning opportunities the experience offered him.
The session concluded with an engaging Q&A session, where students had the opportunity to seek further guidance and advice from Mr. Raghuvanshi. Overall, his inspirational journey left an indelible impression on the students, providing them with invaluable motivation and insights into the world of entrepreneurship.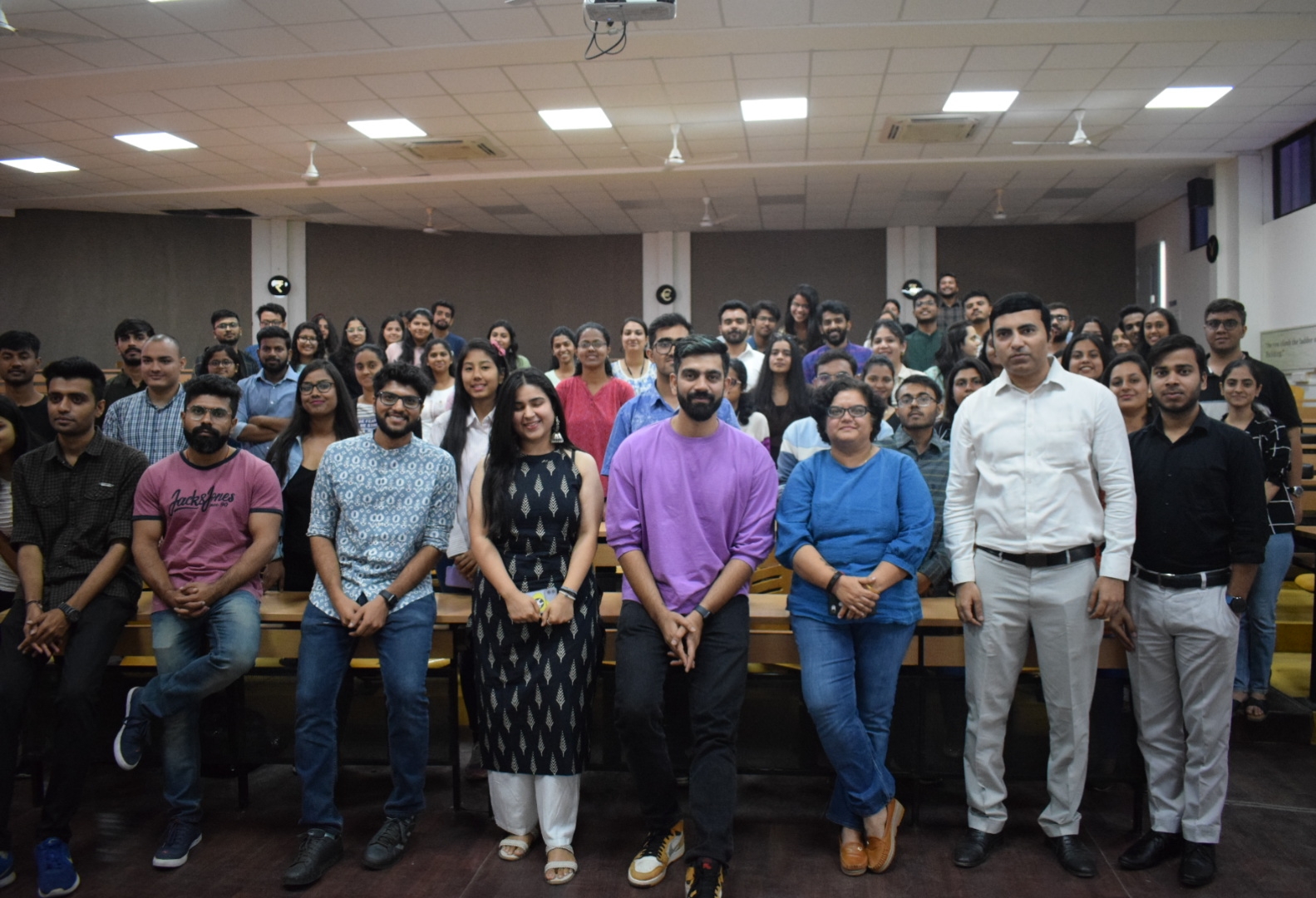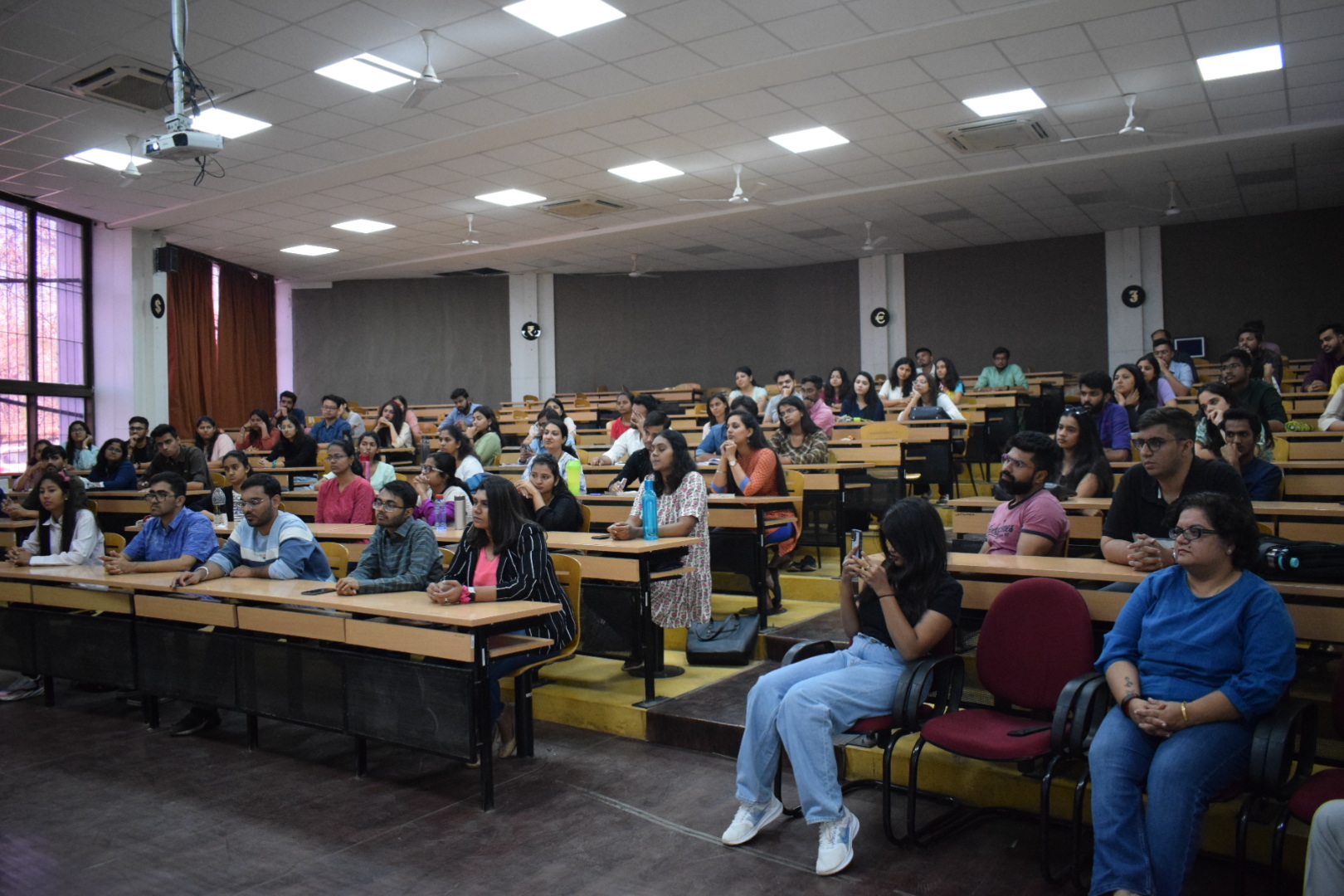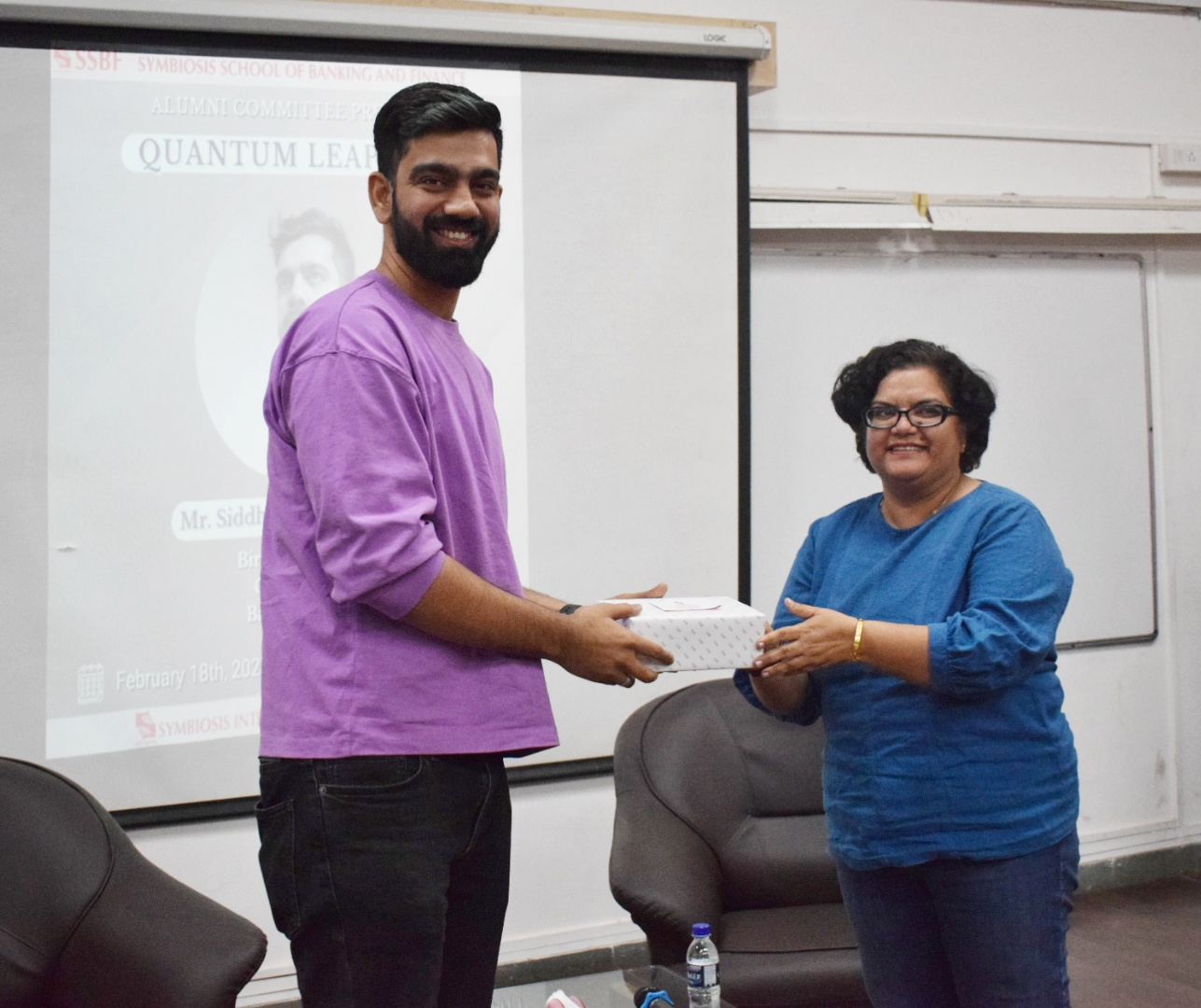 Symbiosis School of Banking and Finance hosted a guest lecture on Fundamental and Technical analysis on June 9, 2023. Mr. Puratan Bharti, who serves as a mentor at AIM (Niti Aayog), led the workshop. He also serves as a business mentor at IIT Bombay and a faculty advisor at NSE Academy.
Sir began the discussion by outlining the significance of comprehending the capital structure of the organisation in order to analyse it. He also mentioned the value of operating leverage and the Debt-to-Equity ratio while analysing diverse organisations. Giving the example of Maruti Suzuki, whose D/E ratio is nearly non-existent, demonstrates that it is a company culture. He went on to say that borrowing money is part of both the family and business culture by using several examples. He added that it's crucial to look at a company's capital utilisation when conducting a technical examination of it.
The students learned a lot throughout the session and gained knowledge. It was a very informative session for the batch, and we are eager to attend many more such sessions.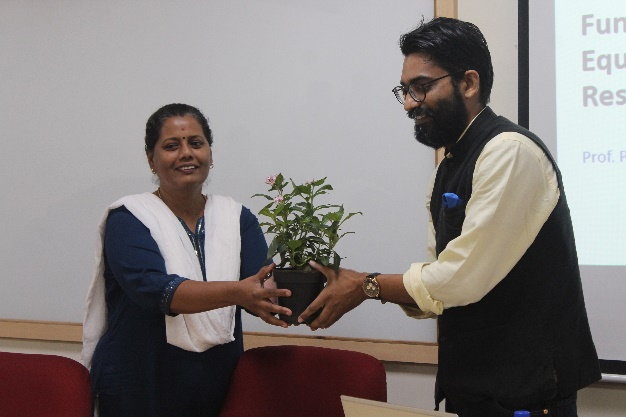 A session on trading derivatives was held on June 8th, 2023, at the Symbiosis School of Banking and Finance.by Mr Rakesh Nair .  Sir is a senior faculty member for financial markets at BSE Institute Ltd. and a professional in the capital markets. Sir has worked as the head of research at a brokerage and advising institution for almost three years. He combines his academic and trading interests to develop, present, and analyse trading ideas and scholarly insights. Sir has instructed more than 1000 students in fiance and economics over the past 10 years while working as a trainer/RP in prestigious educational institutions.
Sir shared his knowledge of futures trading with us and provided us with insightful examples from daily life. He spoke about the numerous trading methods for derivatives and how the real world is very different from what we study in textbooks.
Additionally, Sir discussed implied volatility (IV), a crucial idea, and how to strategize using it. He stated that it is better to buy the higher the IV and vice versa. He also provided us a very crucial tip to bear in mind while trading, namely that when dealing in derivatives, the person who accepts the offer always has the right to make the decision.
The Students learned a lot throughout the four hours of instruction and gained knowledge. It was a very informative session for the batch , and we are eager to attend many more such sessions.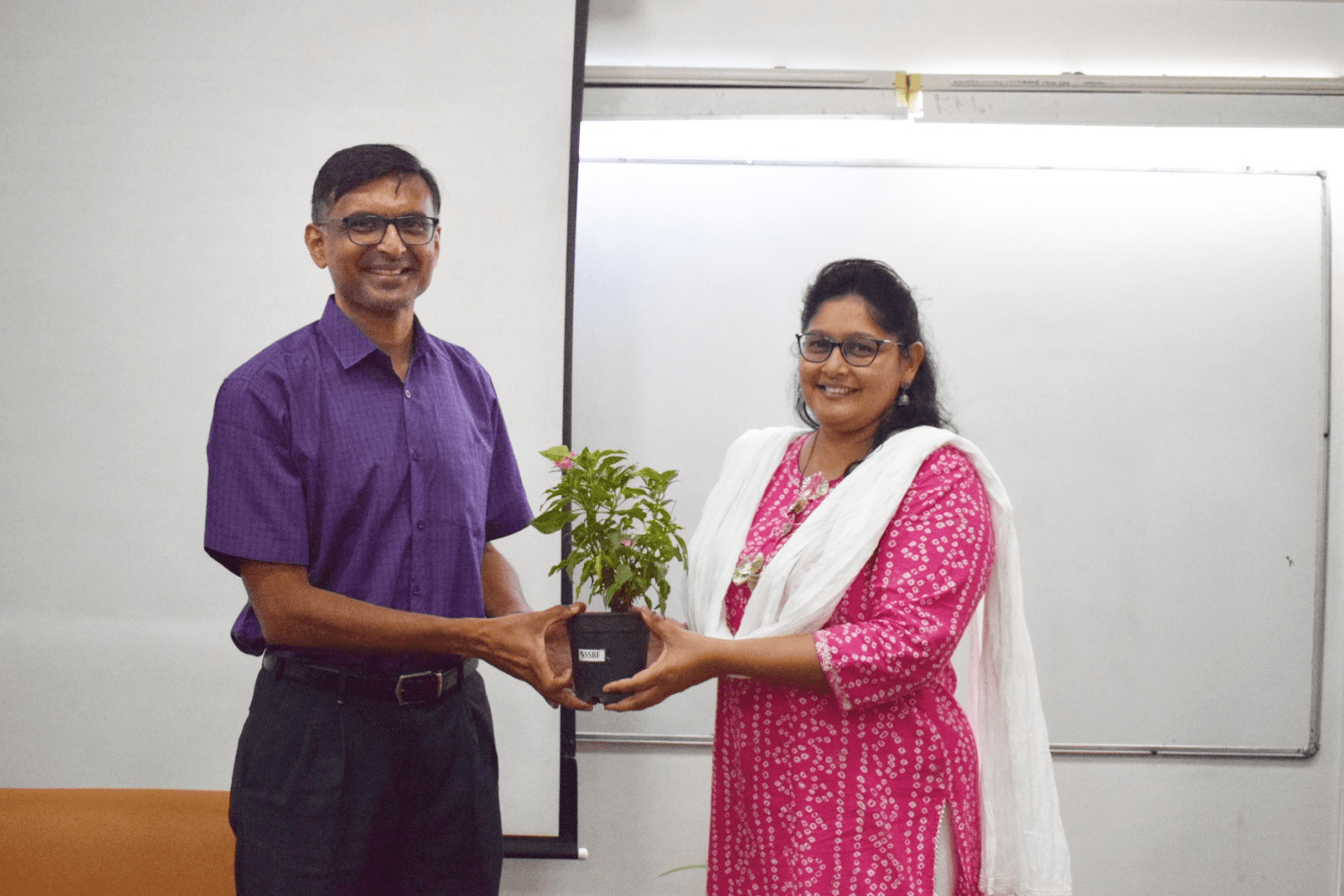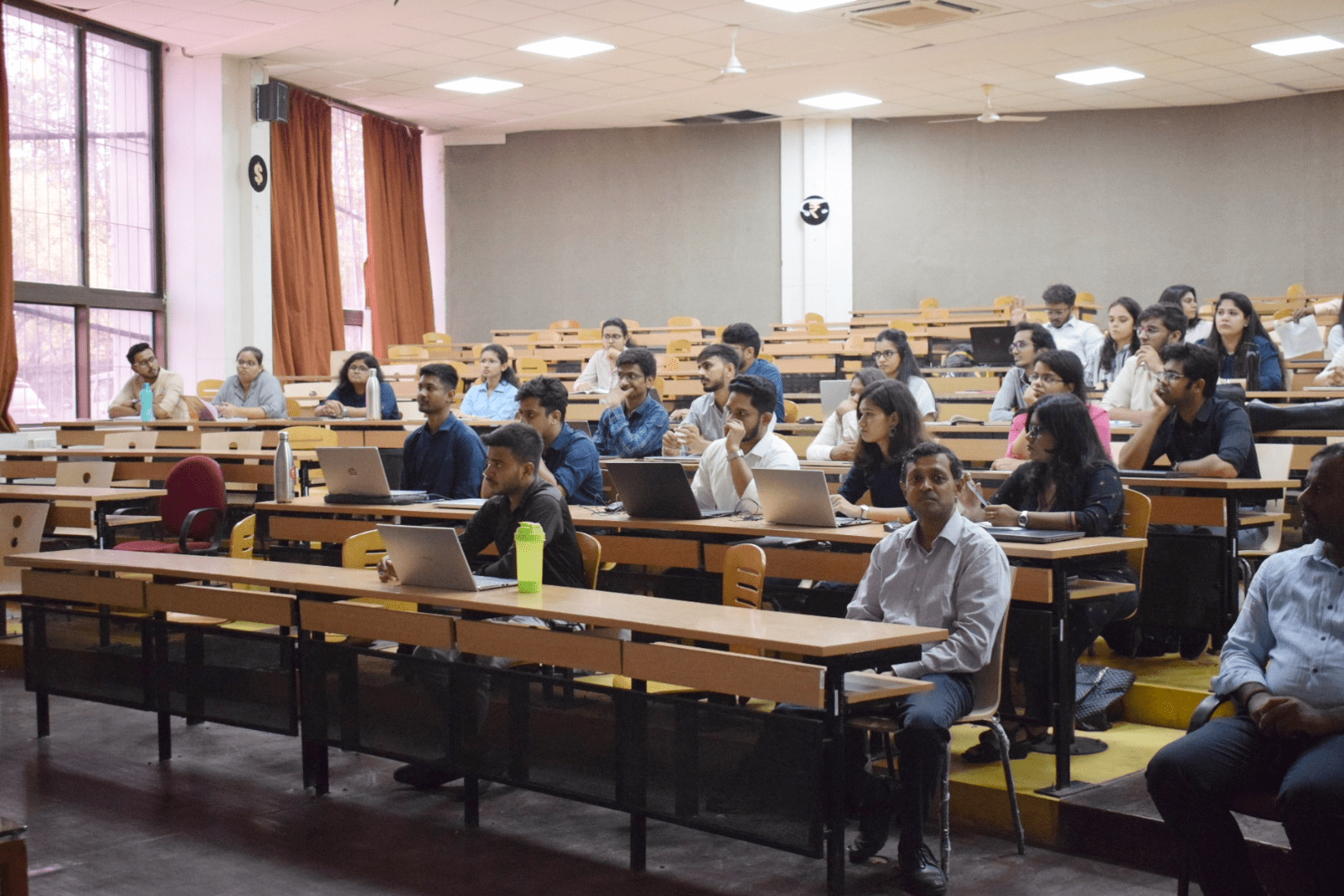 On 9th June 2023, Symbiosis School of Banking and Finance conducted a soft skill training session. The guest speaker was Ms. Paromita Das, Corporate and Academic Professional, HR Consultant, Trainer and coach (L&D) The White Rainbow L & D, with a total of 19 years of experience.
She started the session by asking everyone what is the motive of an interview and why there are interviews before hiring, and how we should see them from a business point of view.
She then went on to explain what is good communication, how to improve your communication skills, and also explained about the various types of interviews one can face and how to calmly conduct yourself during unexpected situations.
She stressed how pre-interview preparation is important and not to struggle with last-minute preparation.
Lastly, she also discussed some of the common errors one often makes during interviews and also said that one should not get tensed or pressurized about the results and always focus on the process. She also discussed some frequently asked questions and how to prepare for them.
She concluded the session with the advice that dedication is the key; any work that one takes up should be done with utmost dedication.
Overall, it was an interactive and insightful session.
On the 21st of July 2023, Ms. Ketaki Mistry visited the campus of Symbiosis School of Banking and Finance to educate the students on Personal Interviews, as she has 10+ years of HR experience and 5 years as an Image Consultant and Coach, and she helps people improve their professional image, communication, and confidence through practical advice and guidance. Ketaki is an Energetic and Highly Motivated HR, CDP Certified Train Trainer & Soft skill Trainer, Certified Image Consultant, USA and Certified EQ Coach, with International Corporate experience and Excellent Communication Skills.
She started with a Circles exercise, on paper how many circles you can make in 1 minute what is your target of making circles, and how many you completed making circles. According to her, this belief "Build Your Confidence" challenges us to think outside of the box. The session was divided into three parts, "Introduction to Image (Self Image/Body Image) was the first then "Interview Essential Tips" is the second and the third is the "Closing Interview."
The session taught us the 3 A's Mantra which are "Accept, Adjust, and Alter" in the life of the new normal for 'the survival of the fittest'. The Four Elements of Image which creates the first impression are "Clothing, Grooming, Body Language including Etiquette and Vocal Communication." She also described to us what type of technical questions can be asked in interviews like "Why have you chosen to learn this subject," and "What recent innovative concepts in the industry do you think are significant to address."
Ms. Ketaki also highlighted the Behavioural questions/personality comes under Soft skills that taught us how to manage our attitude there are three frameworks used to structure and guide behavioural interview responses: CAR: Context, Action (What/How), Result (Quantify Accomplishment/Recognition); STAR: Situation, Task (When/Where/Why), Action (What/How), Result (Quantify Accomplishment/Recognition); PAR: Problem, Action (What/How), Result (Quantify Accomplishment/Recognition).
She also taught us how to prepare for the questions like "Tell me about yourself" and how you can highlight the main points in your resume. According to you what is more crucial completing a task on task, or doing it in the right way? So the answer is both completing a task on time as well as doing it in the right way.
Closing Interview basic questions, you can ask are "What I could expect during the internship? Who would I report to? Are there further skills that I need to work on?
Things to remember, Say Thankyou (Etiquette Communication), Smile, and Don't rush. You can also drop a thank you email out once your interview is done. If you didn't get any response from the company you can follow up by email after a stipulated time period.
She believes that having good Academics and a set career is not only what we look up from life. Finding the Real YOU is what we all are unknowingly trying to look out for. One needs to imbibe High Competence, True Surrendered Character, High Self-Esteem, Confidence, and Charismatic Persona to be able to create a life that we really dreamt of. The 2 Mantras of Ketaki – "Never Give Up" and "Be Fit" have helped her to overcome her wax and wanes. dreamt of.
Life without Purpose is like Journey without Destination!
On 8th July 2023, the Alumni Committee of Symbiosis School of Banking and Finance hosted Mr. Prateek Rampuria to deliver a guest session on the topic 'Introduction to Capital Markets '. Mr. Rampuria is an alumnus from the batch of 2018-20 with an experience of over 3 years in the corporate field with JP Morgan Chase and Co, Anand Rathi Wealth Management, currently engaged with CRISIL Ltd as an Equity Research Analyst.
The speaker indulged the students in a meaningful discussion around the topics of behavioral finance, India's growth journey on the basis of demography, policy, economic condition, investing, portfolio management.
Mr. Rampuria started the session highlighting on how the backdrop of stock lies in the idea of doing actual business and how investing in capital market is actually managing our own finances. Putting forward his views on the 'Global Vs India' aspect in the economy where India proved the world wrong, Sir explained the gathering the reason why is it a tough job for the finance minister to maintain interest rate, unemployment, inflation rates of the country.
Sir, concentrated on the Robert Kiyosaki book "Rich Dad Poor Dad" to teach the young brains the value of financial literacy at a young age, how to invest in assets to increase their wealth, and how to be wise with money.
The speaker further explained the gathering the concept of 'Hindsight Bias'– where the investors often feel pressurized as when to buy or sell the stocks in order to maximize profits.
To conclude the session Mr. Rampuria quoted Peter Lynch, "Know what you own, and know why you own it.
The insights and experience shared by him made the session interesting and enlightening for the students.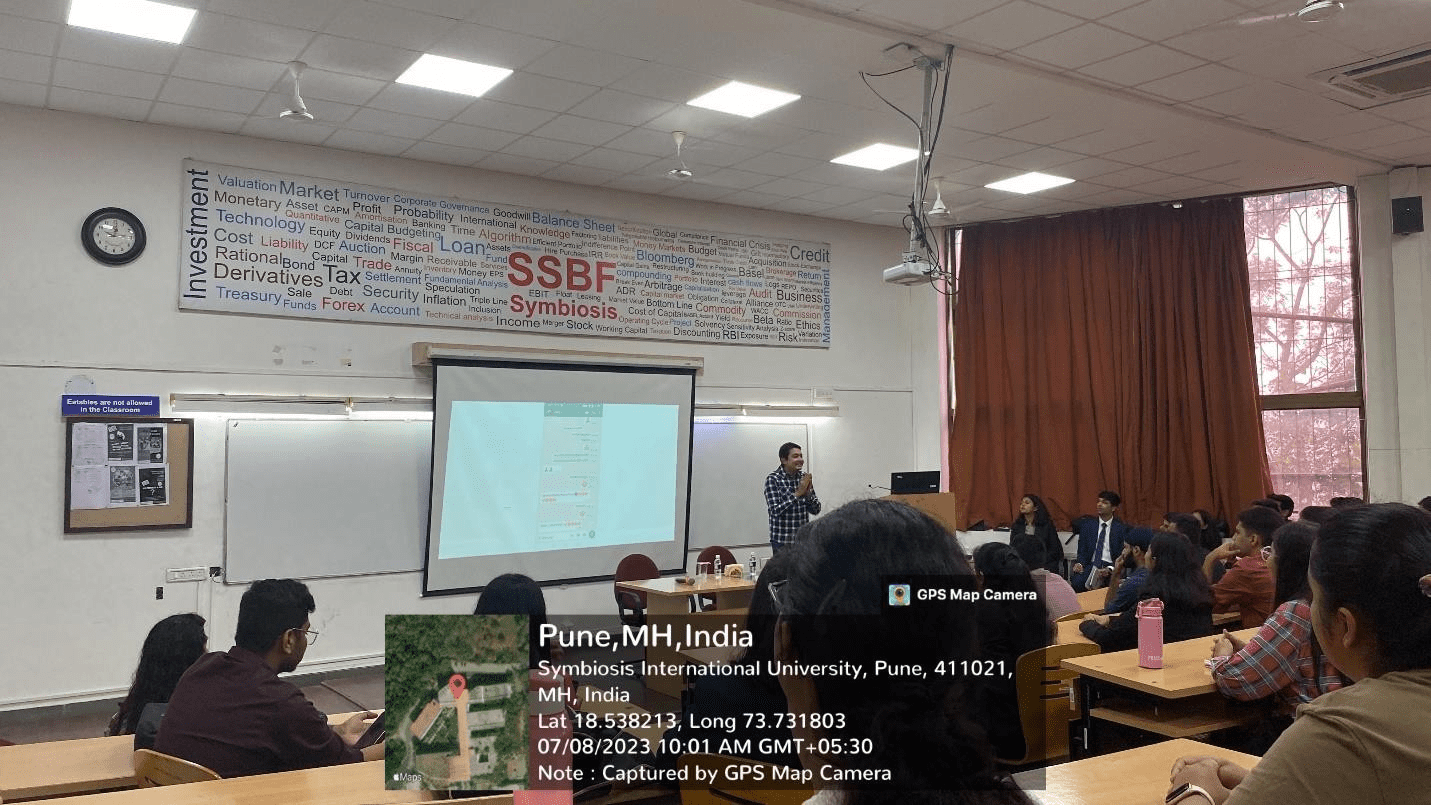 On 6th July, 2023, the Corporate Interface Team of Symbiosis School of Banking and Finance organized an insightful guest lecture on 'Future of Investment Advisory, Private Wealth and Venture Funding' by Mr. Siddhartha Rastogi, Managing Director Ambit Investment Advisors Pvt Ltd. Having a career of over two decades, Mr. Rastogi started his career with UTI Bank as a Deputy Manager and continued his journey with institutions like HSBC, IIFL and Citibank. He is an inspiring thought leader nurturing young minds with the market dynamics through his book "8 Minutes Decision".
Mr. Rastogi addressed the gathering with a very unique question 'What drives the world? his response was money is driven by momentum which comes from mastery. The session was divided into three parts with world politics being the first topic for discussion followed by future of investment and concluded with Q&A session. The discussion started with how the world is divided economically, where Mr. Rastogi addressed the different mindset of rich, middle class and lower class and how they are engaged in wealth creation.
The session gave insights on the economic condition of USA - the richest country with 23 trillion dollars while the world has 93 trillion dollars with the main revenue generating pillars being military, technology and pharmaceutical. The students were imparted knowledge on the Bretton Woods Agreement, the reason for the high valuation of US dollar and many more interesting topics. Mr. Rastogi further put forward his views regarding behavioral characteristic of the three sections of the society which includes the physical pain, mental pain and emotional pain of an individual, to which he added "Mind is a great servant, but a bad master ".
The speaker explained the students on the velocity of cash, where the money when it is stuck it will not grow and money in digital will grow 9x times.
The students were given insights regarding asset management, investment advisory, the difference between asset management and wealth management, profiles on the BFSI sector. Mr. Rastogi also addressed the students regarding the art of selling and writing – which will enhance an individual to push their knowledge forward, the effect of de-dollarization, robo- advising.
Mr. Rastogi shed light on the fundamentals of asset management, wealth management, geopolitical perspectives and the art of sales and writing. The entire session was enlightening and informative for the students.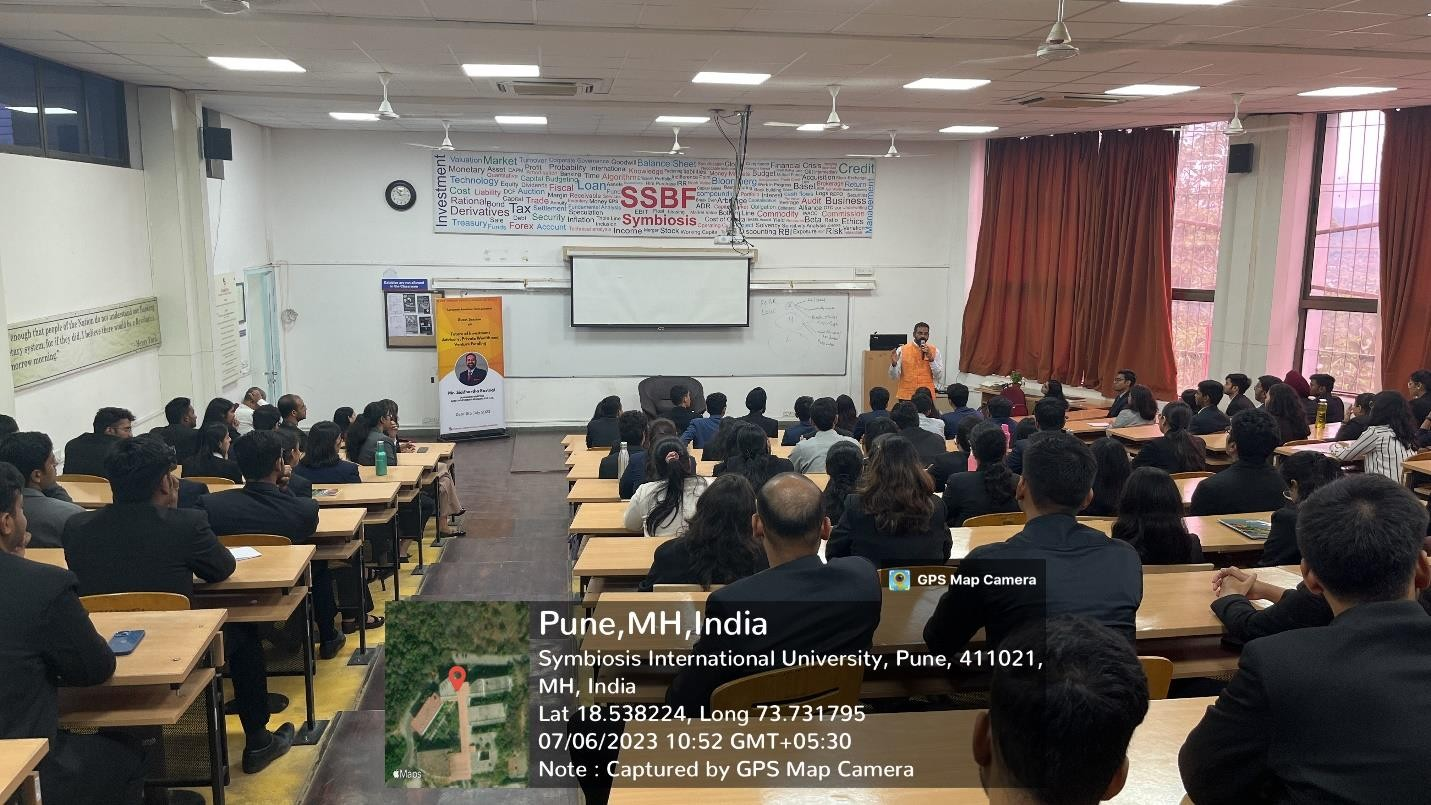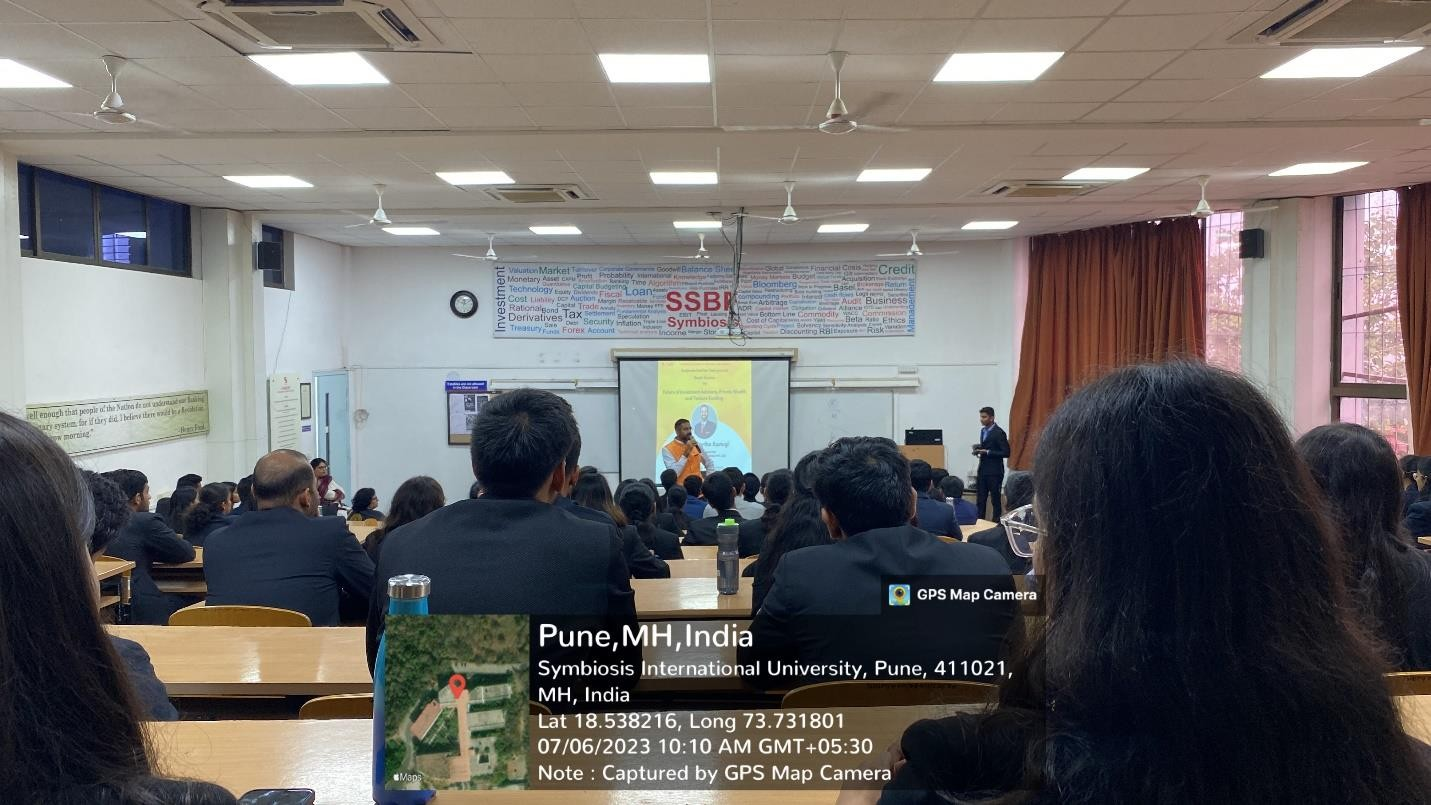 Ms. Urvashi Pachori visited the Symbiosis School of Banking and Finance campus on July 14, 2023, to educate students on Personal Grooming and Business Etiquettes (Soft Skills), as she has an experience of 10+ years of experience as a Soft Skills Trainer and she helps people enhance their image, personal branding, and professional growth. Ms. Urvashi has done professional programmes in Soft Skills Training, Image Consulting Programme, and TTT Certified Image Consulting Training.
The speaker started with a short quiz on first impressions, personal branding, and soft skills. The session emphasized on how we may present a positive first impression to the interviewer. She highlighted that the most essential brand is you and therefore personal branding is important for any individual. The session taught us how to dress appropriately and choose the right colour of the dress in corporate world.
During the session, Ms. Urvashi highlighted the self-introduction and hand-shaking with the interviewer. She emphasized that handshake should be done by 2 to 3 times. She also taught us the meeting etiquette during the interview. Ms. Urvashi emphasized to be professional, proper attire is required, mobile devices should be on silent mode and stay calm during the interview process. Ms. Urvashi also taught us how to send official emails in professional manner and not to make grammatical errors.
Ms. Urvashi Pachori lastly focused how everyone can be a diamond. She emphasized that everyone is evergreen and has the ability to shine and last forever.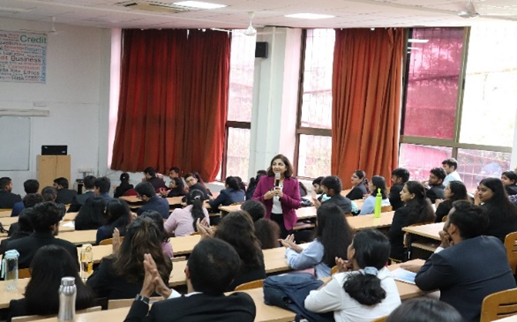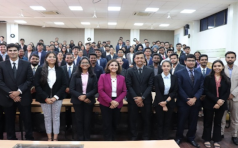 On the 15th day of July 2023, Mrs. Shaila Dias visited the campus of Symbiosis School of Banking and Finance to educate the students on Fraud Detection and its aspects, a subject of paramount importance in a growing world of technologies and ideas. Mrs. Shaila Dias is a Certified Fraud Examiner (CFE) proficient in detection, prevention and mitigation of frauds impacting organizations both internally and externally. With over 20 years of experience in big firms like Reliance Industries ltd. Ness Wadia's office ( Bombay Dyeing) and, WNS Global Services, she is currently appointed as Senior Manager, Vigilance with BC Shirke Construction Technology.
How many of you love crime and detective stories/incidents? was Mrs. Shiala Dias' engaging introductory question to the class. She started off with explaining her fascination in crime and her passion of detection to unfold the truth behind. Setting momentum to her discussion, she laid out the objectives and labelled an overview of her presentation. She pointed out the types of fraud, red flags to indicate the same and their impacts. Students also learned about the definition of fraud as given in the Section 447 of Companies Act, 2013.
With growing technology and newer means of penetrating through it, she touched upon few examples of modern fraudulent practices and fraudsters who reinforce new ideas to break through the system. A new concept of Fraud Triangle, coined by Donald Cressy, a criminologist in 1951, was ushered into the curious minds in class. The Fraud Triangle elucidated 3 prerequisites of having to commit a fraud: Opportunity, Rationalisation and Financial Pressure. Her presentations had short video clips to bring in a clearer vision of all the concepts she was throwing light upon, hence, students could get a deeper understanding of described fraud, Scope of fraud, GAAP rules, and the Fraud Triangle. Explaining how fraud prevention is an accounting responsibility she then steered her discussion towards common types of financial frauds like Embezzlement, IP Theft, Insider Trading, Financial Statement Fraud, Phishing, Credit Card Scams, Money Laundering, Investment Fraud etc.
Being a major issue for the country and a heated topic, she discussed money laundering in detail, presented films on red flag signs, and spoke about how it is done as well as measures to fight it. Three stages of money laundering, namely, Placement, Layering, and Integration were discussed in depth.to shine and last forever.
Carrying forward, Mrs. Shaila Dias then lastly focused on the Impact of such frauds in BFSI sector, a specialised niche where students of Banking and Finance could downright relate. Aspects such as Financial Losses, Customer Trust and Reputation, Regulatory Consequences, Increased Cost, Disruptions in Operations, Market Confidence and Systematic Risk, Legal and Reputational Risk were thoroughly laid out. The students were educated about Preventive, Detective and Corrective measures, hence, creating more awareness among future of security of our Nation.
Mrs. Shaila Dias was very amiable and interactive throughout the session, where she also sought insights and perspectives from the students. Her soft tone and friendly gestures towards the younger generation brought in a sense of enthusiasm and energy to the class.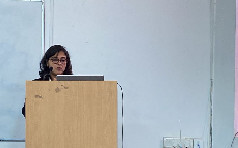 On Saturday, July 23, 2022, Ms Vartika Sharma ma'am gave a guest lecture at the Symbiosis School of Banking and Finance on the subject of "A holistic approach to combat money laundering in the banking industry." Ms Vartika Sharma, a vice president at Morgan Stanley, has more than 14 years of experience working in the banking industry for companies including Bank of America, J.P. Morgan, and ICICI Bank Ltd. She has overseen some of the major industry initiatives for automation and efficiency building and possesses knowledge in global anti-money laundering and KYC regulatory standards. She has also collaborated with regulatory organisations to accomplish several regulatory needs.
She clarified several issues pertaining to money laundering and how the economy produces dirty money during the course of the discussion. She also shared her understanding of money laundering and her skills in preventing it. She also discussed the significance of KYC verification.
Money laundering is the process by which assets and money that are unlawful are changed into assets and funds that are legal. It usually refers to "washing" the money obtained through illegal activity. Banks must know their customers well in order to ascertain who they are and what kind of business they are engaged in and to prevent money laundering.
Maa'm also provided other examples of banks that had to pay fines for engaging in money laundering, including Commerz banks, Goldman Sachs, and Deutsche Bank .
The session came to an end with a brief Q&A, when the students asked thoughtful and inquisitive questions, to which ma'am provided clarity.
The guest speaker's presentation helped the students get a deeper comprehension of the subject.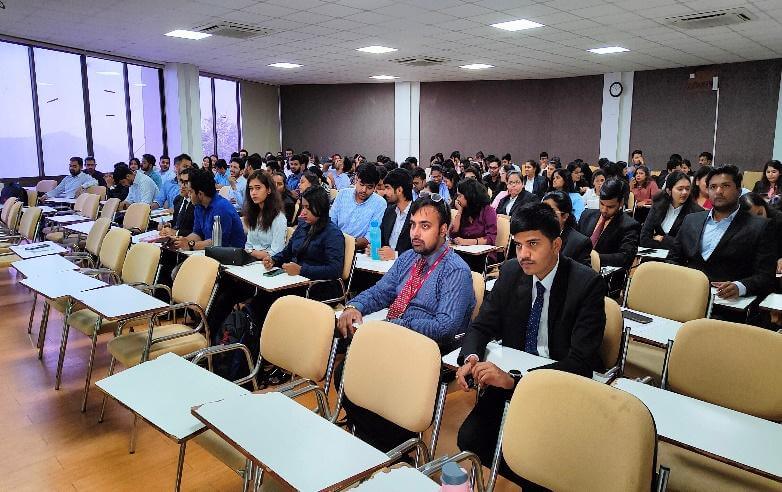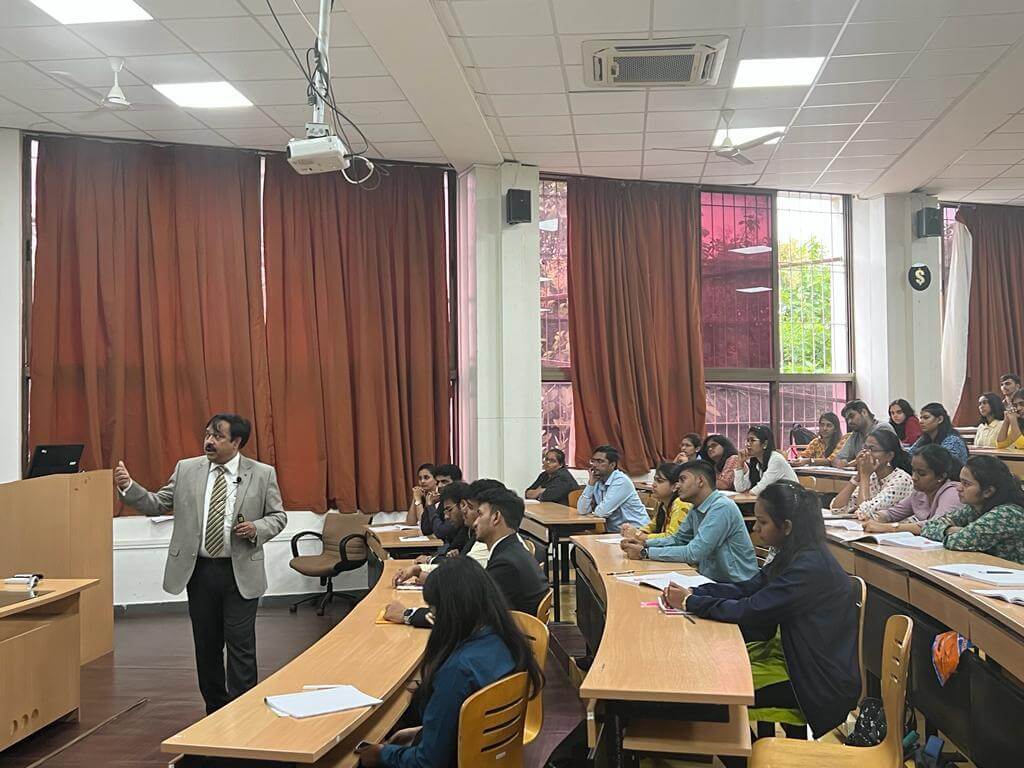 Ms. Moushmi Achari led a workshop regarding interview skills on 28th July 2022 at the assembly hall of Symbiosis School of Banking and Finance. She is a soft skills professional trainer with more than 16 years of experience in the field.
This guest lecture was designed for the students to inculcate and develop interpersonal skills for their upcoming summer internships and final placements.
She highlighted her in-depth knowledge on how to tackle and ace interviews by focusing and preparing key areas that covered a set of well-defined questions covering specific areas.
The session started with interactive activities such as on-the-spot thinking and listing role model qualities that one can inculcate.
TShe also spoke about improving the preparation strategy for an interview starting with researching about the company and its existence, understanding the job description and skillset and basic interview questions.
She encouraged the students to undertake SWOT analysis which involved bridging the individual and organisational goals, questions relating to why should the company hire a particular student and how to tackle questions relating to strength and weaknesses. She also talked about the summer internship programme and how a student from a different domain can tackle questions that pertain to the banking and finance industry.
It was a very informative interaction that will help both the batches with their upcoming scheduled interviews and we look forward to attending more such sessions.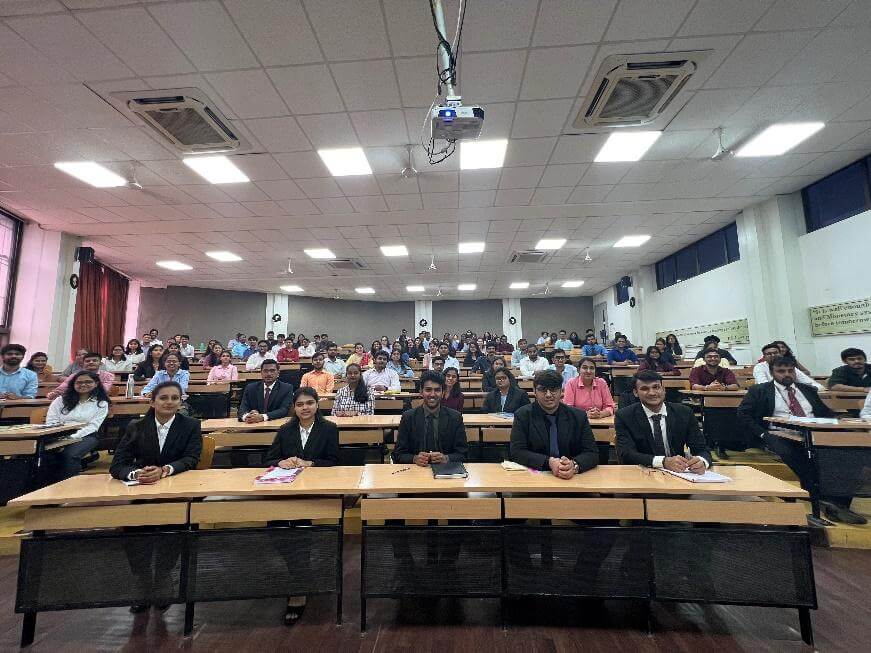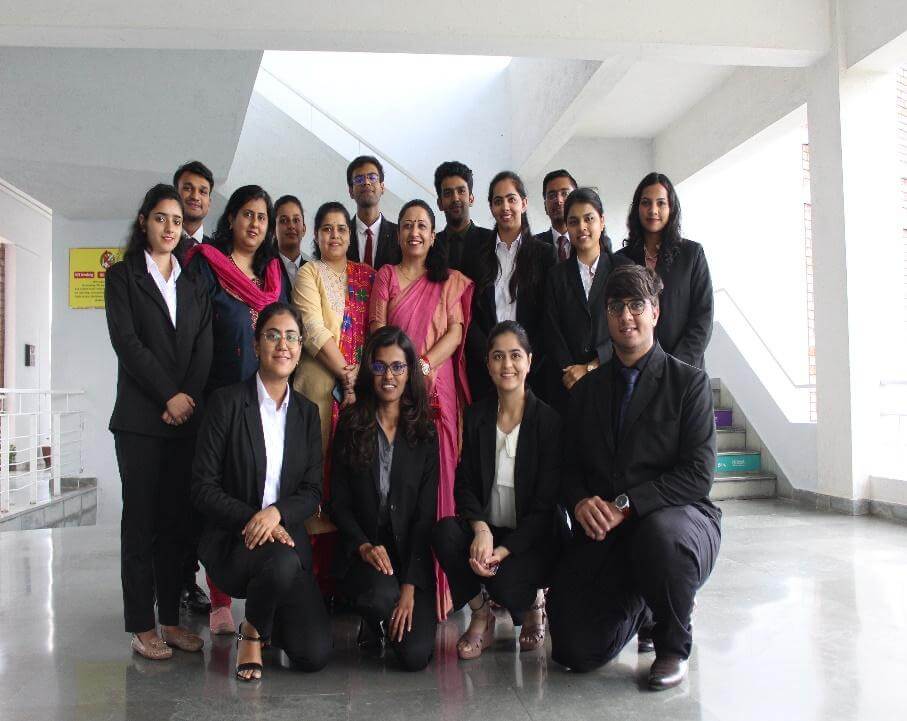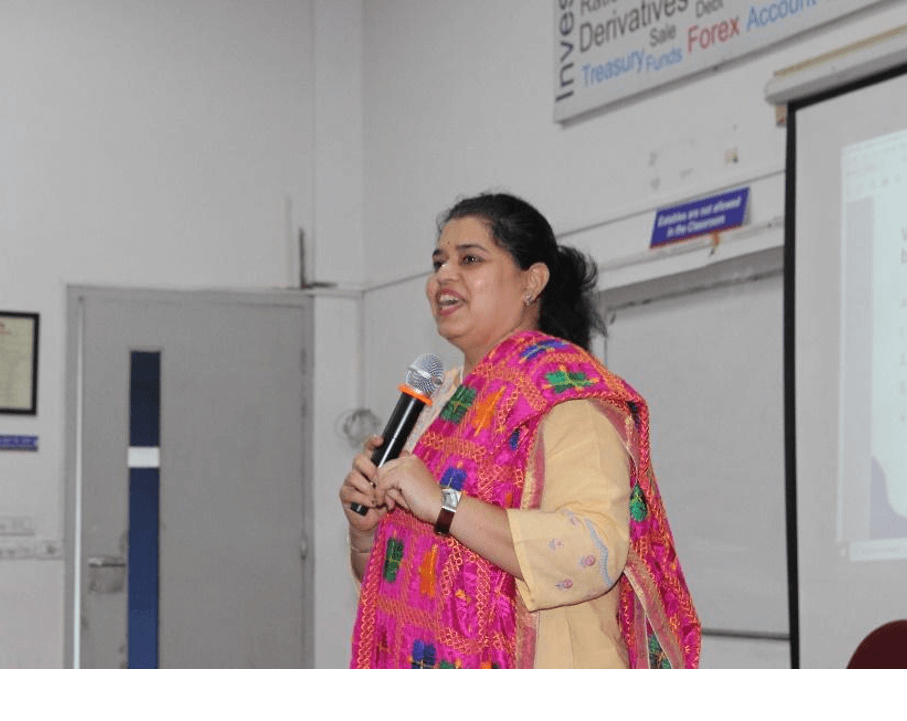 The Corporate Interface Team of the Symbiosis School of Banking and Finance hosted a guest lecture by Dr. Anil Lamba on the subject of "Romancing the Balance Sheet" on Tuesday, August 9th 2022.
Author of the best-selling books "Romancing the Balance Sheet" and "Flirting with the Stocks," Dr. Anil Lamba is a champion of financial literacy and an international corporate trainer. Sir is also a Chartered Accountant by profession.
He began by going over the fundamentals of a balance sheet, explaining to us where money comes from and how it is used, as well as how to determine a company's net profit and who owns it. He talked on the highly intriguing issue of why no company distributes all its profits to its owners. Another extremely intriguing question he posed to us was, "Why does the balance sheet balance?"
He spoke about the subject of: Why do businesses fail? and stated that more than 95% of businesses fail due to poor financial management, not due to labor issues, marketing inefficiency, or technical obsolescence.
He ended the session with an advice that he described as his "magic formula" stating that investments in assets must produce returns that equivalent to cost of capital & assets must bring a cash inflow before the liabilities demand one .
The session came to an end with a brief Q&A, when the students asked thoughtful and inquisitive questions, to which sir provided clarity.
The guest speaker explained the complex balance sheet in a simple way. It was a highly interactive session that helped the students get a deeper comprehension of the subject.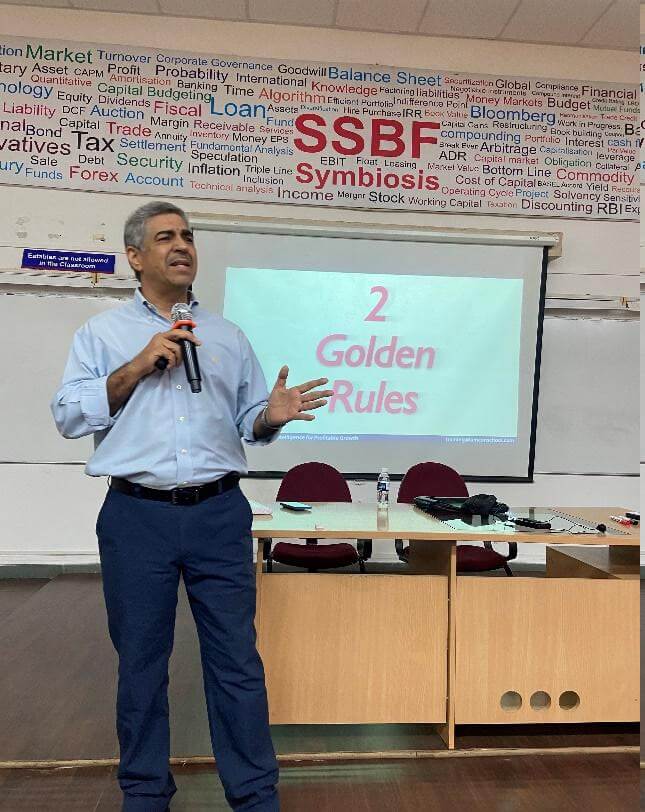 Col. Sunil Brijkrishan led an introspective guest session on 6th August 2022, at the assembly hall of Symbiosis School of Banking and Finance. He is a veteran Indian Armed Forces Officer with 23 years of experience in the Indian Armed Forces and over 20 years of experience working with corporations and business management institutes. He is also a commercial trainer and coach for business administration and corporate communications.
The session was inaugurated with Ms. Trupti Bhosale felicitating Col. Sunil Brijkrishan with a token of appreciation before he proceeded to address the batch. The motive of the session was to have a conversation with the students about the pros and cons of group discussion during the interview process and how the students should face them for the upcoming summer internship season in the near future and finally in the placement gigs.
Sir shared his deep knowledge and experience for preparation, as he has been involved in a vast number of group discussions and has great insights about what the panellists are looking for in the potential candidates and also suggested some quips to ace them.
Sir talked at length about staying confident and making sure your point is heard and addressed. He stressed the importance of keeping your eyes and ears open at all times and knowing what is happening in the world around you, since the topics in group discussions could be based on anything and everything. He shared with us the different types of group discussions, what they are, and how to face each one accordingly.
He bid us farewell with a few final words about what we should incorporate into our lives and other insights from his vast encounters and exposures with various stints.
It was a very helpful and informative session for the batch, and we are eager to attend more such lively sessions in the near future.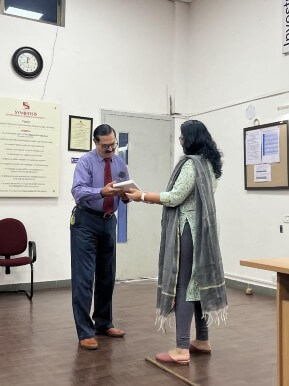 On 16 th August,2022 the corporate interface team of symbiosis school of banking and finance organised a session on "New Trends in Insurance Industry".The session was conducted by Mr. Rudrasish Roy. He is the Deputy General Manager at New India Assurance Ltd with 35+ Years of experience in the Insurance Industry.
Sir talked about concept of Insurance in length with illustrative examples, different types of Insurance, general Insurance, Importance of general Insurance and changing trends in Insurance sector. He also talked about the technological advancements in Insurance sector, opportunities in Insurance sector and Advanced analytics – (Internet of things, Mobile enabled insurance apps and wearables)
Sir further covered the topic of Digital Insurance and how several technologies have changed the way insurance service providers operate. He also talked about artificial Intelligence and Automation and explained how "Acko Insurance" became the market leader in the Insurance Industry. Further he talked about Insurance in Tech, Bots, Insurance Brokers and Insurance and Techno Marketing as a career option.
It was an insightful session which left the students better informed and helped them to gain knowledge of the Insurance Industry.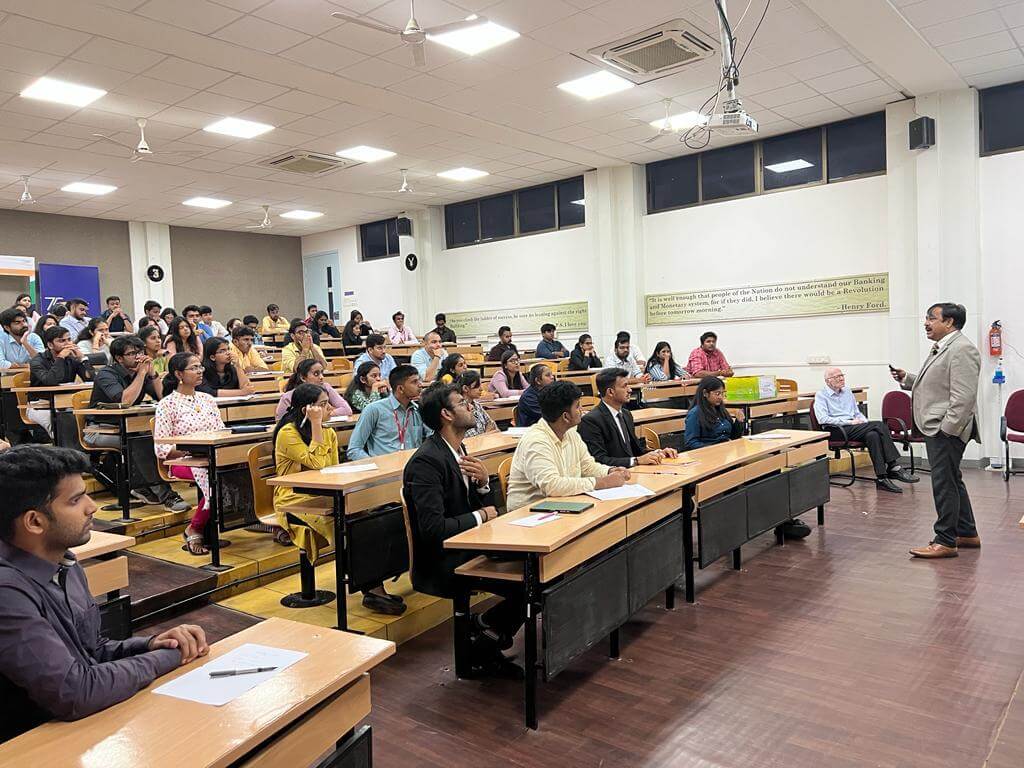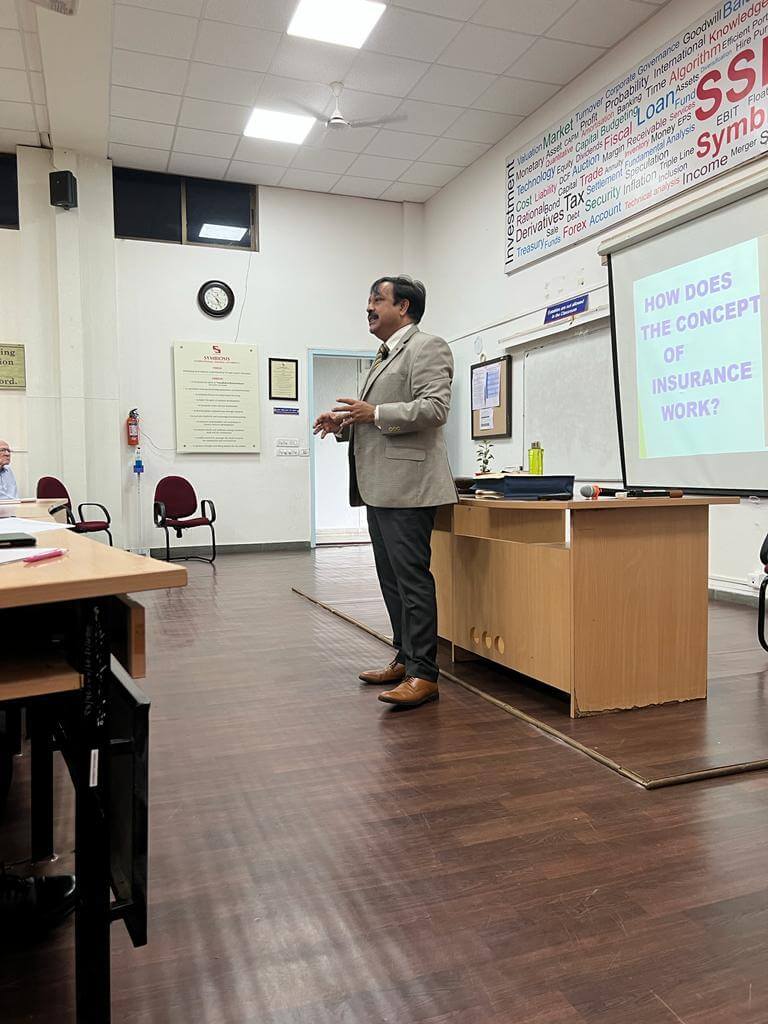 The Corporate Interface Team of the Symbiosis School of Banking and Finance hosted a guest lecture by Mr. Apurv Dhingra on the subject of "Pathway of success in the field of Risk Management" on Tuesday, August 16th.
Mr. Apurv Dhingra, the Vice President of Credit Suisse covered various topics of finance, highlighting risk management. He spoke about his life experiences and all the challenges he faced in the various roles that he was a part of. Additionally, he shed some light on various avenues available in the field of risk management and the roles and responsibilities that come along with it.
He spoke about frauds and how they are performed, followed by an extensive case study from the company and how the situation was managed. With some examples, he gave a brief overview of how to handle credit-related inquiries. Additionally, for the benefit of the students, he suggested various courses and certifications that ought to be done in order to excel in the field of finance and specifically risk management.
The session came to an end with a brief Q&A, where the students asked thoughtful questions, to which Sir provided clarity.
The guest speaker's interactive session helped the students get a deeper understanding of the subject.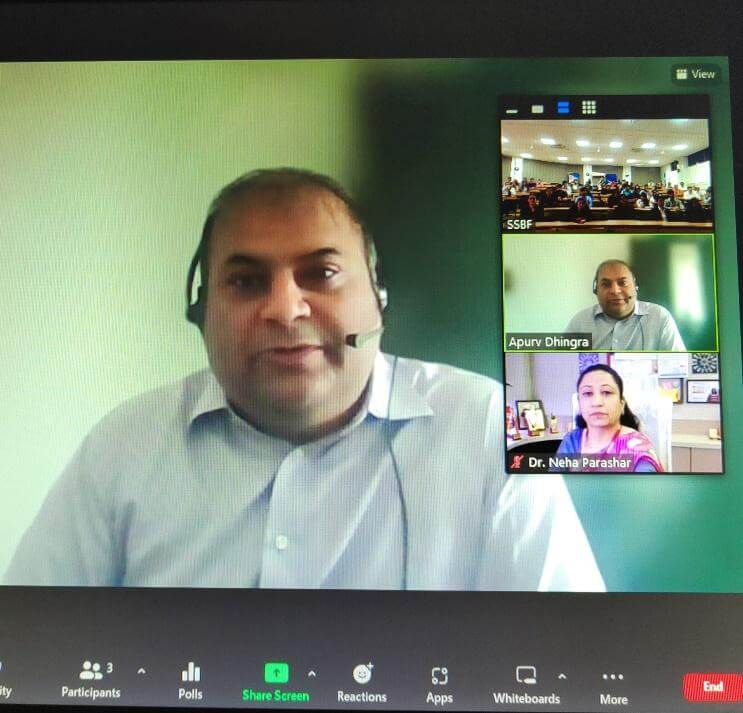 On 17th August, 2022 the Corporate Interface Team of SSBF organized a guest lecture on the topic "Wealth Tech-The Way Forward," which was addressed by Mr. Jolly Inderbir. Sir, is currently positioned as the head of the wealth partnership distribution department at ICICI Securities Ltd. He has 20 years of cross-functional experience in wealth management, business partner management, product management, sales & distribution, technology implementation, and many more.
Mr Inderbir started off the session by talking about his journey of career which kick started with him being in the sales department. As the years passed, he switched his career from sales to being part of the portfolio management team and eventually moving to the product management team. Sir then gave us insights on various types of challenges which he faced during his professional journey.
Moving forward, Sir talked about the importance of FinTech and how the existence of the same can be beneficial to various stakeholders. He then gave us examples of some of the latest trends going on in the wealth tech field, which include Robo advisors, which is an automated wealth management advice given to the customer based on his risk appetite, which is determined by him/her answering a small questionnaire.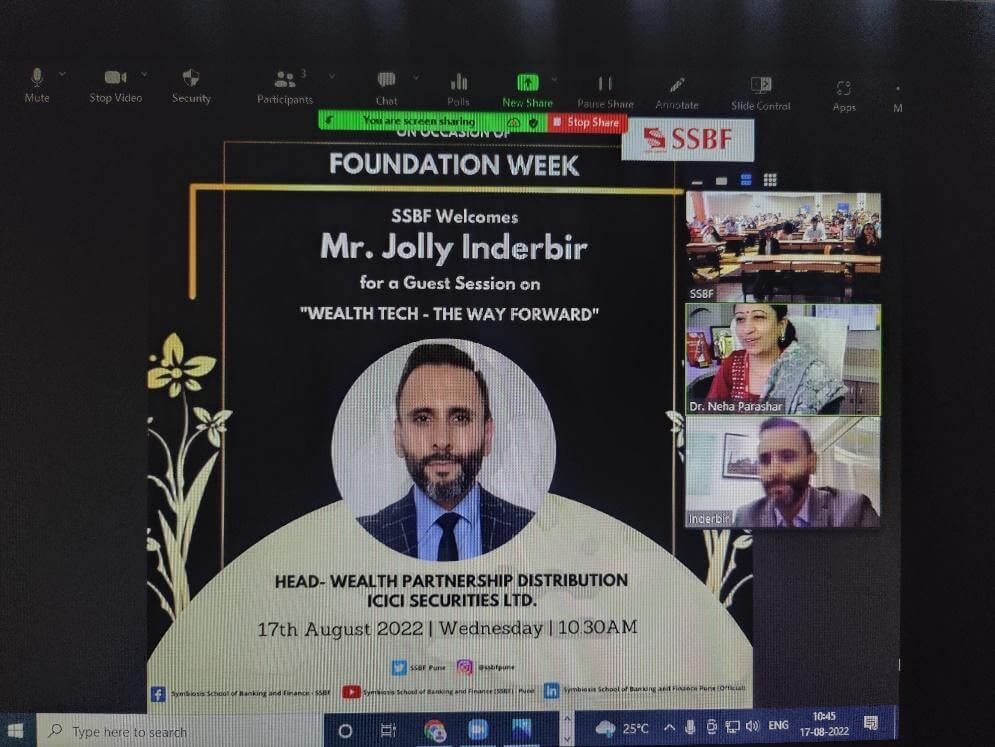 On Saturday, August 20, 2022, the Symbiosis School of Banking and Finance conducted an offline guest session on "Insights on Fintech and Career in Startup." Rajesh P. Nair, the founder and CEO of India's first social commerce fintech startup EarnWealth Solutions Pvt Ltd, led the session. In addition to being an entrepreneur, Mr. Nair also works as a business coach, author, mentor, and inspirational speaker. He recently published his first book titled "It's Not Over Yet, I'm Still Alive".
He shared his insights on how various types of fintech operate. He had put light on how fintech has evolved over the last few years, the developments that are taking place in the fintech industries and the career opportunities in this sector for students.
Fintech benefits include cost efficiency, high security, ease, and improved payment systems.
The speaker discussed his thoughts on companies and how students can start thinking about and working on ideas early on in order to transform them into reality and succeed in life.
The guest speaker's speech helped the students gain a deeper comprehension of the fintech industry and startups as a career.
After the presentation, there was a quick Q&A session during which the participants posed some meaningful and clarifying questions.
We appreciate the excellent session arranged by Team CIT (Corporate Interface Team) and look forward to more such sessions that will not only broaden our knowledge but will also help us to handle real-world situations.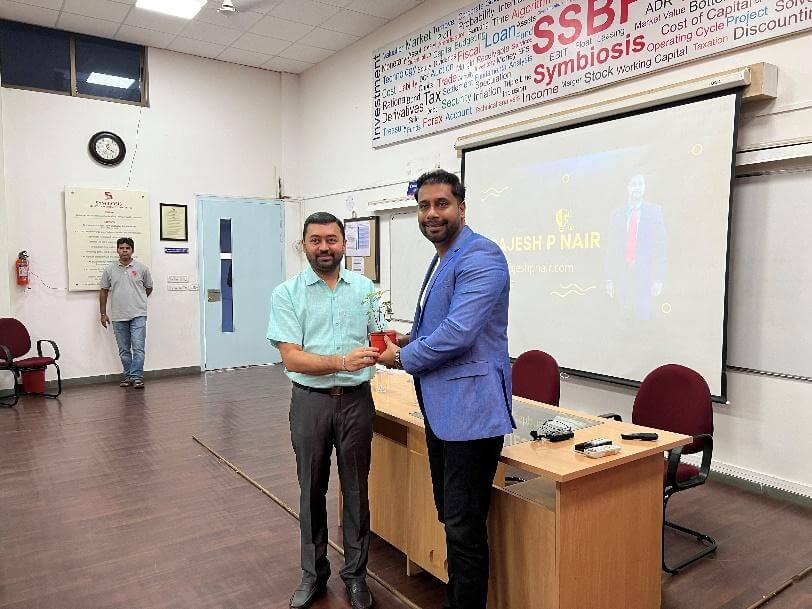 On 13th September,2022 the Gender Sensitization Cell of symbiosis school of banking and finance organised a session on "Suicide Prevention Awareness". The session was conducted by Ms. Nehal Pimpalkhare. She is an experienced Psychologist at Symbiosis Centre of Emotional Wellbeing, Lavale.
She talked about Suicide awareness, prevention and various Myths and Facts surrounding person with Suicidal Tendency. Moving forward she talked about the stages of suicidal tendency of a person initiating from depression, anxiety and mental illness. She discussed about the increasing Suicide rates and factors provoking such incidents. She elaborated on the behavioural changes of a person with Suicidal tendency like extremely welcoming, giving away belongings and inability to concentrate. She talked about how we can be self aware and help others suffering from such situation by distancing them from negativity and objects that may provoke self harm.
The session was followed by Q&A where students asked a few questions which were answered in a detailed manner. The guest speaker's interactive session created awareness among students about the important issue.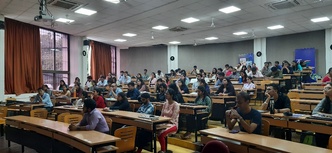 On 31st October 2022, the Alumni Committee of the Symbiosis School of Banking and Finance, conducted a guest session which involved Mr. Divyang Shreepal Jain and Miss Nikita Bajaj.
The event started with them sharing their internship experience. They spoke in detail about how they got to work on an actual client project and how they worked on it during their time over there.
MThey highlighted that internships are incredibly valuable for networking, gaining experience, and ultimately helping you land your dream job in your chosen sector. It provides you with real work experience and exposure where you can learn the practical application of the concepts learned in class.
They also emphasized that communication is the key. To understand the work, one has to communicate with the reporting manager, who will correctly guide you with the result.
They also discussed the things that have to be cultivated as well as, the mistakes that have to be avoided during an internship. A few pointers that were recommended are
Set goals and expectations.

Be a sponge and absorb.

Show enthusiasm.

Talk to co-workers about their duties.

One has to value time and always finish the task on time.

When working amongst people in an office environment, one should greet everybody and not just complete the assigned task and leave,

Always be courteous to the people

Should never hesitate to ask questions if not clear about the task assigned

Seek and accept feedback

Do not sit idle

Do not assume any assigned task is trivial.

Don't be late
These small things if not followed will show that the internship is not taken seriously, which affects the image of the intern and the college the intern represents.
They said that it is essential to have the right mindset for the internship. You should know what you want from your internship so that you are better prepared and know what you need to do to succeed. Also, carrying out your intern responsibilities successfully will assist you in building up a rich skill set that will shine in your next role. The responsibilities of an intern have evolved. In many internship programs, you'll find yourself working on projects, managing a small team, and even working alongside with some executives. An intern is primarily a support role – at least in the beginning. Your primary job will assist you in learning and growing when you join. After settling in, you'll be expected to pull your weight.
The alumnus shared with us their placement interview experience and how they were asked about their roles, responsibilities and learnings from their internship. The alumnus said that understanding the internship process is of crucial importance because that will get you an understanding of how work is done and what the company expects from the employee.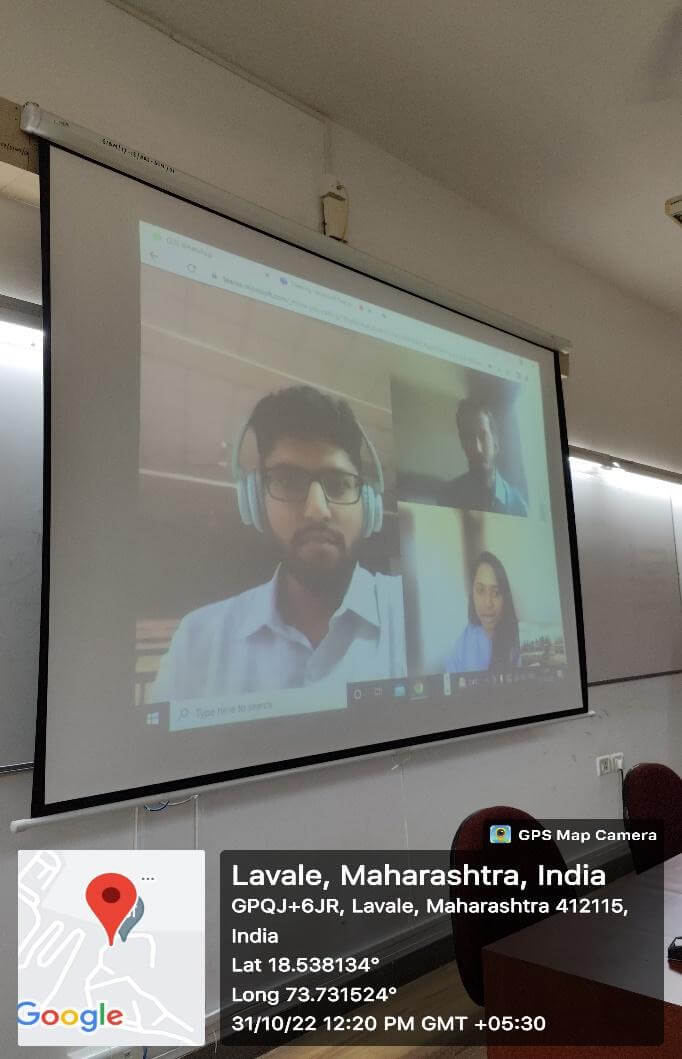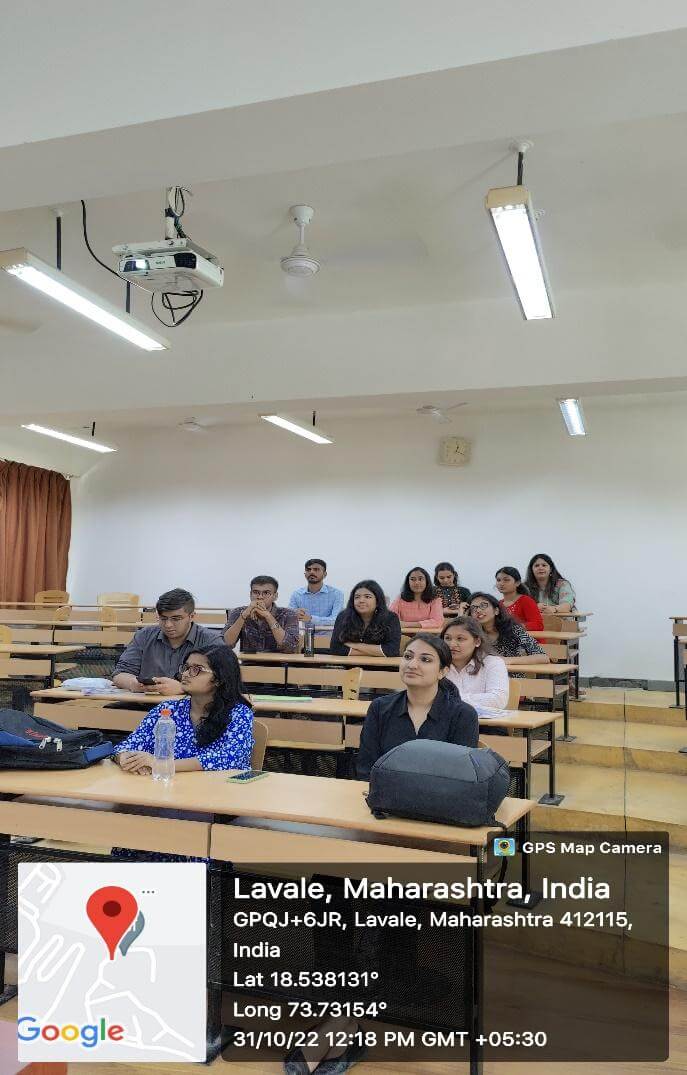 On 24th of November '22, SSBF invited Mr. Jamal Milhem, MBA Chairman of the Board of the Palestinian Association of CPA. Our director Dr Neha Parashar addressed Mr. Jamal with a vote of thanks.
Mr. Jamal took the session forward by describing his younger tears at SIU. He also described how ICAI is one of the best-performing charted accountant bodies in the world, with lakhs of individuals practicing in India & abroad. He also emphasized that we, the finance students, should know about IFRS to work globally.
As the session progressed, Mr. Jamal explained various sustainable development goals (SDGs) for the IFRS that it followed, resulting in improvements in education, employment, health & environment.
The session ended after some students asked Mr. Jamal about international & domestic audit rules, forensic accounting & accounting disclosures by SMEs.
The session was very informative & interesting, giving us insights into the world of IFRS.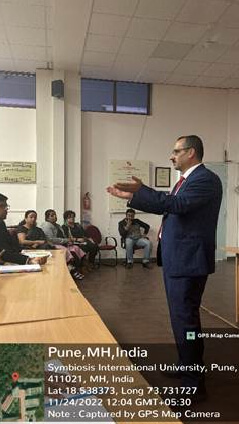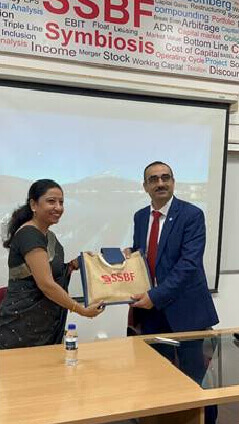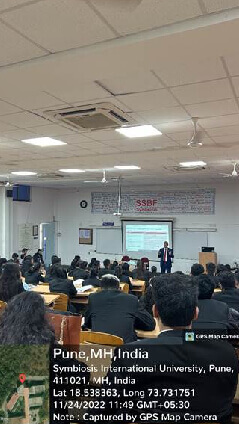 On 24th of November '22, SSBF invited Mr. Jamal Milhem, MBA Chairman of the Board of the Palestinian Association of CPA. Our director Dr Neha Parashar addressed Mr. Jamal with a vote of thanks.
Mr. Jamal took the session forward by describing his younger tears at SIU. He also described how ICAI is one of the best-performing charted accountant bodies in the world, with lakhs of individuals practicing in India & abroad. He also emphasized that we, the finance students, should know about IFRS to work globally.
As the session progressed, Mr. Jamal explained various sustainable development goals (SDGs) for the IFRS that it followed, resulting in improvements in education, employment, health & environment.
The session ended after some students asked Mr. Jamal about international & domestic audit rules, forensic accounting & accounting disclosures by SMEs.
The session was very informative & interesting, giving us insights into the world of IFRS.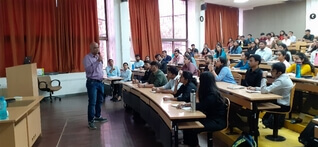 On 1st November 2022, the Symbiosis School of Banking and Finance invited Mr. Jatinder Sidhu to the orientation program of the junior batch.
Mr. Jatinder Sidhu, Advanced Quantz & Analytical Head at TCS, gave an industry insight to the students on the topic, "Applications of Advanced Analytics across BFSI - Industry view, challenges and way forward ".
He talked about various job roles and opportunities related to Analytics in the BFSI industry. He mentioned how the job opportunities are changing with the landscape, where some jobs are going away due to automation and there are new jobs emerging due to the same effect.
He also discussed the application of artificial intelligence and machine learning in finance, algo trading and strategies. He shed light on how big of a rule huge data plays in the current landscape and it is only increasing as time passes and technology keeps moving forward at a rapid intensity.
It was an insightful session for the students looking for new opportunities.
Mr. Balvir Chawla led an introspective guest session on 14th Nov 2022, at the assembly hall of Symbiosis School of Banking and Finance. He is the Director at Finnovators Services Pvt.Ltd.
The motive of the session was to have a conversation with the students about the Art of Wealth Management. Sir shared his deep knowledge and experience on how people struggle investing and managing their funds in active and passive investing strategies that generate stabilised returns.
Sir talked at length about how wealth management is not all about taking your business to new heights but client relationship and client confidence are also of utmost important. He also talked about Wealth management process which includes identifying financial goal and classifying it into short, medium and long term and taking appropriate investing strategies. He further talked about art of saving, investing, Wealth creation, Wealth Accumulation and Wealth Distribution.
He bid us farewell with a few final words about what we should incorporate into our lives and other insights from his vast encounters and exposures with various stints.
It was a very helpful and informative session for the batch.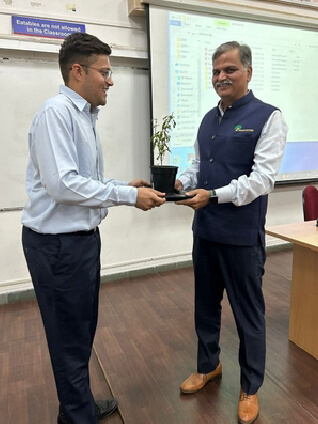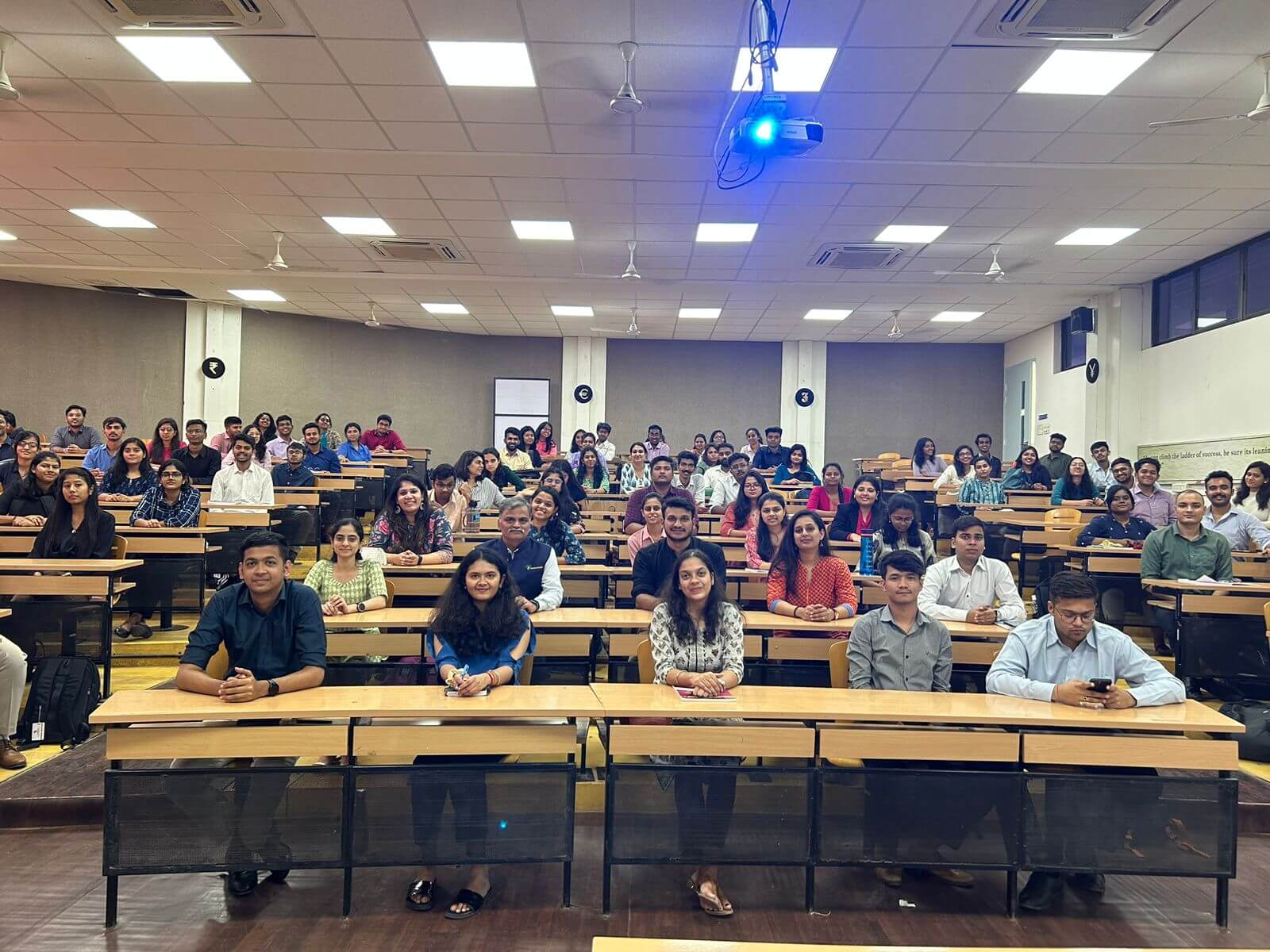 On 12th November 2022, Alumni committee hosted their third week of ' Quantum Leap 2022' for the junior batch, inviting two Alumni from the batch 2012-14, as well as, from batch 2010-12, as guest speakers. Mr. Sunil Kheria, Senior AVP, Credit Suisse, from batch 2012-14, being the first speaker, introduced the students to risk and data science. Initially, he started by Credit Suisse. Dwelling into the topic of discussion- Meaning, objectives and profiles of risks, differences between the risks in Indian and Foreign banks, Credit risk and its types, Market risks and its types, sources of risks and Risk indicators, were discussed. Additionally, importance of Data science and Automation and coding language were also highlighted. The session had a great ending, as it was followed by a series of questions by the audience to the guest, which in turn served as a platter of knowledge to the spectators.
The final session was graced by the presence of Mr. Shrisha Acharya, Associate VP, DCB Bank, from batch 2010-12, who was also the second speaker for the event. The topic that gave students a glimpse about, was on Treasury. He commenced his discussion with the meaning and the working of treasury, which was followed by the operations of front office, mid office and the back office, maintenance of SLR and CRR, Risk management, Trading, Investments and some of the skills required for treasury management. He also suggested certification courses that would help students with taking their steps forward towards their career-oriented goals. There was a trail of questions put forward to the guest, by the spectators, which was again an informative part of the discussion. In a nutshell, the alumni visit and their words of motivation and knowledge transfer, not only acquainted the students with knowledge, but also with a booster of confidence.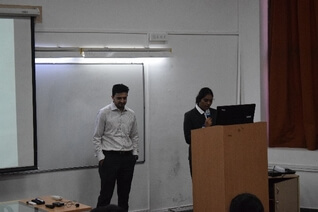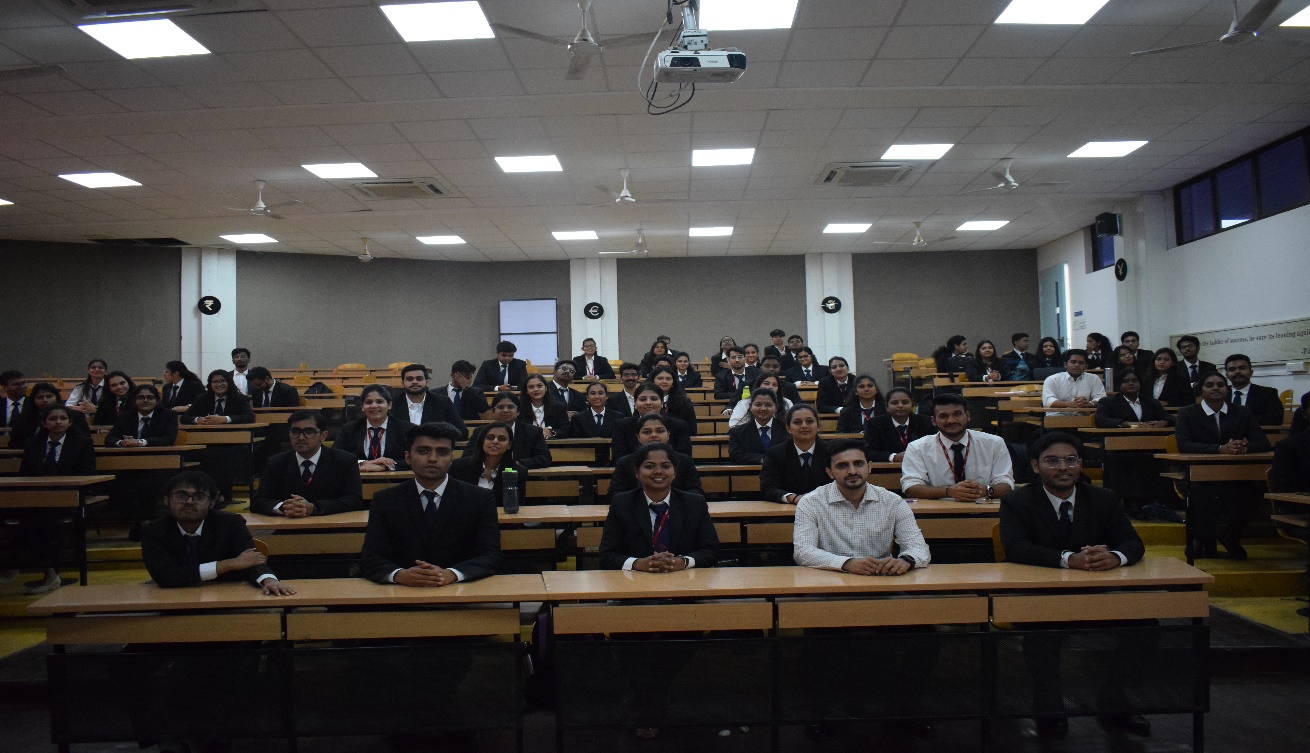 On Saturday, November 5, 2022, the SSBF's Alumni Committee hosted a guest session by our respected Alumni as a part of the Quantum Leap Initiative 2022.
Taking charge of the first session was Mr. Abhirup Mukharjee Sir is a business analyst and the vice president of Citibank at the moment. Sir has also worked with organizations like Reliance Energy Ltd. and RAGE Frameworks Inc. Here on subject of "Business Analysis in Banking as a Career Path," Sir shared his insights. He began by outlining the fundamentals of banking, its processes, and banking verticals. He discussed the characteristics of a business analyst, his roles and responsibilities, and the abilities needed for success in the banking industry. He discussed his time working for Citibank, his responsibilities, and the key lessons he discovered along the way. By sharing his ideas on the value of staying updated with skills and knowledge in a world where technology and automation are taking over, sir made the session fascinating and alive.
Mr. Jimit Gandhi, an SSBF alumnus from the 2012–2014 class, took over the second session. Sir is currently employed with Nomura and is in charge of the global markets division. Additionally, sir has experience with corporations like J.P. Morgan, Credit Suisse, and Karvy. "Corporate Exposure and Transitioning to the Corporate Life" was the theme of his conversation with us. By discussing his experiences transitioning from being a student to working and handling responsibilities at a corporate, he helped us comprehend the corporate life and exposure. The lesson gave the students a greater knowledge of the obligations they must bear and the honesty required in life to accomplish goals and develop personally.
The session was enjoyable and engaging, the students gained a greater understanding of the topic thanks to the guest speaker's interactive session.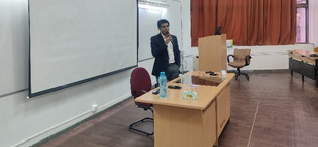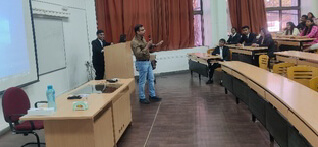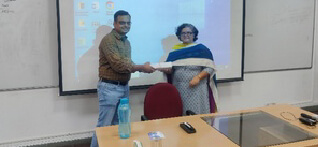 On 5th December 2022, the Symbiosis School of Banking and Finance, conducted a guest session for the junior batch on the subject of Wealth Management. Mr. Vinit Iyer, Managing Director of Finodemy, (CFA, CWM, CFP) was the guest speaker.
Mr. Vinit first interacted with students and asked them about the topics they wanted clarity on. He then started with the topic of Tax Planning. He covered various topics, like the difference between exemptions and deductions, old and new tax regimes, and spoke in detail about various sections under Chapter VI of the Income Tax.
He also discussed about Estate Planning, where he explained the meaning of various terms used in this, with examples and case studies making it easy for the students to understand and remember them.
The speaker next discussed the derivative market, including futures and options, and when it is appropriate to invest in these financial instruments. the funding needed to purchase these equipment. The relevance of time decay , evaluating option price and other elements, as well as when to purchase and sell these options, were well discussed.
Overall, the session was very informative and helped students gain more insights about tax and estate planning with respect to Financial Planning and Wealth Management.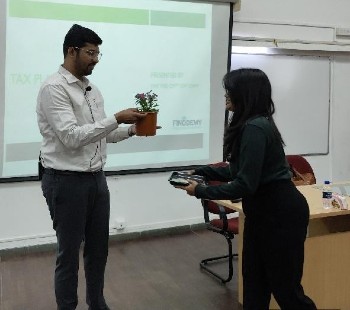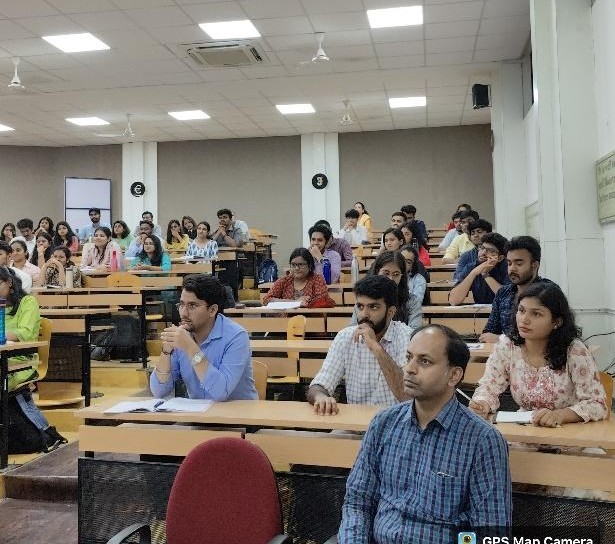 On Saturday, December 2, 2022, the SSBF's ERC Committee hosted a guest session by Sharekhan on the subject of " Stock market and Trading".
The objective of the session was to familiarise the students about the fundamentals of the stock market, aid them to comprehend how the trading system operates, as well as the various other stock market strategies that are present, and to show them how to apply these strategies to profit significantly from the market and grow their wealth.
The speaker spoke to the students about trading in the stock market, in particular the use of technical analysis in choosing companies and what factors a beginner should consider before purchasing stocks to make high returns.
The speaker next discussed the derivative market, including futures and options, and when it is appropriate to invest in these financial instruments. the funding needed to purchase these equipment. The relevance of time decay , evaluating option price and other elements, as well as when to purchase and sell these options, were well discussed.
Overall, the session was very informative, enjoyable, and engaging, the students gained a greater understanding of the topic all thanks to the guest speaker's interactive session.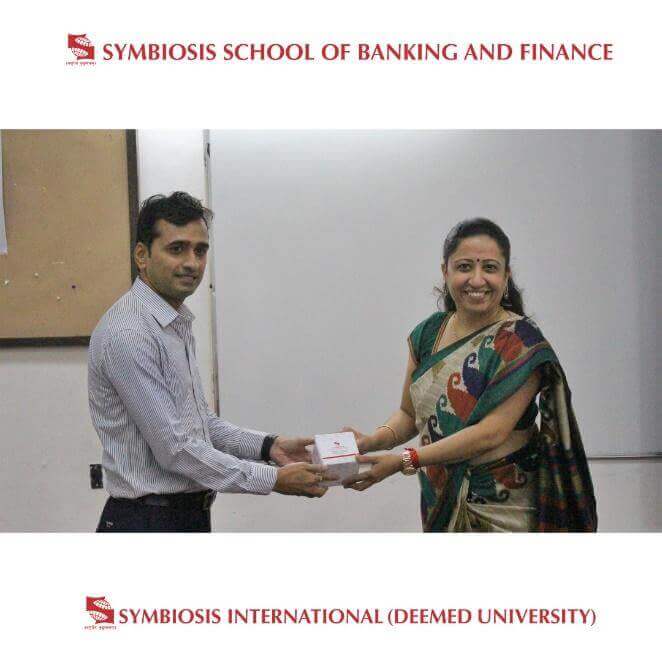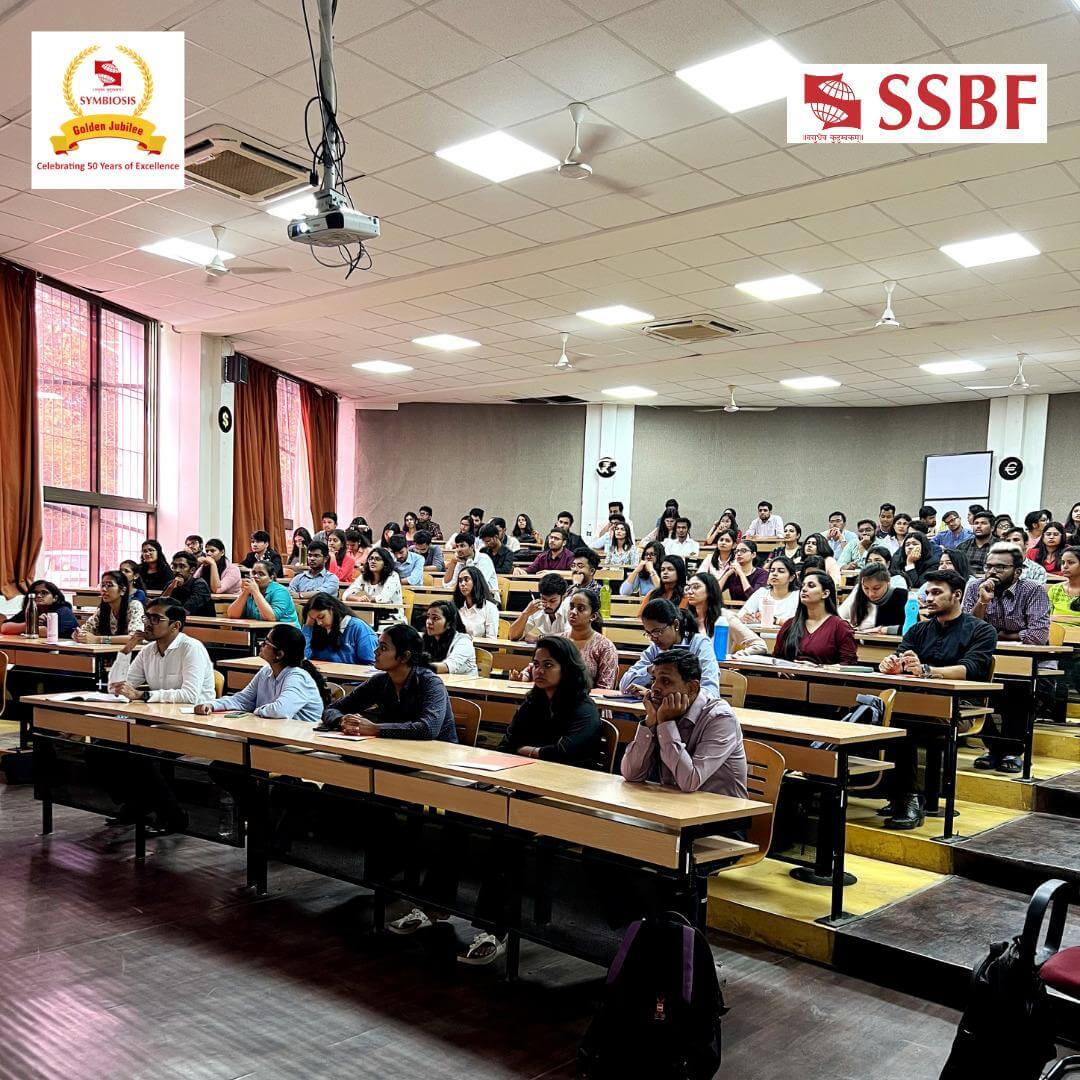 On 30th January, 2021, the E-Cell at SSBF had the opportunity to conduct an interactive and informative session for the students to gain some insights on Atmanirbhar Bharat and Entrepreneurship.
The guest for the session was Mr. Jayant Shah, a Chartered Accountant and an Associate Member of the Institute of Chartered Accountants of India since 1982. Also, a graduate in commerce and Law, Sir has varied experience in Organizational and Management Consultancy and is currently associated with the eminent management guru, Dr. Jagdish Sheth.
He has been associated with Academy of Indian Marketing since inception and is also instrumental in the formation of the Academy of Indian Marketing (AIM).
Mr. Shah is the Executive Director of Academy of Indian Marketing and is also the CEO of AIM Parasuraman Centre for Service Excellence.
The topic for the session was "Atmanirbhar Bharat". It was delightful to see this idea from the perspective of Mr. Shah. He threw light on all the different facets of this topic and how we could reach there as a nation.
He first talked about challenges to this aim: Political, Social, Economic and Educational.
His clarity of thought helped us understand the reasons and consequences of things easily.
Further, the entire timeline from the Pre-independence Era to the Post-independence Era finally to Economic Liberalisation and how Entrepreneurship was or was not a focus in these time periods was delivered.
Then, various facets of entrepreneurship like moving from idea to implementation, the role of innovation and diversity were discussed.
He then spoke about how the new age economy in which we live now was unthinkable few years back and how the pandemic has contributed positively to this greatly making us all move to digital payments on a much wider level than earlier.
Lastly, he motivated all of us to be Job Creators and innovators. He concluded with the saying, "Success has many fathers, Failure has none. Failure is the Key to Success.,"
The last part of the session was Q & A session. Mr. Shah was much delighted to quench the curiosity of students answering patiently each one, one after the other. It was a great take away for all the students.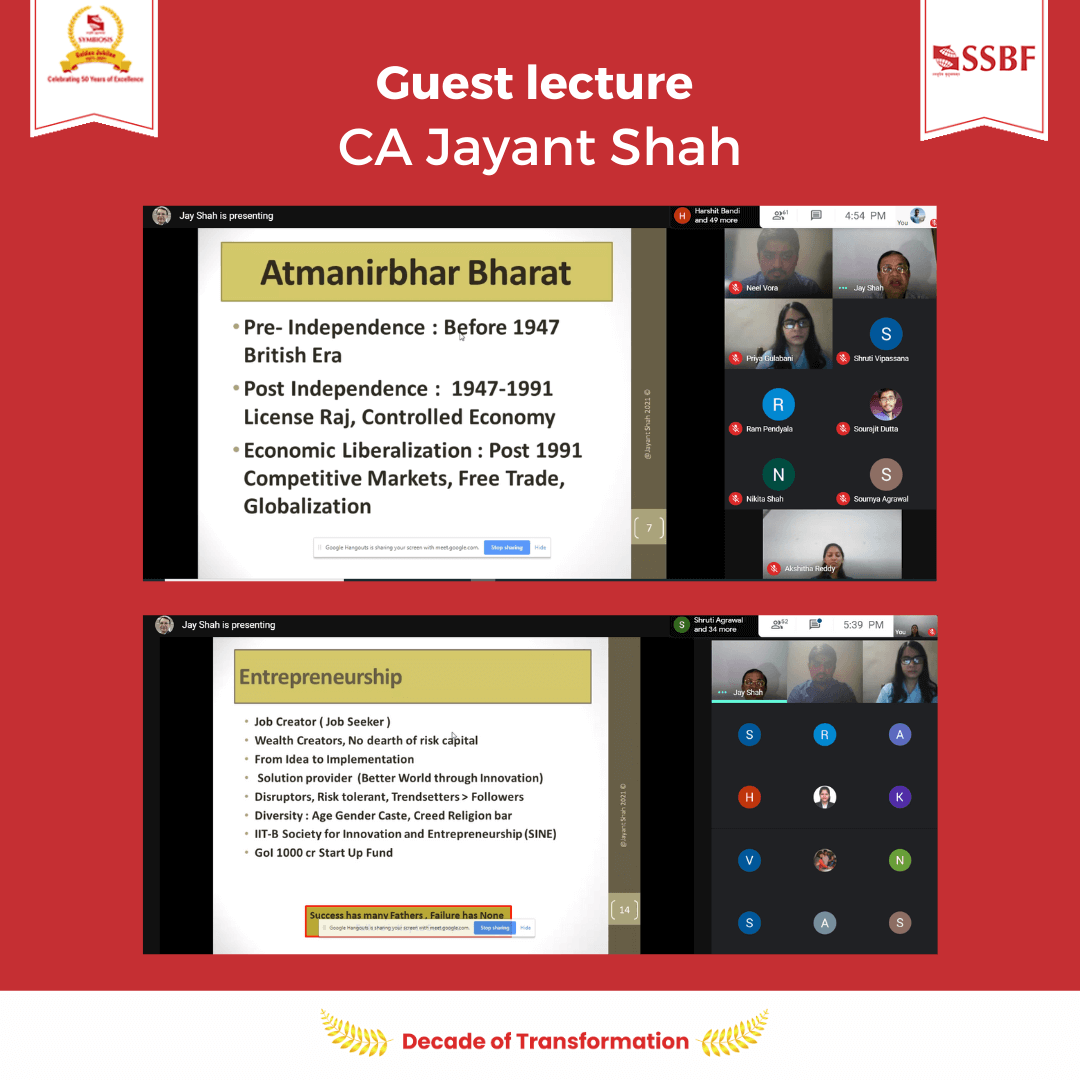 On 09th February 2021 students of Symbiosis School of Banking and Finance had the privilege of organising and hosting an analytical session on the Budget 2021 addressed by Mr. Chandrashekhar Tilak, Executive Vice President, NSDL e-Governance Infrastructure Ltd.
Mr. Chandrashekhar Tilak touched upon a few selective points in the Union Budget and discussed their impact in the careers of banking and finance professionals shortly and in the years to come. Sir stated that the budget is a clear recognition of what sort of a thinking and expectations the younger generation of the economy has.
Sir emphasised that he wishes to give us insights into the Budget with a perspective very different from that we see in the media. He reiterated that the India's fight against COVID-19 continues into 2021 and stated that against the backdrop of the same, the Union Budget 2021 focuses on six pillars to turbo charge the economy. He spoke about how the Government is planning to bring in radical reforms like privatisation of banks / insurance, increasing FDI limit in insurance sector, monetising upcoming Dedicated Freight Corridor by Railways, etc.
Sir also shed light on how the Budget has brought a holistic approach to health as it has focused on strengthening three areas: Preventive, Curative and Wellbeing. He also highlighted the vision of creating and nurturing manufacturing global champions for an Aatma Nirbhar Bharat. He highlighted the fact that for taxes, the government maintained a status quo, which signals a stability in tax regime in these turbulent times. Lastly, he discussed about announcement of several measures for the benefit of individual and small / medium taxpayers and to ease their compliance burden
Apart from these major takeaways, what made event a real learning experience was Mr. Tilak helping the students to look at the budget from a fresh perspective. The session left the students better informed, possessing rich knowledge on the aspects focused on by Mr. Tilak and also gave thought-provoking insights into the Union Budget 2021, in management outlook.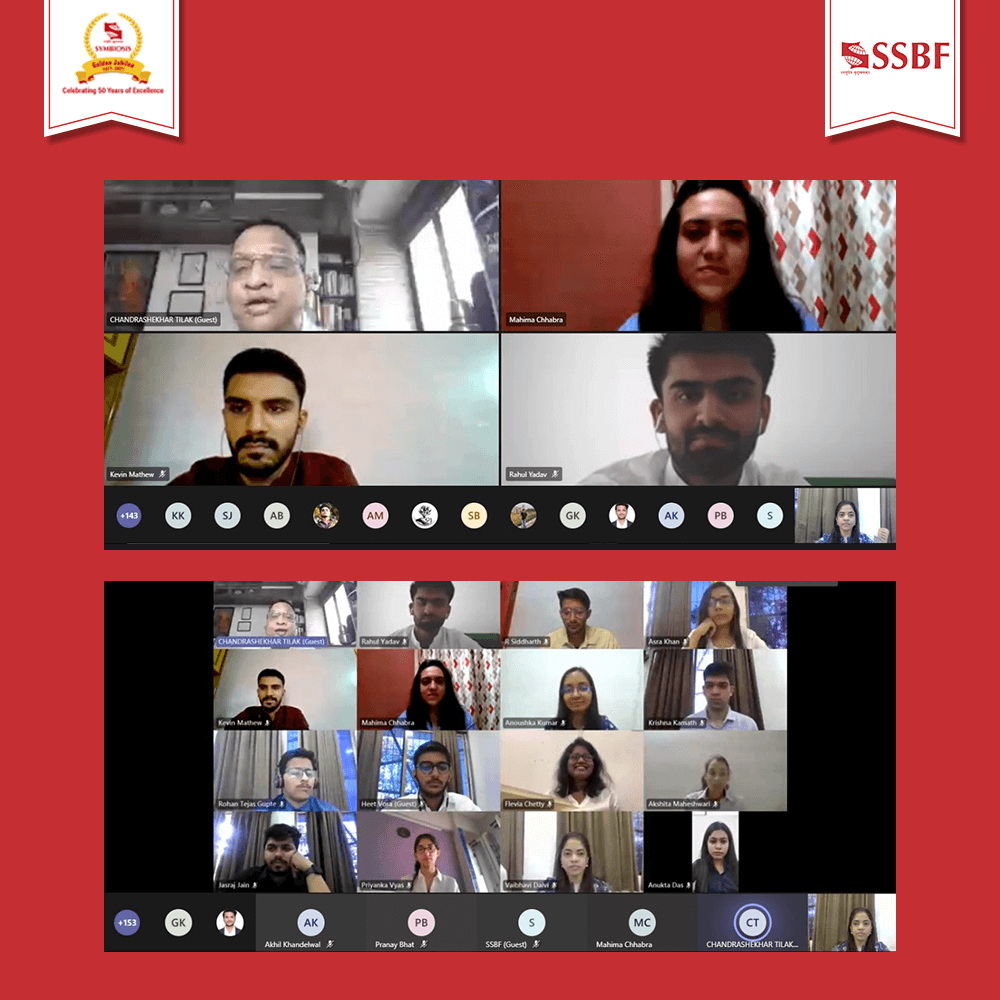 On 6th February 2021, SSBF had the privilege to have Mr. Baburam S Rajendran as a guest speaker for the session "Wholesale Banking & Products". Mr. Rajendran is an IT Evangelist with more than 19 years of experience in Strategy Thinking, Agile and Digital Transformation, Grooming Leaders and managing complex delivery teams. He also possesses expertise in Corporate and Investment Banking solutions of Lending, Leasing, Financing, M&A, Capital Markets and HR.
The session started on a very light note with a humorous question being posed to the attendees. Everyone was required to pitch in their answer in the comments section. Sir started the discussion by discussing various types of banking and then moving on to specifically discussing investment Banking. All the various roles and functions performed by an Investment Bank including Corporate Banking, Raising Capital, Mergers & Acquisition, Advisory, Equity Research, Trading and Asset & Wealth Management were discussed in great detail.
Next, Sir threw light on topics like IPO and Book building Process. He also discussed about Research and the scope in the field of Research analysis. Further, Capital market and different types of roles in capital market and trade life cycle were discussed. Lastly, the session addressed the question "How to become an investment banker?". Sir discussed about the preparation and the skill development required to work as an investment banker and how the field holds high prospects for finance students.
The session came to an end with a Q n A session. The students keenly asked questions and the guest seemed more than happy to quench their curiosity. Despite the weighty discussion, the liveliness of the session was maintained with a lot of interaction and valuable learnings for all to take home.
On 19th March 2021, Symbiosis School of Banking and Finance organized an insightful session on 'Growth of Paytm and Challenges faced while diversifying/entering into new markets' with Mr. Varun Sridhar- CEO of Paytm Money, one of India's largest online investment and wealth management platform. Sir holds a degree in Master in Business Administration from SDA Bocconi School of Management, Milan, Italy with19 years of experience in retail banking, consumer finance, insurance, mutual funds, UPI payments and Technology services. He has also served as the CEO of Finshell India where he launched realme PaySa, a fintech platform on mobile and even worked with various organizations like Deutsche Bank and BNP Paribas and Value Partners.At BNP Paribas he supported the acquisition of brokerage Sharekhan. As a board member and member of the executive committee, he was instrumental in supporting the scale-up of the digital equity brokerage and mutual fund business.
Sir enlightened about his personal life experiences with the students where he talked about the career progression he had and the way he ventured into the field and what all made him do so. Along with the myths of a rat race which every person generally in India is born to run, he also demonstrated how significant it is to make the right decisions at right time, going from zero to one, and how one can always find an opportunity to succeed even at the times of crises. Taking the discussion forward, he enlightened about how Paytm was been a success story. It was truly an enriching session, and the little insights he gave of his life have left a lasting impression on the students.
In an hour-long talk, he not only enthralled and amazed everyone but also gave some wisdom nuggets to take home with the Q&A session.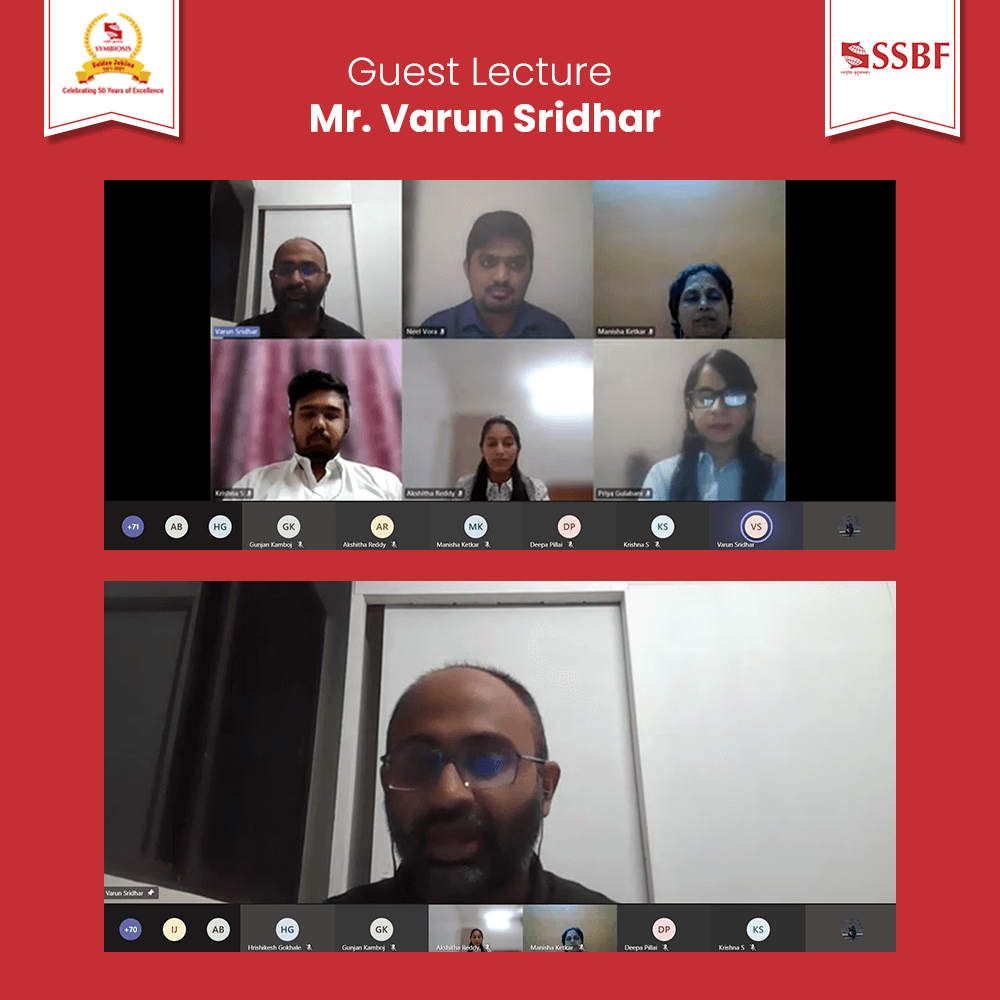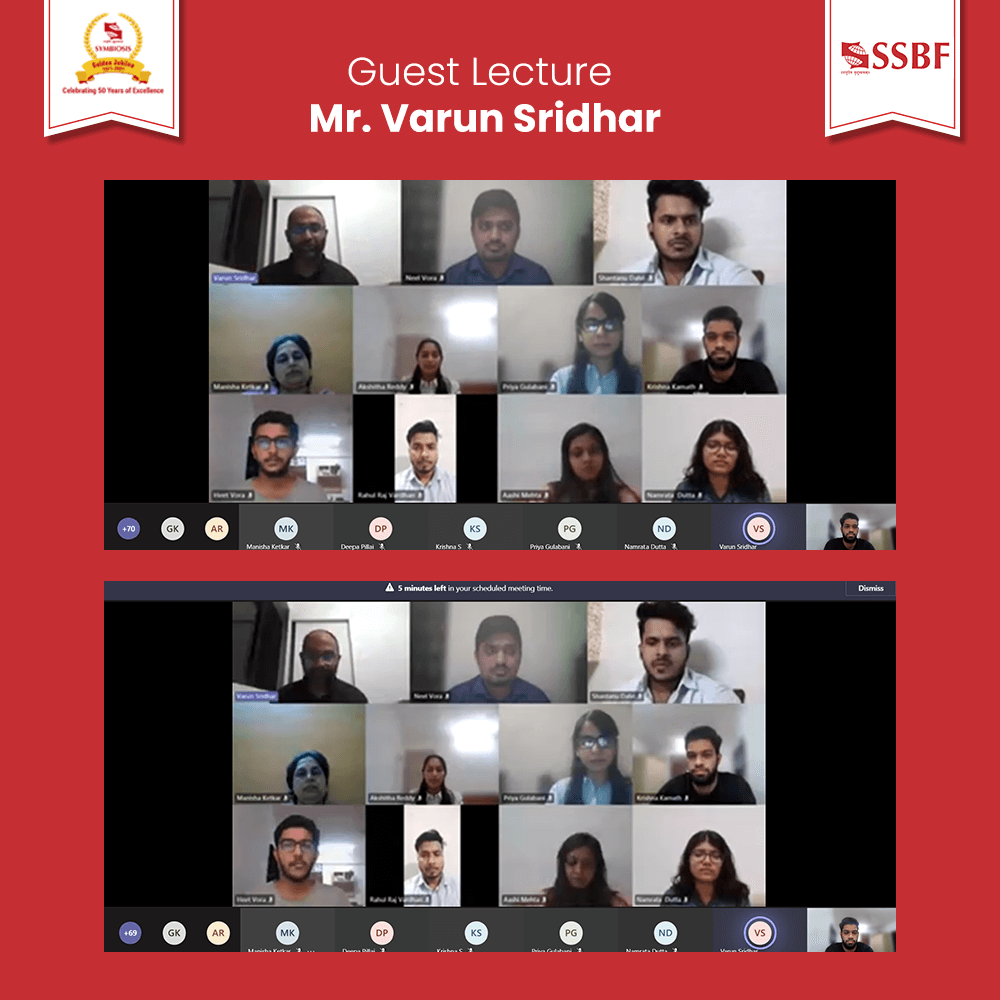 On 6th March 2021, Symbiosis School of Banking & Finance organized an informative session on 'Investor Awareness Programme', an initiative by UTI Mutual Fund with Mrs. Nidhi Kothari, Chartered Accountant, possessing 14 years of experience in the Banking and Finance industry. Her initial stint as a banker at ICICI bank and ABN AMRO provided her with a varied understanding of global markets and joined PGIM India Mutual Fund for an eight years long stint where she won a series of accolades and awards, including Best Relationship Manager and Best Innovative marketing pitch.
Over the years, her interactions with a wide range of channel partners have enhanced her experience of varied investment products that lead the way for wealth creation. Equipped with her work experience and aptitude she has embarked on the journey of financial training. Conducting various programs on financial literacy, she is in pursuit of being a catalyst in helping people achieve their financial goals.
Ma'am commenced the session with the three guru mantras for managing our money by enlightening the students with the fundamental part of investment journey. She explained the power of compounding in investments being rightly quoted as eighth wonder of the world by Albert Einstein and also about the various investment avenues where she laid more emphasis on mutual funds. She discussed about its significance and how risk diversification is done by mutual funds houses.
Taking the discussion forward, she highlighted various scheme related documents, funds categorization and various schemes prevalent, especially systematic investment plan (SIP) where she discussed about its process right from e-KYC to its benefits and also urged students to take a taste of it right from their young age.
In an hour-long talk, she not only enthralled and amazed everyone but also gave some wisdom nuggets to take home!
On 28th August 2021, The Corporate Interface Team (CIT) team at SSBF arranged a guest lecture, on the topic - "Pathway of success in the field of Sales and Business Development". The speaker for the session was Mr. Harsh Gupta, an accomplished Sales and marketing Personnel, with more than 20 years of experience in the field. He is currently working for Alphion, an US based IT Company.
Mr. Harsh Gupta has varied interests and holds a plethora of diverse passions. He is a mentor, marathoner, trekker, speaker, strategic investor and a tech consultant. He is also interested in the Mobile and Automotive industry.
The guest lecture began with a journey through the timeline of developments in the mobile sector and how it impacted the growth of several industrial sectors. The birth of 2G in the 1990's, 3G in the early 2000's, 4G in 2010 and 5G in 2020 which helped us move from basic voice calls and texting to video chatting and supreme speed for downloading or mainstream browsing was discussed.
The possibility of XG, smart cities, autonomous cars, remote robotics and AI infused applications was also explored in the discussion. The companies and countries that joined and became a part of this technological growth experienced a great amount of development within the efficiency of their business as well as their profit numbers. Mr. Gupta also implied that the applications of major transformations in the IoT sector would help us advance in the production and sales department as well as introduce the concept of 'smart homes' that could be a part of our lifestyle.
The guest lecture helped us understand that the great sales people are relationship builders who provide value and help their customers win. Overall, it was an informative and interactive session which would surely help us as we step foot into the corporate world.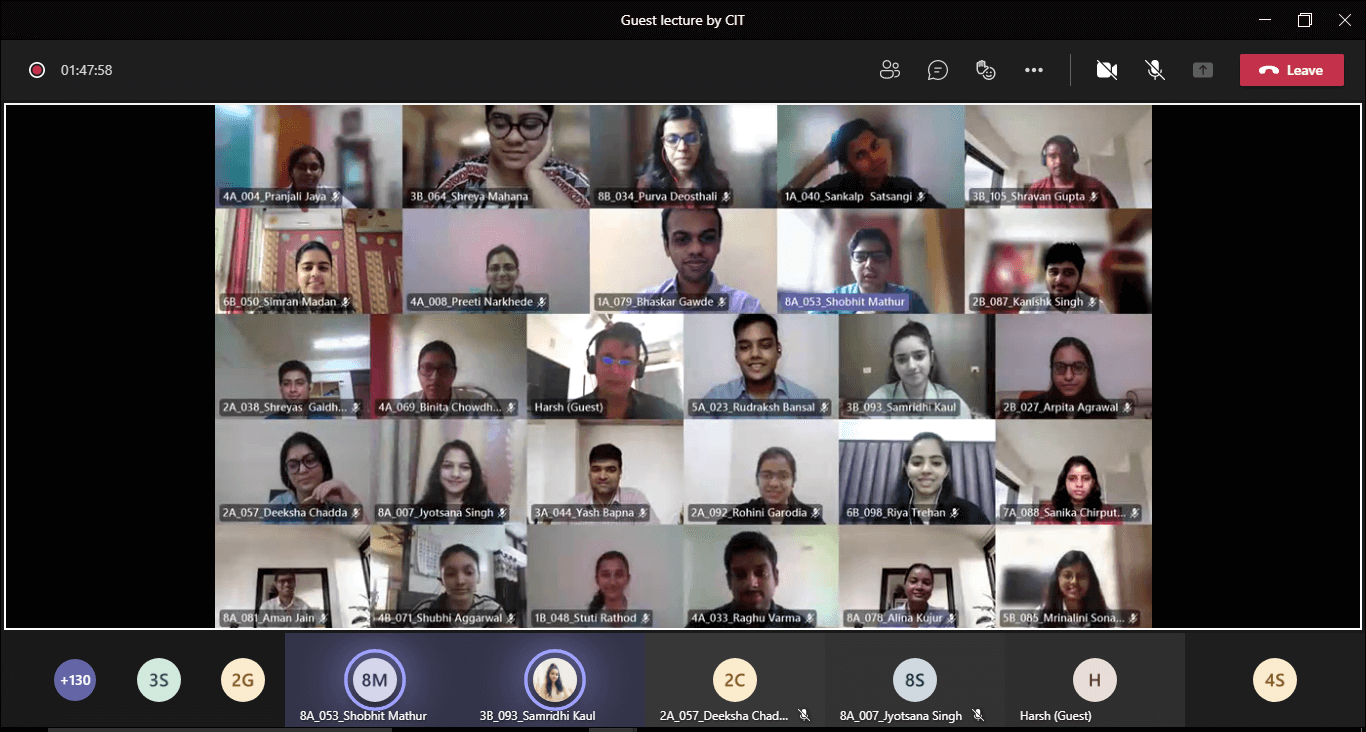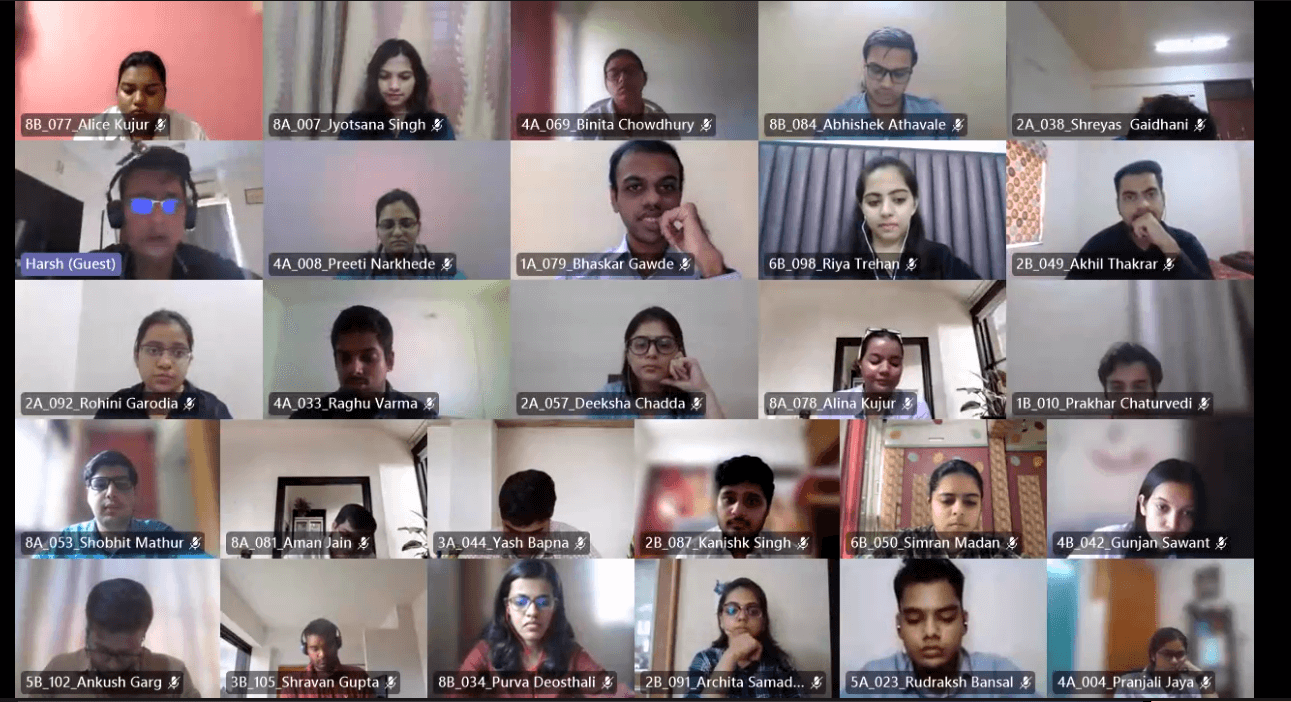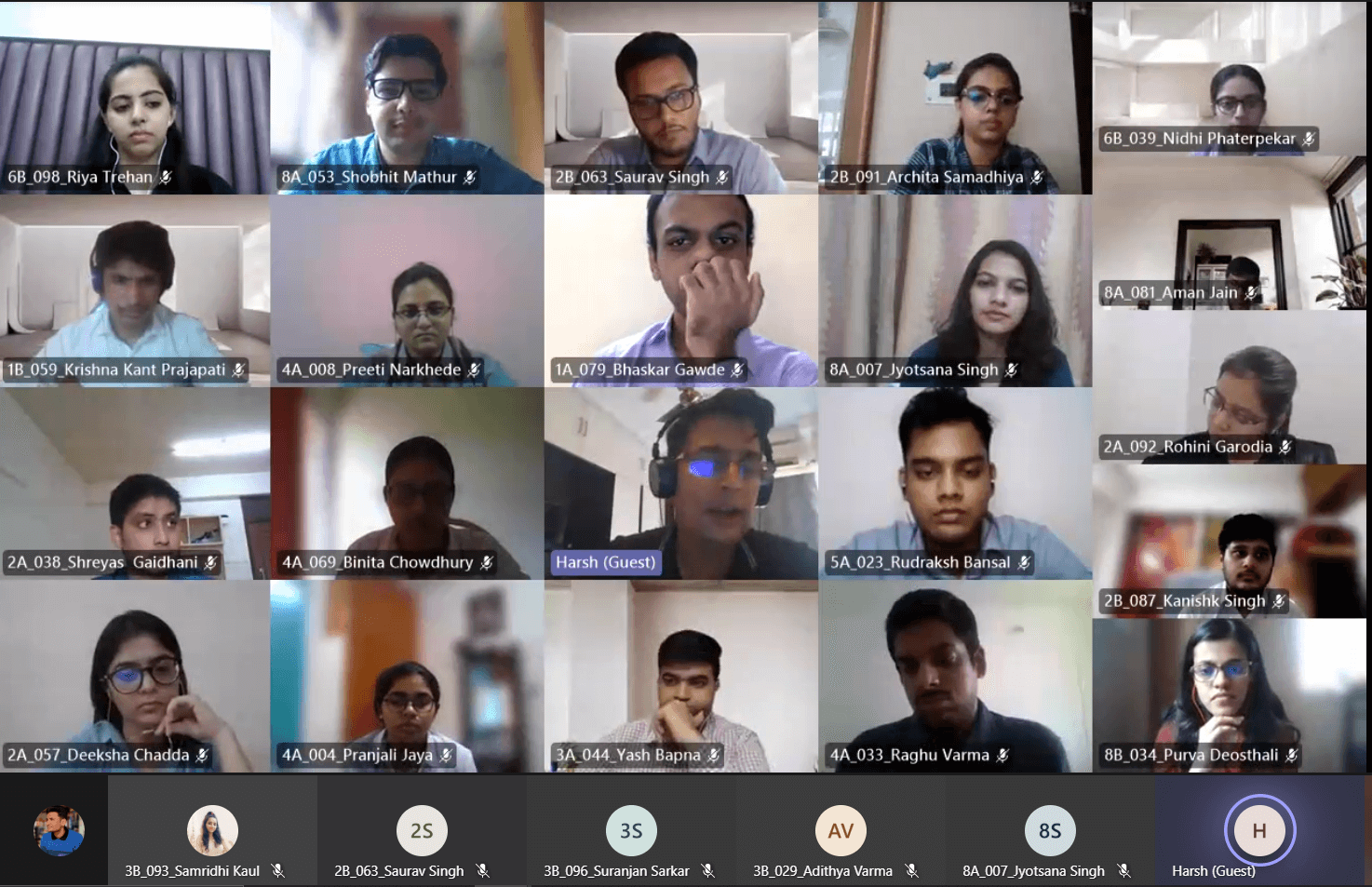 On 11th September 2021, a guest lecture was arranged by the Corporate Interface Team to enlighten the students about the pathway to success in the field of Analytics. The Guest speaker for the day was Ms. Ruchira Gupta, who is currently working as an Associate Vice President at Cians Analytics.
Over the last eight years she has executed several strategic business research projects across various sectors and geographies for investment banks, private equities, financial consultancy firms and corporations.
The guest lecture started on the note that 'Analysis is a critical starting point of strategic thinking' as Ms Ruchira Gupta introduced the workings of Cians Analytics. A detailed KPO ecosystem was presented where in the services provided them included market research, business research and consultancy, data analysis, design and content development, research and development, legal services, education and training and other industry specific services.
Further, KPO models were presented throwing light on how they are structured based on their ownership, location or focus. The advantages of a KPO include reduced operating costs, increased productivity and bringing in greater insights with experienced workforce which leads to focus being given to core business and service quality. However, there are some disadvantages to it as well which include poor quality control, lack of loyal employees and risk of confidential data being leaked.
The importance of secondary research for comparing, curating and analysing existing data to drive informed decision-making process was also discussed. Ms. Gupta also mentioned the requirements KPO's seek while hiring for the benefit of students who wish to work for one in the future.
Overall, it was a very enlightening and interactive session where in all the students got to know the nitty gritty of KPO's and how they are run. The knowledge gained in this lecture will definitely develop the students' interest in this field motivate the students already interested in the field of analysis to help them prosper in the sector.
On 9th October, 2021, the Corporate Interface Team at SSBF organized a guest lecture titled "Pathway of success in field of wealth management". The guest for the event was Mr. Kuljit Singh Kohli. He is the Founder and CEO at Trust Financial & Wealth Management Inc. It has rightly been said that Symbiosis School of Banking and Finance is a temple of knowledge for those inquisitive students who are willing to learn. The session was arranged in order to provide us with the corporate knowledge from such renowned personalities.
Sir emphasized on significance of wealth protection, wealth creation and wealth distribution in a very remarkable manner and threw light on the ongoing trends, needs and mindsets of the market and individuals followed by an informative Q&A session. He answered all the questions with great enthusiasm and zeal.
The opportunity to be hearing a renowned personality like Mr. Kuljit, share his experience and the challenges he has faced in his journey was motivating for all the students to strive harder to fulfill their aims. It was our pleasure to get an opportunity to interact with him and take away our share of wisdom nuggets from the session.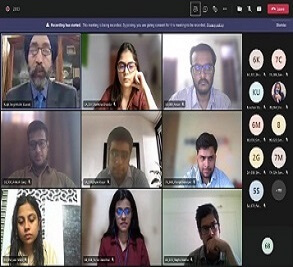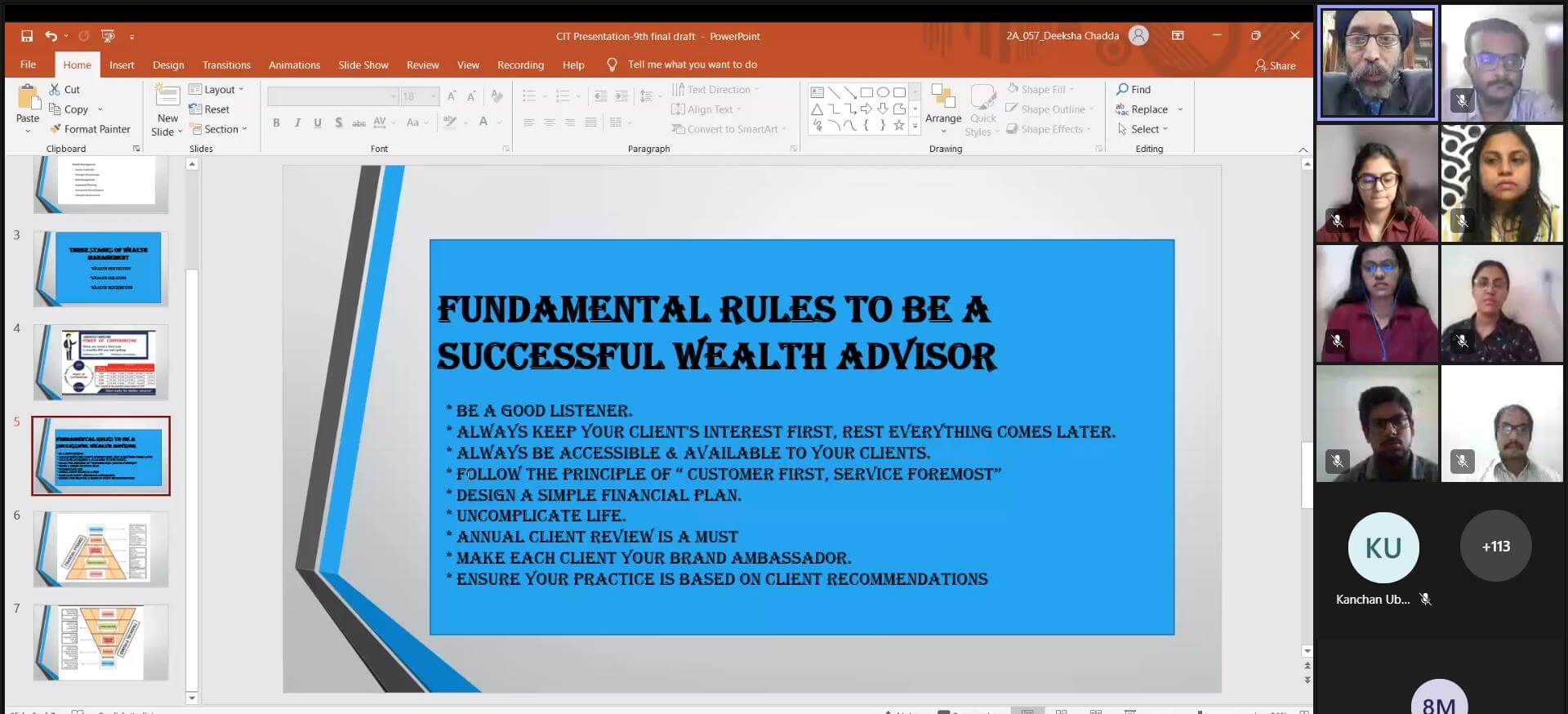 On 13th December, 2021, the Banking Drive Committee at Symbiosis School of Banking and Finance organized a guest lecture titled "Trends in the Banking Sector". The guest for the event was Mr. Vinod Menon, the specialist in Banking and Financial Technology. Continuing the tradition of enlightening knowledge in various fields, SSBF never fails to give a profound platform to their students for better understanding of the subject. The event was organized to offer the students with information on numerous current trends in our financial system from such well known individuals.
Sir talked about the various new trends present in our Banking Sector, like API Banking, GIEOM Platform, Operational Resilience, Business Continuity Plan (BCP) and various other steps taken by banks to make their services more efficient and later followed by an informative Q&A session.
Hearing a well-known personality, imparting his expertise and knowledge on the subject was enlightening for all of the students who wanted to have a deeper understanding of the subject. It was a delight for the students to get the opportunity to speak with him and taking away some of the session's wisdom nuggets.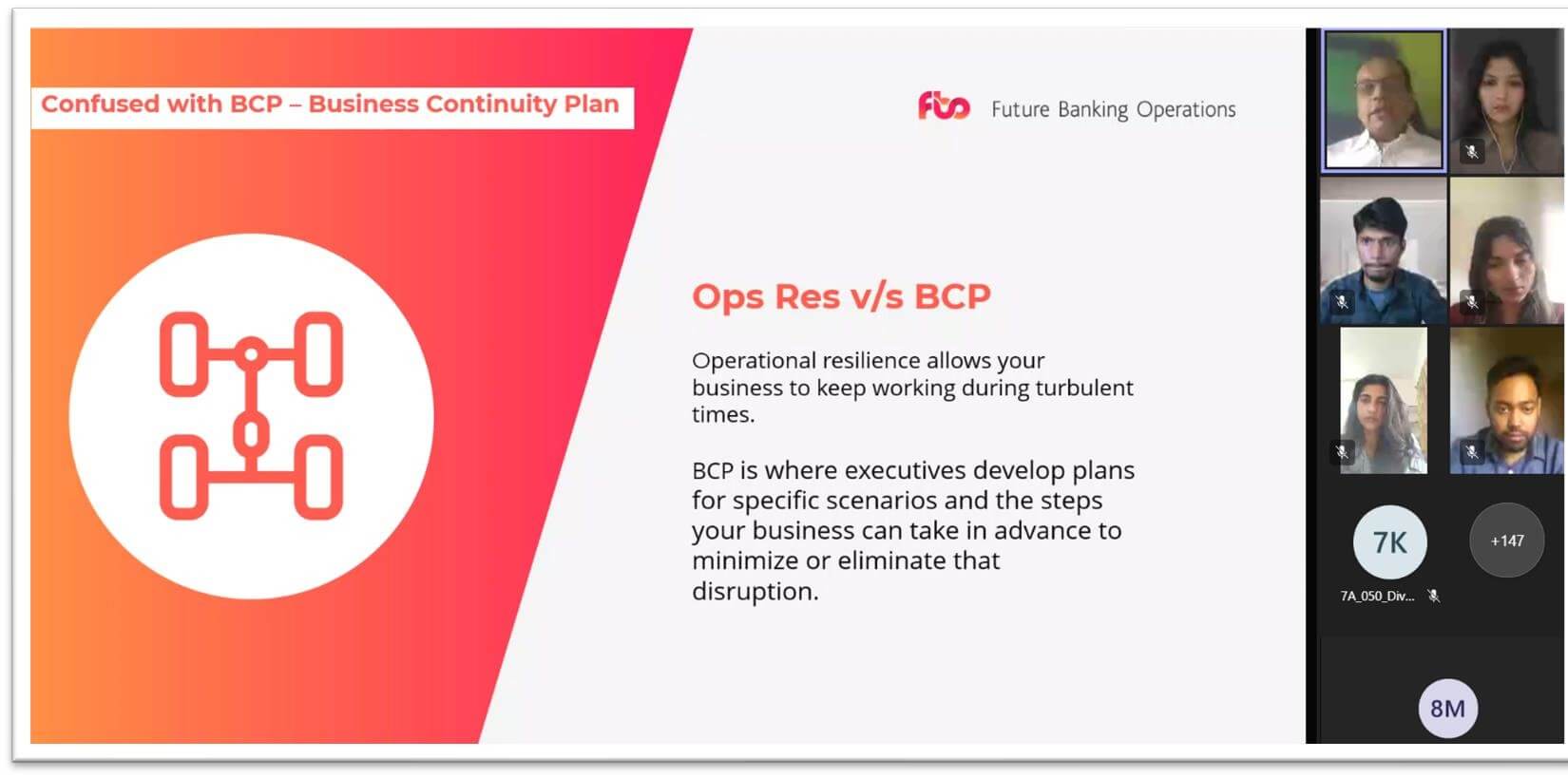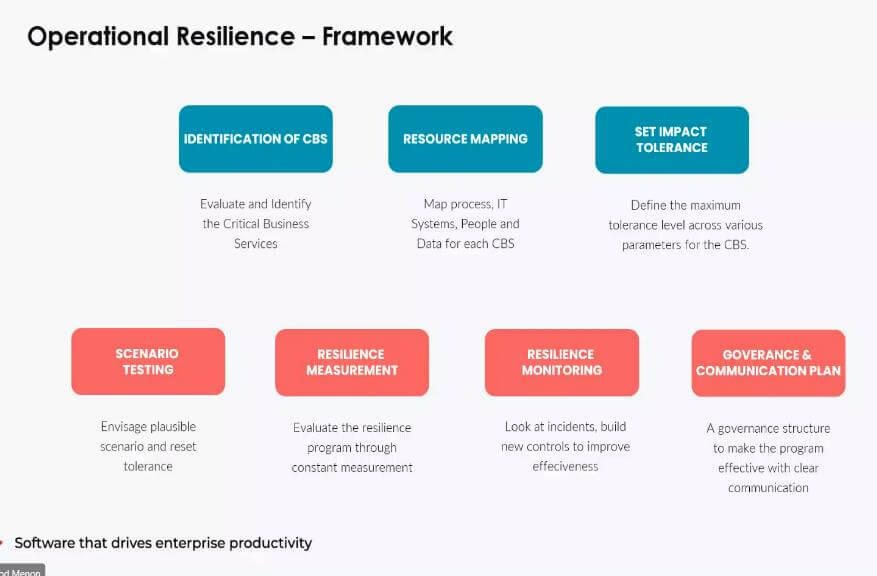 The guest lecture on "Principles and Practices of Management and Leadership" by Ms. Saryu S. Sahajpal, shed light on various aspects of principles of management and leadership styles and the relevance of each in today's day and age. She shared the ingredients of a great leader such as team empowerment, problem-solving skills, engagement, transparency, influence, adaptability, innovation, and empathy. She mentioned how leaders are different from managers-- unlike managers that create followers and focus on efficiency, true leaders create leaders and focus on effectiveness. She accentuated how leaders have a higher risk propensity that allows them to follow a proactive, strategic approach, unlike managers that follow a reactive, tactical approach. Further, she talked about the basic issues faced by leaders such as attracting, retaining and developing talent, managing performance etc. She summed up the lecture by emphasizing how the company's success/ failure is determined by the success/failure of transitioning to a new leadership role.
Ms. Sahajpal also motivated the students to develop their skills based on present job requirements in the corporate. The students thoroughly enjoyed the session and were involved in asking a lot of relevant questions for their better understanding, and to plan their careers as future managers and leaders.
On 24th January 2020, Symbiosis School of Banking and Finance witnessed a truly informative session on Ergonomics. Keeping in mind today's change in lifestyle due to incorporation of new technologies and lack of time for self care and development, this brief session was one not to be missed.
Sitting, walking, standing postures and workplace stance to relieve anxiety and over exertion were some of the valuable lessons delivered to the students. Neck and body exercises to boot out pain, caught the audience's attention. The students were captured knowing about Computer Ergonomics which was definitely an important subject for discussion.
Relieving unnecessary stress and pain in today's hectic traumatic lives of youth at a young age proved beneficial for maintenance of health in their later years. It not only increases the stamina of the individuals, improves efficiency at their workplace but also enables timely completion of tasks assigned. The speakers also spread awareness regarding PCOS, its effects, and secrets to maintaining a balanced lifestyle.
This session was an eye opener to the young industry aspirants and the knowledge gained was greatly appreciated.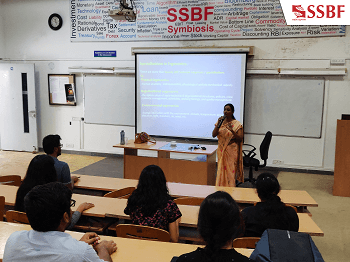 22 January, 2020: SSBF organized an interactive session on "Alternative Investments" in which Mr. Shreekant Daga, Associate Director, CAIA Association, discussed various investment options apart from traditional asset classes.
"A 60/40 allocation to stocks and bonds may no longer be enough to meet long-term investment goals. Alternative Investments can lower volatility, enhance returns and provide higher levels of income for a portfolio."
Mr. Daga gave us information on different asset classes, and the difference between traditional and alternative investments. Alternative investments include financial assets that do not fall into the conventional equity/income/cash categories. Private equity or venture capital, hedge funds, real property, commodities, and tangible assets are all examples of alternative investments. Most alternative investments are unregulated by SEBI and tend to be somewhat illiquid.
He also cleared some myths related to alternative investments and also focused on the initial risk analysis before investing into any avenues for getting maximum revenues. Alternative investments typically have a low correlation with those of standard asset classes. This low correlation means they often move counter—or the opposite—to the stock and bond markets. This feature makes them a suitable tool for portfolio diversification. He also told that investments in hard assets, such as gold, oil, and real property, also provide an effective hedge against inflation.
The session was very informative, Mr. Daga cleared many doubts related to alternative investments, and the students found the session quite intriguing.
Such value-added sessions truly benefit the students and inculcate practical learning among them.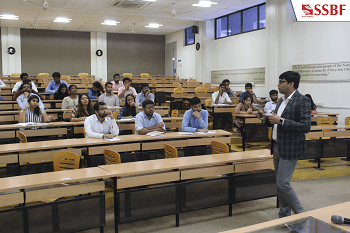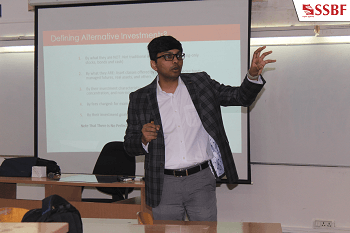 On 18th of January 2020, Symbiosis School of banking and Finance was graced by the presence of Dr. Rabi Mishra, Executive Director of the Reserve Bank of India (RBI). A charming, talented and polished personality, Dr. Mishra gave insights about the world economy, financial institutions and the Indian economy as a whole. He started the session with an entry quiz where he gave the students a set of questions based on the Financial Sector. The motto of the quiz was to make the students learn new concepts and grasp new information. By the end of the session he rechecked the answers in his exit quiz to help students understand the new concepts they learnt by the end of those three hours. Insights about the economy, banking sector, International Monetary Fund, World Bank, Basel Committee were a few of the many interesting topics that he touched upon. He taught the students various methods of learning including methods that are practiced in Harvard University. It's always a pleasure to have Dr. Mishra in the campus. Previously he has visited SSBF and enlightened the students about the power of 'Namaste with a smile'. The best part of his sessions are always the moral values he attaches with the academic lessons. Values like helping others whenever possible, always greeting people with a Namaste and respecting the opinions of others were a few he insisted upon. He told the students about his motto of going to various colleges and teaching the students. It was to inculcate these moral values in them. The noble and humble sessions of Dr. Mishra are always a hit amongst the students and we sincerely hope he comes for more.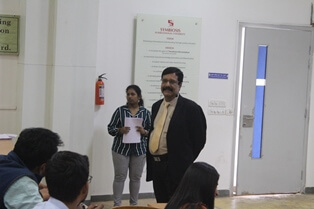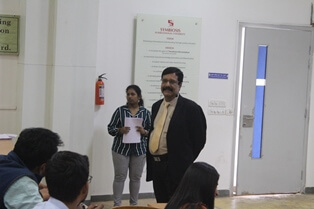 On 12th January SSBF got the opportunity to welcome Mr. Vijay Haldavnekar a guest lecturer and visiting faculty in many renowned colleges specializing in MBA throughout India. An eminent industry expert in the domain of banking and credit dispersal for major banking companies in India amassing a staggering 29 years of industry experience. His laurels of achievements are not only limited to retail lending but are equally represented by his work in agricultural and wholesale credit appraisal.
The interactive session between him and the students of SSBF effectively covered major industry issues, touching on points like credit appraisal for sunrise sector, objectives of asset liability mismatch, and inter-relationship of various risks. Shortcomings in current credit dispersal methods were also discussed that are almost exclusively the reason behind huge NPA's on the balance sheets of banking firms. NPA's provisioning and the causes for huge losses for the same sector were scrutinized. Also students mooted the ways to solve the current NBFC and banking crisis and debated upon the policies of government as to tackle the situation at hand.
The key takeaways of the session were adaptability of the financial sector, especially public sector banks, for efficient integration with worldwide industry practices, growth for life and continuing progress throughout ones career. Not to forget the words of advice by him to be a student for life and learning is a process not to be confused with destination. The assembly of students greatly benefitted by his intellect and academic proficiency.
Analysis on Budget Session 2020
On 05th February 2020 students of Symbiosis School of Banking and Finance had the privilege of organising and hosting an analytical session on the Budget 2020 addressed by Mr. Chandrashekhar Tilak, Executive Vice President, NSDL e- Governance Infrastructure Ltd.
Mr. Chandrashekhar Tilak touched upon a few selected points in the Union Budget and discussed their impact in the careers of banking and finance professionals shortly and in the years to come. Sir said that it is not market that needs the budget but it is the budget that needs the market. Sir said that the budget is a clear recognition of what sort of a thinking the younger generation of the economy is having. People who are less than 30 years old and more than 65 years old are getting the most benefit out of this budget.
Sir enlightened that the personal income tax option in the budget 2020 when bifurcated is targeted towards the young generation. Sir discussed about LIC, IRCTC and what are the different options for consumers for tax bifurcations in simplified manner.
Sir shed light on how the budget served the purpose of ease of living with improved governance, benefits to self-help groups, MSMEs through NIS threshold for a better standard of living. Also, he pointed out that how the budget was gender neutral.
Besides these, what made the event a real learning experience was Mr. Tilak helping the students to look at the budget from a perspective never imagined. The session left the students enlightened with rich knowledge on the aspects focused on by Mr. Tilak and also gave thought-provoking insights into the Union Budget 2020, in management outlook.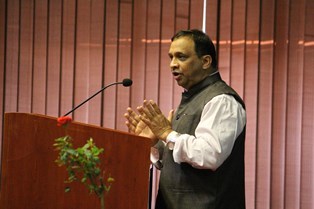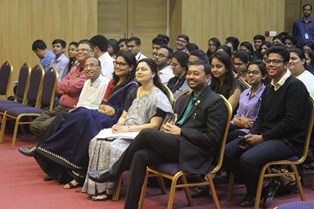 On 2nd February, 2020, Mr. Chaitanya Pore, Assistant Manager at Ujjivan Small Finance Bank who is also an alumni of the college, held a very informative, enlightening and educational session for the students of Symbiosis School of Banking and Finance. This session led the students to change their views and ideologies on digital finance, rise of digital banking and enabled them to gain a wider perspective of the banking sector in particular.
He gave the students an in depth understanding of the alternative banking channels, payment gateways, corporate internet banking etc. Apart from this, he also briefly touched upon the benefits of digital savings as compared to fixed deposits, the importance of DigiBuddies and the like.
With the help of graphs, charts and pictorial representations, Mr. Chaitanya Pore attractively displayed the rise of digital customers in India and across the world, the prerequisites to adopting digital payments, the dawn of a new era of QR Codes and UPI based transactions.
Next, with extreme enthusiasm, zest and fervour, he cleared the doubts of the students and ended his session. Without a doubt, this was an informative interaction and is sure to benefit the students in their upcoming careers.
Symbiosis Golden Jubilee Guest Lecture series
Date: 22nd July, 2020
Symbiosis Golden Lecture series, hosted by Symbiosis International Deemed University, was the brainchild of Dr. Vidya, Pro Chancellor of SIU. This lecture series aims at bringing stalwarts from various disciplines, to inspire and share their views with students, faculty members, staff and alumni of Symbiosis. The first of the Golden Lecture Series commenced with the honorable Dr. R. A. Mashelkar, chairman of the Innovation Foundation from 2000 to 2018. While his achievements are endless, below are some of the highest ones, to name a few. He was also the first Indian to win the most prestigious TWAS- Lenovo Science Prize (2018) and the first and only scientist to win the JRD Tata Corporate Leadership Award (1998). Apart from this, he also was the first Indian to be elected as the Fellow of US National Academy of Inventors (2017), first Asian Scientist to win the Business Week (USA) award of "Stars of Asia" at the hands of George Bush (Sr.) and so on.
He patiently and enthusiastically shared his views on the post COVID scenario in India. In this short period where 71 million people have moved from being in the category of poor, to extremely poor, he believes that the changes taken place are rapid but not new. He sees a similarity between the current pandemic and the climate crisis the world is facing in terms of creating of an array of socio- economic impact, systemic in nature, having knockout effects propagating fast across interconnected worlds, non- stationary, non- linear and aggressive risk multipliers.
His ideology on the "make in India" initiative, revolved around the fact that products shouldn't just be assembled in India but should be invented through innovation that could then be used by the world. He also spoke of the "buy to make better" initiative where he says that we have to look at the entire issue of who we are dependent on and how to minimize that until we become self- sufficient. The next lesson he gave to the audience, while stating examples from his own life, leaned towards a moral side- to explore and create your own doors to success. Finally, he ended by imparting one of the most valuable lessons, that there is no limit to human achievements, imagination and endurance, and thus to every achievement one must think, "the best is yet to come".
30th July, 2020: The Golden Jubilee lecture series has been envisioned and strategized as an initiative to get thinkers, intellectuals, artists and stalwarts to share their views on a spectrum of subjects. Although the year 2020 has not been great, yet it was made memorable by connecting the students with some eminent personalities. On 30th July, the renowned poet, lyricist and screenwriter — Shri Javed Akhtar addressed the students. He put across his views on how the cinema influences the society, and how the society influences the cinema, and how they reflect each other's aspirations and apprehensions. According to him, a movie is majorly an edited story where we put different realities together, and it has a definite beginning and a definite end. The middle part leaves the viewer wondering what is going to happen next. The hero may take many forms — sometimes of a lover, sometimes of a narcissist, sometimes of an angry young man, and sometimes of a rebel.
The session was pretty interactive, Shri Javed Akhtar took questions from the students towards the end of the lecture. It was a great initiative by Symbiosis, students should not confine their knowledge to the subjects they study in class, rather they should have a holistic knowledge and they should broaden their horizons. Such lectures by eminent personalities are going to etched in the minds of the students forever.
Symbiosis Golden Jubilee Guest Lecture series
Date: 8th August 2020 The Session was conducted by Dr. Rameshwar Dubey on Research Methodology. Which helped the students of Batch 2019-21 and Batch 2020-22. To enhance the skill in research methodology. The session was very interactive and students interacted with the Dr. Dubey. And got the doubt cleared in the field of research.
Date: 18th August 2020The golden jubilee lecture series is organized by Symbiosis International University to bring together eminent personalities from all walks of life and ignite the young minds. Symbiosis School of banking and Finance (SSBF) is fortunate to be a part of such an esteemed platform. On 18th August 2020, the students of SSBF, along with SIU had the absolute delight and privilege to be a part of a virtual interaction with this forum's fourth speaker- The renowned Dr Kiran Mazumdar Shaw, Executive Chairperson Biocon Ltd. Dr Shaw was on the board of the prestigious IIM Bangalore and in many prominent Indian Companies such as Infosys. Her inspiring journey has earned her numerous awards and honors, both national and international, including India's most prestigious Padma Shri Award in 1989 and the Padma Bhushan in 2005. The topic of discussion was "Turning crisis into opportunities." Despite being tested Covid positive on the evening of 17th August 2020, Dr Shaw attended this webinar virtually and inspired the young minds. She showed a live example of how she turned this crisis into an opportunity overnight with determination and perseverance. She motivated the students to never be fearful, in any adverse situation. Both faculty and students applaud at her courage and determination. She insisted that this health crisis will make our country stronger. Our scientists, our engineers, our doctors, our entrepreneurs stronger. She enlightened the students about the positive outcomes of 'aatm nirbhar bharat' and National Digital Health mission and the need to focus the spotlight on the healthcare in the country. She gave the students glimpses of her life's journey, where she turned every crisis into opportunities and these defining moments helped her reach where she is today. The entire audience was in awe of her. Her aura, her determination and her strong personality captured the young minds and inspired the gathering. We as SSBF students will take forward her ideologies and do our best to turn any crisis into an opportunity.
Date: 13 August 2020The Golden Jubilee cum Late Justice Y.V. Chandrachud Memorial Public Lecture was hosted on 13 August 2020, by Symbiosis Law School, Pune, a constituent of Symbiosis International (Deemed University). The session was addressed by Honable Shri Kailash Satyarthi, Nobel Peace Laureate, Child Rights Activist as the distinguished speaker. He is an Indian human rights activist, who has been at the forefront of the global movement to end child trafficking and abuse since 1980, and also the architect of Global March Against Child Labour, the largest single civil society network for the most exploited children.
Sir commenced the session by reading out a poem, which was written by his daughter, about a toddler's attempt to wake up his dead mother from eternal sleep on a railway platform in Bihar. The covid-19 pandemic has shown us the massive migrant tragedy that unfolds across multiple states. The migrant workers have lost all hope, and they are living in fear and uncertainty. This is the sound of silence and the cry of innocence.
Sir expressed his thoughts about how the legal and judicial system can rescue the lives of the oppressed from different exploitations. Earlier, education was not a fundamental right. But after various movements across the country, the constitution was amended, and education became a fundamental right. He enlightened that when a girl picks up a pencil and begins to write, she is not only writing for her own career, she is writing the country's history, she is writing the country's future. A pencil in a poor girl's hand is much way more powerful thanan atom bomb. This can bring a worldwide change.
Sir mentioned that the most vulnerable to sexual, economic and psychological exploitation is a girl who is born in a remote village and whose father is a labourer. Until and unless the fruits of the legal system, judicial mechanism and policies reach the last person of the Indian society, then all is meaningless. This is the yardstick for development of a country. He also said that we must make sure that every child in India is free, safe and educated. We are the protectors of all those children, and it is our responsibility to make this world a better place for the disadvantaged people of the society.
The session came to an end with a Q&A session. Sir highlighted what actions the government can take during this pandemic to make life for the vulnerable a little easier. If the quest for righteousness, the quest for freedom, the quest for humanity and the pursuit of doing it is born within us, we can make change.
26th September, 2020SSBF successfully organized a Guest Lecture on Income Tax Law – Framework and its Scope on 26th September, 2020 at Symbiosis School of Business and Finance, Symbiosis International (Deemed) University, Lavale. The Guest lecture saw participation from esteemed speaker Mr. Yeshwant Chavan Principal Commissioner of Income Tax Department, Pune who gave students insights into the framework and scope of Income Tax Law.
Mr. Yeshwant started the session with some basic knowledge on taxation and all the pre requisites required to grasp the intricate taxation related concepts. He talked about different types of taxes and its importance in the growth of the country. He also elucidated the major differences between direct and indirect tax. He then emphasized on the regressive nature of the indirect tax. He believes that the direct tax or income tax share has been increased and should continue to in order to improve the health of the country. He supported his line through examples of share of direct taxes in some countries.
Next, He shed light on the Income Tax Act and all the amendments it has gone through. He also highlighted the scope, various definitions and heads of income tax act and listed various relatable examples to explain various concepts related to the act.
The session was an interactive one as a result of his encouragement and openness to questions. Students were contended with the in-depth knowledge and further inclined towards the subject, which was evident with the number of questions that were asked. The lecture was really informative and enriching and made students develop an affinity towards learning about Income Tax Act and its intricacies.
26th September, 2020 On 26th September 2020, Symbiosis School of Banking & Finance organized an insightful session on 'Artificial Intelligence & Its Influence' on Fintech with Mr. Avelo Roy, a tech entrepreneur, 4 times TEDx speaker & TV Host, and an investor having built 8 startups and many more achievements in his wonderful journey till now. Currently he is the MD and Startup Mentor at Kolkata Ventures.
Sir being an influential youth icon with a monthly reach of over 2 lacs youths on social media, kick-started the session with his thought-provoking journey till now. As the great great-grandson of Sarojini Naidu, sir continues the legacy forward by tirelessly serving the Indian youth through entrepreneurship education using lean startup methodology and management education using principles of Bhagavad Gita and talked about the building approach and strategies of startup to nourish it further. Sir enlightened about AI with a beautiful example of baby and the power of AI enabling automated human decision making, from a business perspective.
Sir demonstrated about the machine learning, replacing the traditional learning with an impact on human intervention quoting with examples of lots of unicorn startups and other small famous fintech startup's journey. Sir emphasized on the magic of data and nitty-gritties of automation process, touching upon the influencing power of AI on fintech. Sir also discussed case studies of elite startups and their marketing tactics involved, giving everyone fodder to think upon how the world is evolving inevitably.
In an hour-long talk, he not only enthralled and amazed everyone but also gave some wisdom nuggets to take home with Q&A session.
Date: 12th September, 202012th September, 2020: SSBF organized an interactive session on "Credit Appraisal" in which Dr. Subba GV Rao, Professor, Mysore University, discussed various credit appraisal steps at a bank.
Credit appraisal refers to assessing a particular loan application or proposal in a thorough manner in order to gauge the repayment ability of the loan applicant. A lender conducts a credit appraisal chiefly to make certain that the bank gets back the money that it lends to its customers.
Whether one applies individually or as a corporate entity, a lender always conducts a detailed and systematic credit appraisal process. The credit appraisal process before giving a loan to entities is comprehensive in nature as it appraises or evaluates management, market, technical, and financial elements.
Both banks and NBFCs utilise credit appraisal procedures before approving a personal loan application or any other loan application. Each lender will have its own techniques for performing credit appraisal processes. A lender will have certain norms, rules, and standards to assess the creditworthiness of a particular loan applicant. If a borrower has a high creditworthiness, there is a high probability that his or her loan application will be accepted by the bank. A credit appraisal is done to avoid the risk of default on loans.
The session was very informative. Dr. Subba Rao cleared many doubts related to the appraisal process, and the students found the session quite intriguing. Such value-added sessions truly benefit the students and inculcate practical learning among them.
On 21st November 2020, Symbiosis School of Banking & Finance organized an insightful industry interaction with Mr. Manish Bairagi, who has extensively worked in private and public sector transactions across multiple industries in India, Africa and UAE. Currently, he is working with SinoGulf investments based in Dubai which involves managing the entire chain of investment stages from feasibility to exits. Also he is keenly helping the organizations and investment teams on preparation of Business Models, Corporate Finance Activities, PPP Projects and deals.
Sir commenced the session by enlightening the students about the process of transformation of work profile from accounts to investing. He delved deeper into the financial intricacies and the investment philosophy. He explained the investment approaches, how it is getting impacted and the high level summary of tasks as to what happens inside an investment house or private equity companies. He also explained how leading the entire investment cycle is tedious enough and discussed the nuances pertaining to it.
Taking the discussion forward, Sir explained the feasibility and financial analysis of some companies taking real life examples of private equity investment models of India. He enlightened the students about the top-notch ground level skills required to drive a project which will help in efficient and timely decision making. Sir also discussed about why the IPO is a price discovery model and nitty-gritties about valuations. Last but not the least, he laid emphasis on the importance of financial modelling skills, DCF Models and to keep transforming and evolving.
In the two hours talk, he not only enthralled and amazed everyone but also gave some wisdom nuggets to take home by concluding with a Q&A session.
On 21st November 2020, A Panel Discussion Session was organized by the Corporate Interface Committee of SSBF. The Panel consisted of Mr. Sandipan Roy, Director & head -products at Credit Suisse, Mr. P R Dilip, Managing Director of Impetus Wealth Management, Mr. Kunjan, Executive and Investment Advisor at Moat Wealth Associates and Mr. Kashish Grover, Associate Vice President of InteQuant Advisors.
The event started with SIU and SSBF Film Screening followed by a brief introduction of the panelists. The topic for the event was Alternate Investments: Hurdles and Headways, moderated by Ms. Vibhuti who is a final year student at SSBF. Panelists discussed how investing in distressed assets and debt forms a part of alternative investment and how effective these forms of alternate investments actually are. They were able to shed some light on real estate investments taking in account the present pandemic situation. Investors often find it difficult to evaluate alternate investments since assets, and transactions involved are rare. For example: evaluating the cost of a land in rural areas, ample research, and analysis before considering alternative investments.
By the end of the event students were able to understand the demarcation between the traditional and alternative investments. Panelists were extremely knowledgeable and updated with the industry. The discussion was highly informative and undoubtedly insightful for the students.
The event ended with a Q&A session, a platform where students resolve any remaining queries regarding the topic by asking their doubts directly to a panelist.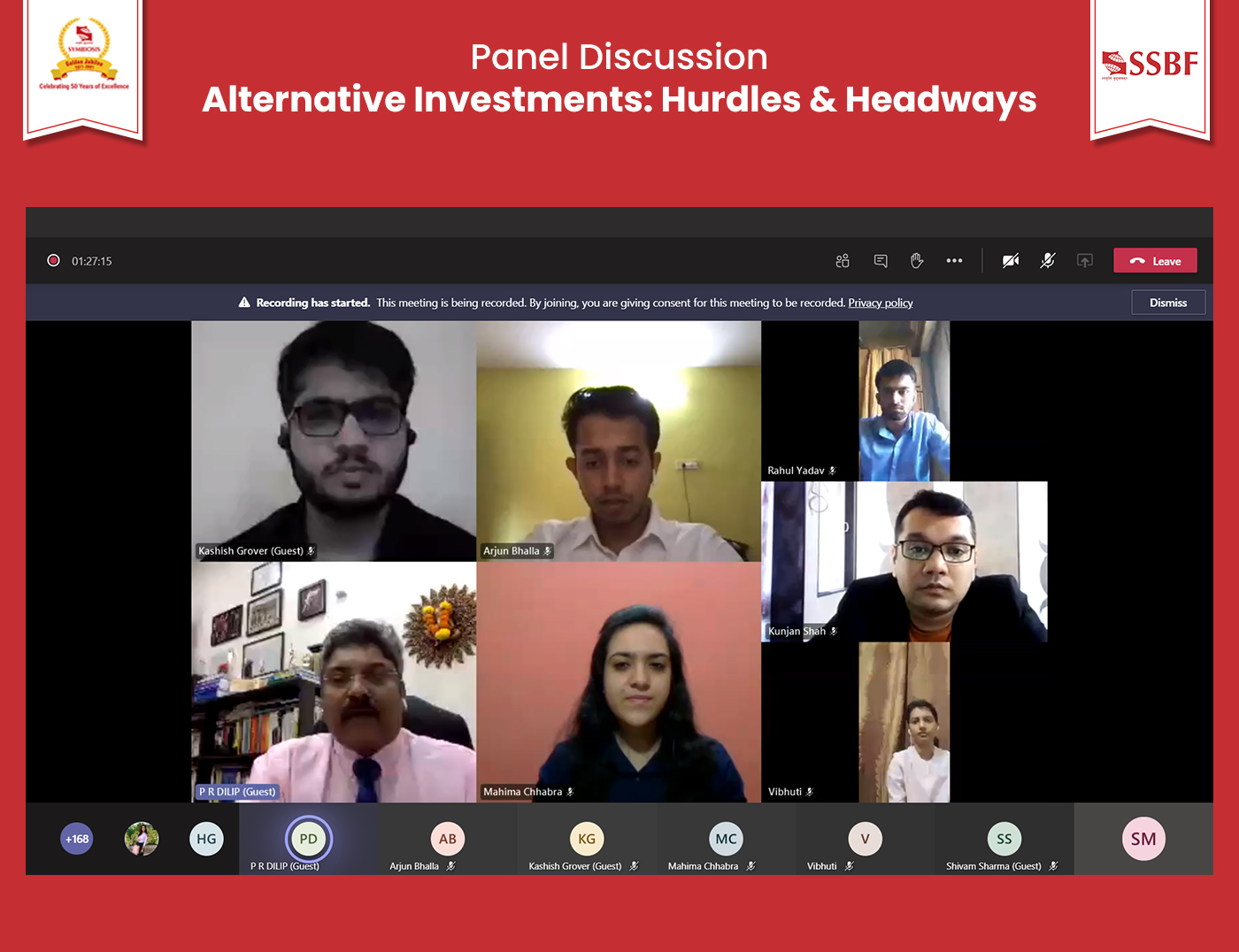 Mr.K Viswanathan who has an overall experience of 38years in the banking industry in different departments such as credit, external audit, inspection, concurrent audit, NPA recovery, vigilance and RBI inspection. Sir came down to address the students of SSBF on 5 th January.
Sir spoke about how nationalisation of banks took place in India and how it helped the banking system. Sir also spoke about the wrong steps taken by banks which has led them to the current circumstances. Some of the issue discussed were non repayment of loan, over appraisal of loan.
As the session progressed sir moved on to talk about how bankers can play a vital role while assigning the loans and help in making the banking system better and not have too many non performing assets for the bank.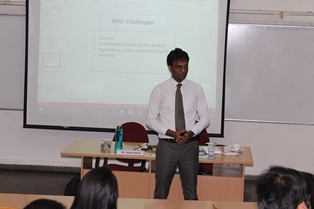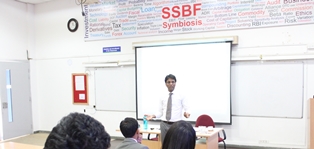 On 2nd of February 2019 Symbiosis School of Banking and Finance had organised a guest lecture on the future growth of BFSI, fintech, reskilling and opportunities. The guest speaker was Mr. Amol Dethe. He is a business journalist and has encountered several cases related to finance and got a chance to interview various business tycoons. He started the session talking about the growth of the BFSI sector. Out of 150 crore transactions every month in the banking industry, 80% is in the digital mode. BFSI is deemed to be the driver of the IT sector because of transforming technology like fintech and techfin.
Emphasis was put on fintech and future prospects. Fintech would be a successful venture in India because of many reasons like:
India is a trillion-dollar economy in the world
It is the 6th largest economy in the world
Indra Dhanush scheme: recapitalization of PSU banks
Mergers and acquisitions of banks
NPA crisis and bankruptcy code
He also talked about the success of the UID project. Nandan Nilekani the mastermind behind such project is praised by foreign delegates for the project. To make sure that more than 1 billion people in India have access to UID facility is a great achievement in itself.
The prominent risk for all the banks today is the security of the data and the information. This can be mitigated by using and staying updated with the technology. He also mentioned about the phygital model to ensure the financial inclusion as well as stay in line with the technology.
At last he ended by tapping about the job opportunities in the BFSI sector:
Robotic process automation
Data scientists and artificial intelligence
Machine learning
Blockchain
With trading and investing being one of the most upcoming occupations of the people in the world. It becomes important for the individuals as well as corporates to know about the right investment avenues. Symbiosis school of banking and finance had conducted a guest lecture for the in-depth knowledge about the potential markets and trading as a occupation. Avinash Gorakhshakar was the guest speaker for the seminar, he is an eminent personality who specialises in the capital market decisions making.
The main topic of discussion was elements of management quality. According to the criteria mentioned by him the management quality can be reflected in two ways, the qualitative factors and quantitative factors. Qualitative factors included points like management's remuneration, qualification etc. and quantitative factors include ratio analysis, cash-flow statement analysis and balance sheet review.
According to him the Indian companies have a habit of investing more than the money it holds. This leads to a financial depression which thereby affects the industry. The main purpose of investments should be long term returns with a motive of investment and not speculation.
He strongly recommends that the finance students to be a part of capital market activities so that it is easy for them to track the theoretical information with the real market happenings.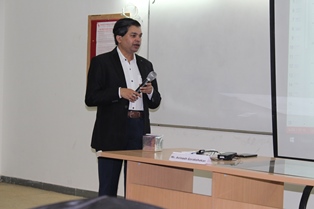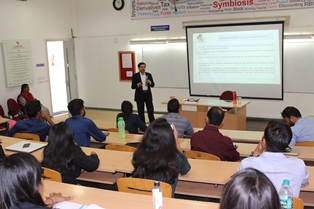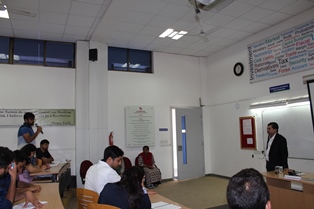 On 20 July 2019, students of Symbiosis School of Banking and Finance were given a golden opportunity to attend a guest lecture by Mr. Jaimini Patel, working in UBS Solutions as a Trade Surveillance Analyst. He has also worked for Bombay Stock Exchange. He started the session with an advice for everyone that a person should never assume anything blindly. He then started explaining how important bargaining is in the stock market and what are its components and also about a few basic terminologies like trading and dividend. He asked the students what is the difference between 'definition' and 'concept' and how its usage in practical life will help the students in their career. He created awareness by touching upon the topic ASBA (Application Supported by Blocked Amount) and how it works in the capital market. He discussed the products and participants of the capital market and about the various regulatory bodies like SEBI (Securities and Exchange Board of India) and IMF (International Monetary Fund). He then told the students about the draft red herring prospectus (DRHS), Foreign Institutional Investor (FII), Domestic Institutional Investor (DII). The session got more interesting when the students were given insights regarding T+2 rolling settlement, the circuit filters, the composition of time of stock market and the difference between order and trade. Overall it was a very interactive session as his friendly personality helped the students to be comfortable and ask any doubts they had regarding the capital market.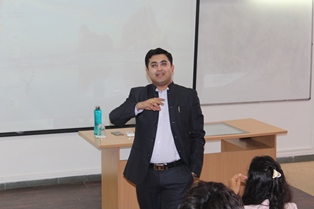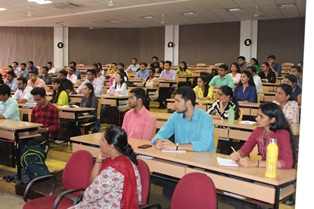 The 14th of July saw a very informative and enlightening day for the students of Symbiosis School of Banking and Finance. The session was led by Mr. Akshay Baregar, working in the company New Vision Software. He commenced the session by first briefing the non- finance background students with the basics of banking and then proceeded on giving deeper insights on the money market, its application, and elaborating on certain essential terms such as the myth of gold reserves, IPO, equity, deposits, interest and the like. Capturing the interest of the audience didn't seem like a problem especially when he began creating awareness about Liquidity Adjustment Facility, Marginal Standing Facility, Inter- bank term loans etc. which would not only increase the student's knowledge but also prove to be an asset in the long run. Apart from imparting technical information, he also shifted his attention towards different aspects relating to finance such as leverage, NBFC and Inter-creditor agreement. He broadened the student's mindset when he spoke about mergers and acquisitions, major problems with today's banks and their possible solutions and aspects of monetary policies. The fact that he is an alumnus and his informal approach made the students feel comfortable enough to share their thoughts and clear their doubts. All in all, it definitely gave the students something to take back and ponder upon which hit the brief of this session.
On 13 July, Mr. Vivek Marne, AVP Investment Sales, Cushman and Wakefield, interacted with the students of SSBF on the topic 'Nuts and Bolts of Investment Banking' as part of a series of guest lectures where students interact with experts from the industry on several relevant topics. Mr. Marne structured his session around important points relating to investment banking as a function of capital creation. He spoke in depth about the areas where an investment banker works. These areas are debt, equity, stressed assets, venture capital, mergers and acquisitions, project finance, joint ventures and real estate. He later shifted the discussion towards various risks associated with different businesses, principles of valuation and how to value commercial real estate. Some key aspects to be kept in mind by an investment banker are the market, regulations, financial models, sensitivity analysis and cash flows. Portraying these aspects, Mr. Marne cited examples from the transportation as well as pharmaceutical industry to illustrate how investment banking is put to use in the practical world. The session was informative and was enjoyed by all.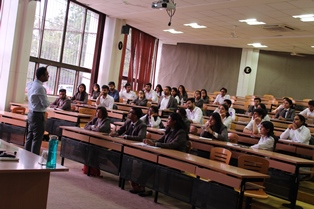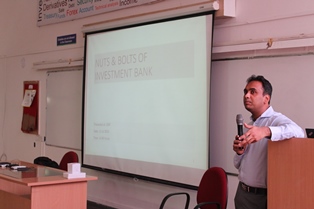 An informative lecture on the "Analysis of Union Budget 2019" was delivered on 11th July, 2019, by Mr. Chandrashekhar Tilak, Executive Vice President, NSDL e-Governance Infrastructure Ltd. Mr. Tilak covered such inferences from the Budget, that were not covered by the mainstream media. India took a step into space business with National Space India Limited, which will be the new commercial arm of the department of space. Mr. Tilak stated that it would help indigenous technology developed by India's space scientists, to reach other companies and nations who are working in space-tech. Next, Mr. Tilak pointed out that the government has proposed additional income tax benefit of Rs 1.5 lakh on interest on loan taken for electric vehicle purchase, which is a big boost for electronic vehicles. Focus of the government to improve sustainable mobility has been evident. Furthermore, to make tax return filing easier for taxpayers, Finance Minister Nirmala Sitharaman had announced that pre-filled ITR forms will be made available. These forms would contain the details of salary income, gains, bank interests, and tax deductions. Also, for the convenience of tax payers, PAN and Aadhaar would be made interchangeable. Those who do not have PAN, would be allowed to file Income Tax returns by simply quoting their Aadhaar number. Students and faculty were very interactive with many interesting questions for Mr. Tilak. It was a session that gave deep insights into different dimensions of the Budget, in management outlook.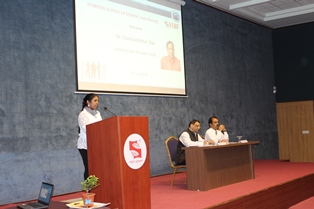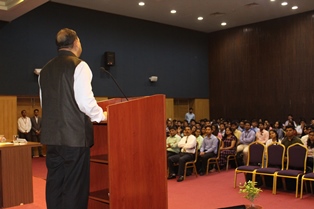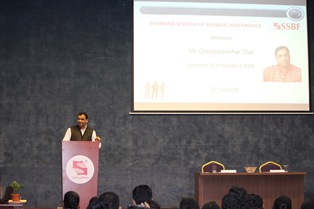 On the 6th of July, students of SSBF had the chance to interact with Mr. Avinash Gorakshakar, Head of Research, Joindre Capital and an active fundamental analyst at Zee Business, CNBC and Bloomberg. Being an expert of Indian Capital Markets, Sir gave the students his esteemed insights on the topic "Equity Analysis". The session started off with some positive thoughts from industry famous personalities, followed by the basic pillars required before getting into the study of equity analysis. The session got more interesting when students were given insights regarding the ten most interesting things to look for in an annual report study of a company, the facts required to be known about a company during the course of study, the MOAT model of study and its importance. The session mainly focused on working capital, working capital consumption, final checklist required for profit and loss account and balance sheet indicators. Sir also spoke about valuation of companies and stock, parameters for stock valuation and growth expected from the investments made. Overall, it was a very informative and interactive session which helped students gain knowledge on these topics.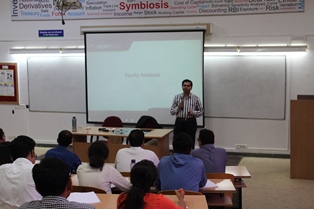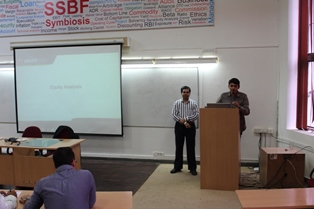 IIPR Workshop By Dr. Amit Kumar Tiwari
Workshop On Business Analytics Using R By Dr. Shiba Parhi
Guest Lecture By Mr.Vinod K Sharma
The dawn of 31st August, 2019, brought along more than just a day of new opportunities. SSBF had the honor of welcoming the India Head for Equities in HDFC Securities, Mr. Vinod K Sharma. A veteran in the capital markets with over 30 years of experience, Mr. Sharma straddles the Fundamental, Derivative and Technical arenas with equal ease. He has also successfully led and managed more than 75 public issues and underwritten more than 250 offerings. Apart from this, Mr. Sharma is also a panelist on many TV Channels and is a well deserved recipient of the Best Fund Manager Award by CNBC Awaaz
He shared with the students, some of his insights on 'why he felt India will do well in the near future?', 'reasons for investment in the equities market', etc. He based his claims on dematerialization, formalization of business, impacts of GST implementations, inflation being under control, fiscal discipline and tax compliance on the rise. Amount of mortgage outstanding, number of credit card holders and private health insurance coverage were some factors which affected India's long runway ahead.
Apart from this, he addressed the gathering on the effects of lower dependency ratio on the economic growth of the country, the penetration of mutual funds in India as compared to the global average. He touched upon some emerging areas like asset fund management, mutual fund SIP's and India's financial savings in shares as a percentage of GNDI.
The session then took a turn towards a questions and answer round where Mr. Sharma patiently and humbly solved the students queries. This enlightening and edifying session came to an end with him quoting "Every problem is an opportunity in disguise".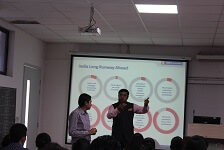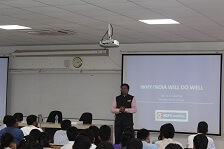 On 17 August 2019, students of Symbiosis School of Banking and Finance were given a golden opportunity to attend a guest lecture by Mr. Pierrick Harant, currently associated with Texdecor. He started the session with a story wherein he highlighted the importance of politics in shaping a prosperous business environment.
He started explaining about why macroeconomic environment matters for policy makers, who are the policy makers at national level and which are the major international institutions. He then elaborated on the economic objectives pursued by the state. He discussed the five key economic values in a detailed manner. He created awareness about the monetary policy, the types of monetary policy and the tools to implement monetary policy. In the similar manner he also gave his insights about the fiscal policy. He then asked the students about the policy mix.
The session got more interesting when Mr. Pierrick Harant discussed a case study on 'The Euro-Zero Crisis in Greece' with the students. Important points like elements about European economic policy, the European Union and the great recession, the start, spread and consequences of crisis were covered. He also enlightened the students on how to influence EU Institutions. Overall it was a very informative session which helped the students to think out of the box and it also helped them gain some knowledge about the economic conditions of a foreign country.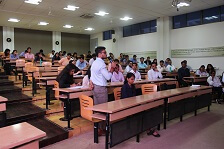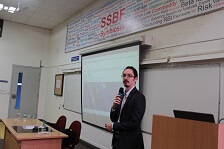 On 16th August 2019, SSBF had the pleasure of hosting Mr. Javier Gonzalez, a highly respected foreign delegate who briefed the students on one of the most emerging areas in the Banking, financial services and insurance sector. He was not only confident and passionate while delivering the gathering but his authenticity and ability to connect with the audience ensured that the lecture was one not to miss!
Mr. Javier elaborated on Global Mergers and Acquisitions environment, its major volume areas, investment advisory banks, focusing on emerging markets and the same. He also sought to asking the students intriguing and challenging questions that pushed their thinking capacity. Apart from this, he enlightened the students on certain banking terminologies and their importance some of which were confidentiality agreement, exit strategies, auction process, setting acquisition price, preliminary bid letter etc. Sale and purchase agreement, investment banking conflict, buyer's motivation and ways to increase buyer's value were some more topics touched upon by him.
This session came to an end with the delegate bestowing on the students some useful tips on fast growing areas for career opportunities and facts regarding mergers with the help of real life examples. This was followed by a successful informal questions and answers round. This undeniably was an informative and eye-opening session and definitely increased the audience's perspectives on mergers and acquisitions.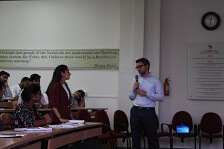 11th August 2019: SSBF had the pleasure of hosting Mr. Shekhar Lele, Principal Consultant, Payments and FinTech, PwC, for an interactive session on FinTech & Payments Industry. Mr. Lele gave an outlook of where technology and financial services meet in the fast growing FinTech sector. Cutting through the jargon, he gave a high-level explanation of some of the key technologies, from Machine Learning and Artificial Intelligence to RegTech, and peer-to-peer lending, and gave examples of how they are transforming the world of financial services.
Mr. Lele began the session by explaining the rationale behind why banks are looking towards partnering with FinTech companies. In order to remain relevant, banks must partner with FinTech Companies that can leverage the hordes of legacy data that banks have, to gain deep insights into customer behaviour and come up with offerings that are personalised and customised.
Furthermore, Mr. Lele said that there has been a massive transition from a product-centric to a service-centric perspective, thanks to FinTech. The scope of these services encompasses a broad range, from Machine Learning algorithms for credit assessment, to enabling interoperable payments for transportation pan-India- through National Common Mobility Cards; and from automation of regulatory reporting, to the use of Data Analytics to get early warning indicators for banking liquidity risk.
The session ended with an interactive Q&A session where the students asked questions about the changes needed in traditional banking system, and which sectors are offering great job opportunities in FinTech for Generation Z.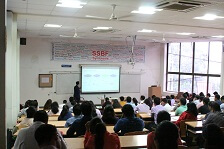 "If a man is keeping an idea to himself, and that idea is taken by stealth or trickery-I say it is stealing. But once a man has revealed his idea to others, it is no longer his alone. It belongs to the world."
Mr. Amol Sapatnekar our guest faculty of law started his session with this thought provoking quote. It made a lot of sense to us when we were, for the first time, enlightened with the idea of how intellectual property right affects every individual's life and how corporations try to benefit with the essence of this beautiful yet intricate quote. Creations of one's own intellect is one's own property but it doesn't benefit the world until it is brought into light and into the public domain for interest of the public at large. In his brief session, Mr. Sapatnekar talked extensively on the topic of intellectual rights of individuals like writers, poets and inventors as well as that of corporations and big firms. He explained how these individuals and corporations go at length to protect their creation for their benefit. Some of rights that come under the purview of intellectual rights are: Patents, Copyrights, Trademarks, Designs among many others.
His session was not only limited to the explanation of these rights but he also preached the remedies that every aggrieved party has whenever someone tries to encroach upon their rights. Few frameworks which are in place, and are of international and national significance, to protect these so-called rights are: GATT, WIPO, TRIPS, PARIS CONVENTION, BERNE CONVENTION, MADRID AGREEMENT AND PROTOCOL. Later in his session he also explained the influence of intellectual property on information technology. Early development of internet included the invention of ARPANET, TCP (Transmission Control Protocol), MICNET. With these developments came the problem of infiltration of technological and informational property which was done with a view to gain benefit on the expense of someone else's creation and innovation. He gave examples of few famous cases in connection to such -infringement like that of REDIFF COMMUNICATION VS CYBERBOOTH. He also gave students the crisp understanding of IT ACT 2000 and UNICITRAL DRAFT RULES. It was a very interactive session in which he not only tackled the queries very effectively but also gave the students a better understanding of this subject.
29th September, 2019: SSBF invited Mr. Bhargav Diwanji, Associate Vice President- Analytics, Consulting and Strategy, Autoninja Automotive CRM, to have a general interaction with students.
Mr. Diwanji started by giving an overview of what is expected out of MBA graduates once they step out of B-schools. He explained the power of professional networking platforms such as LinkedIn, and told how a social media profile can help employers determine if the candidate would be a good fit for company culture. So, one should avoid uploading risqué photos and inappropriate posts. He also gave us tips on how to nail a presentation.
Mr. Diwanji then told us how important Financial Planning is, and put a few questions to the students, whether it is worth buying a car or not, whether it is better to buy a house or rent one, and students came up with their own view points. He told that nowadays people are judged primarily on three things- whether the person is an engineer or a non-engineer, whether the person is from a metropolitan city or from the countryside, and whether the person is wearing branded clothing or budget friendly clothing.
He then introduced to us a mechanism called BizOps, that helps with everything from optimising day-to-day operations to carrying out high-priority initiatives to tackling the most important strategic questions.
Being an alumnus of SSBF himself, Mr. Diwanji could relate readily with the students, and the students too found this session intriguing.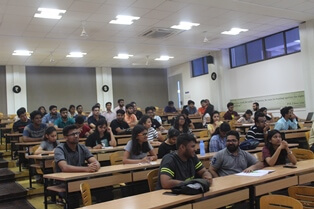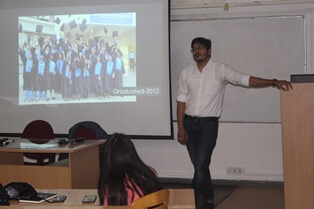 "Research is to see what everybody else has seen, and to think what nobody else has thought." - Albert Szent-Gyorgyi
On 7th October 2019, the students of Symbiosis School of Banking and Finance had the pleasure of hosting Mr. Mitul Doshi, Director Financial Research – CRISIL, who briefed the students on how to go from doing a good to great financial research analysis.
He commenced the session by throwing some light on the essence of research analysis. The three main points were: Problem Statement/ Research Controversy, Research Process and Recommendation.
He then revealed the ingredients of a great research. According to him, great research means asking where consensus is wrong. We need to dissect the problem statement, ask what research method would be apt and ask whether the insights generated are actionable.
He enlightened the students with the lessons from his own research experiments. He said not to just focus on historical performances, to look beyond the financial model, judiciously leverage data science and analytics, to be aware of biases and to keep learning.
Then the captivating time of the session was the case study analysis. Students did a case study on the issues faced by the Sun Pharma. It really gave them an experiential learning on how to think out of the box while doing a research.
He emphasized that a good to great research starts with improving the quality of questions. He asked the students to think on what is the value that they as an analyst can add.
The session came to an end with an interactive Q&A session. All in all, it definitely gave the students something to take back and ponder upon which hit the brief of this session.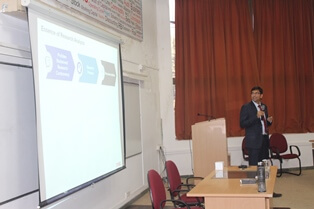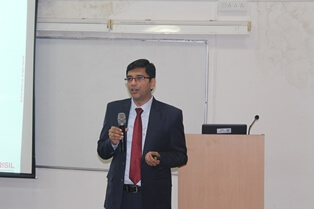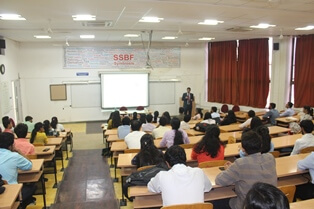 Saturday, the 5th of October saw an enriching session for the students of Symbiosis School of Banking and Finance. This session was led by Mr. Gaurav Virwani, an expert in the field of mutual funds from HDFC AMC.
He commenced the session with an intriguing query about the difference between; having money and being wealthy, but he really captured the attention and minds of the audience by talking about the Power of Compounding, Financial Planning, Inflation and the like. An insight into the world of Savings & Investments and Understanding the Asset Classes was beautifully explained by him. Stating that, "Inflation is the hidden enemy of one's wealth" and giving a briefing about the same, Mr. Gaurav Virwani tuned the audiences' thought process into a whole new level of thinking. Lastly, he departed the gathering with a quote that got imprinted in the minds of many, which was, "Don't save what is left after spending, but spend what is left after saving". With this, the session soon took a turn towards the Questions and Answers fragment in which he patiently resolved every young minds query that came along his way.
His in depth knowledge, familiarity and passion for the subject drove the success of this lecture. There was no doubt that it benefited every student and was sure to have a lasting effect.
The students of Symbiosis School of Banking and Finance had the privilege of attending a lecture by Dr. Caroline Shehnaz Hossein, York University, Toronto, Canada on 19th, 20th & 21st December 2018. Caroline Shenaz Hossein is Associate Professor of Business & Society in the Department of Social Science at York University in Toronto, Canada. Author of Politicized Microfinance: Money, power and violence in the Black Americas – winner of the 2018 Du Bois Distinguished Book Award (University of Toronto Press, 2016); editor of The Black Social Economy: Exploring community-based diverse markets (Palgrave Macmillan, 2018) and co-author of Business & Society: A Critical Introduction (Zed, 2017). Currently she is working on her fourth book project, Mutual Aid Groups among Immigrant Women and a documentary on group banking systems by racialized Canadians. The topic of discussion was "Politicized Microfinance: Violence, Power and Money in the Black Americas". The primary purpose of the session was to help students gain better insights into how microfinance unfolds in different cultural contexts.
The first discussion was based on social economies. The speaker used lived experiences to theorize the concept of social economies, which included discussions on self help groups and ROSCAs. A ROSCA is rotating savings and credit association, a group of individuals who agree to meet for a defined period in order to save and borrow together, a form of combined peer-to-peer banking and peer-to-peer lending. She encouraged the idea of injection of goodness in running a business.
The speaker was neutral regarding the existence of microfinance. She described it as credit for people at the bottom of the pyramid. She explained to the students two ways in which politicized microfinance can operate-
As exclusionary where there is bias on various grounds such as race, class, etc. She gave examples of countries such as Jamaica, Guyana, Trinidad, etc where such practices are prevalent.
As a collectivity so that it is inclusionary. She shared the success stories of countries such as Haiti and Granada which follow an inclusionary model.
Dr. Caroline also talked about partisanship and violence in microfinance, and how people involved in this live under constant threat in many countries and often have to function under pseudonyms. She shared some gruesome accounts of killings of microfinance professionals, especially in some African countries where microfinance is vehemently opposed by the upper class majorly out of the fear of losing cheap labor. She put forth some major policy suggestions to ensure the sustainability of microfinance institutions-
Zero tolerance for exclusionary politics.
Go indigenous- pick a model that suits the needs of the locals.
Diversity of staff and organizations.
Rethink gender and social bias.
Overall, it was a highly informative session for all the attendees. It helped the students gain a different perspective towards microfinance and also served as an eye-opener towards the ground realities of this institution.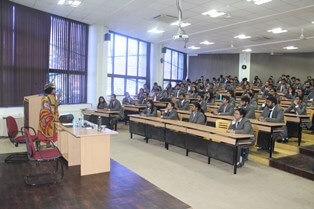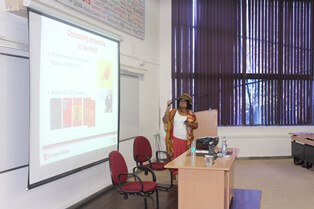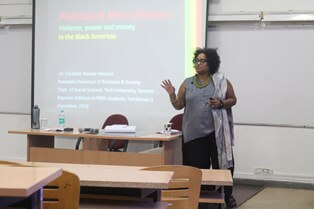 On the 22 nd of September, the students of SSBF had the opportunity to be in attendance of sessions conducted by two eminent speakers from the industry. The first session, was conducted by Ms. Saryu S Sahajpal. Before getting into her current role of a trainer she has worked in human resource departments of EY and PwC. The workshop focused on our learning from organizational behavior module.
During the session she talked about Henry Fayol's 14 principles of management and leadership. She spoke in great detail about each concept. She also used a lot of real life examples which helped the students better understand the applications of those concepts.
Apart from theoretical learning, the session also had some team building activities. They were designed specifically to assist the students get a better grasp on the subject and also put their leadership skills to test. The second session of the day was on banking, and speaker was Mr. Rahul Srivastava, Senior manager and Head ,Clearing department, Yes Bank. The speaker started off the session by talking about the security features of a cheque. He went into the nuances of each feature. He then moved on to the clearing process wherein he spoke about inward clearing, outward clearing and cash management system.
He also narrated various anecdotes from his career -which gave participants a peek into the day of a banker. While explaining everything, he kept emphasizing on the importance of ethics and how one should not compromise on values for short term gains.
Overall, it was an enlightening experience for all those who were present. The students benefited heavily from the knowledge as well as the experience of the speakers.
The sessions helped the students gain newer insights into the subject and gain a different perspective.
The impact generated by an institution may be measured not just by the sheer number of students it produces, rather, by the strength of its ties with its alumni. In pursuit of this ideology, Symbiosis School of Banking and Finance gave its students an opportunity to interact with two alumni from batch of 2013, Mr. Govind Goyal and Ms. Rashmi Sharma on 15 th September, who are currently working with Securities and Exchange Board of India (SEBI). The initiative was an interactive workshop conducted to make the students aware of the securities market in India.
The session began with Mr. Govind sharing with the students how he has carved his career after graduation, his initial association with Canara Bank and subsequent job with SEBI. Ms. Rashmi too shared her journey so far, which also included some years of work in retail credit banking with State Bank of India. They both briefly described their current job description at SEBI before moving on to talking about SEBI in detail.
They spoke about the existing regulatory landscape of securities markets in India. This was followed by an introduction to SEBI. SEBI was setup as an administrative body in 1988, with various acts associated.
The major role of SEBI is investor protection, which is its priority; development of securities market and regulation. They also spoke about participants in the securities market, like listed companies, stock exchange, depositories etc.; and the products offered, like equity, debt, commodities and mutual funds. Grievance redressal, which is an important function of SEBI, was explained in detail. After this, Mr. Govind and Ms. Rashmi informed the students about the recruitment exercise followed by SEBI and also notified them of the recent vacancies for which students can apply by filling a form available on SEBI's website. Next, they described the functions and importance of the various departments that come under SEBI. This was followed by a Q&A Session where students asked questions and many important things like job profile, certifications required etc were discussed.
The session was an interactive session which made it very interesting, informative and beneficial for all the students.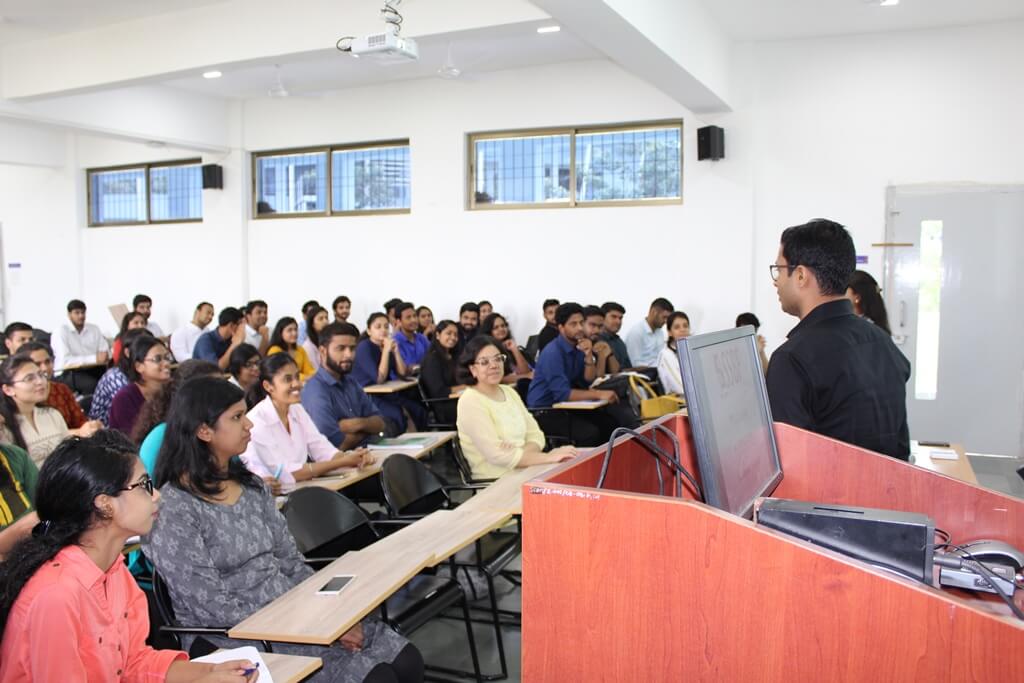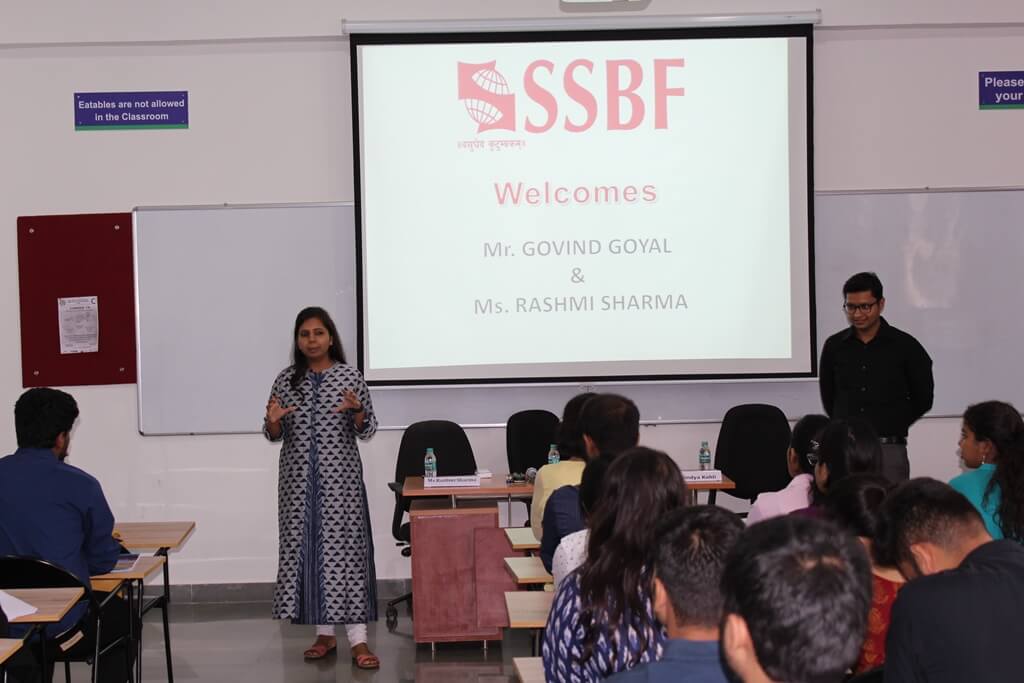 On 8th September, 2018, the students of SSBF had the opportunity of interacting with Mr. Prakash Rokade, Senior Process Manager, E Clerx Service Ltd. He has an overall experience of 10 years in investment banking operations, project management, manufacturing, financial services operation, domain consulting, capacity planning, and metrics and reporting.
The lecture was divided into two parts where Mr. Rokade first began by introducing the two concepts of 'investment banking' and 'mergers and acquisitions'. He began the first part by explaining mergers and acquisitions in detail. Mergers are a consolidation of companies or assets in order to achieve common goals after prior approval from the board of directors of the company and its stakeholders. Mergers can be horizontal, vertical, concentric, reverse or conglomerates. Acquisition is when the acquiring company acquires a stake in the acquired firm. The stake may be minor, major or complete. Tender offer, acquisition of assets and management acquisition are the various types of acquisitions. Mr. Rokade then went on to compare mergers with acquisitions. He further explained the difference between them by taking contemporary examples from the industry like those of KOTAK and ING, Facebook and WhatsApp, Myntra and Flipkart etc. He also discussed various strategies that are undertaken by mergers.
In the second part, Mr. Rokade discussed the role of investment banks as financial institutions that assist individuals, corporations and the government in raising capital by underwriting or acting as an agent in the issuance of securities. He spoke about the three types of roles that may be assigned to an investment banker, which are: front office, which is responsible for market research, sales and trading; middle office, responsible for risk management and internal control; and back office, which is responsible for operations. Next, Mr. Rokade described the life of an investment banker and gave insights on the kind of training required to become an efficient investment banker. The session concluded with the students asking some questions.
It was an informative and insightful talk which provided a lot of clarity and learning. The students of SSBF extend their thanks to Mr. Prakash Rokade for his time and effort.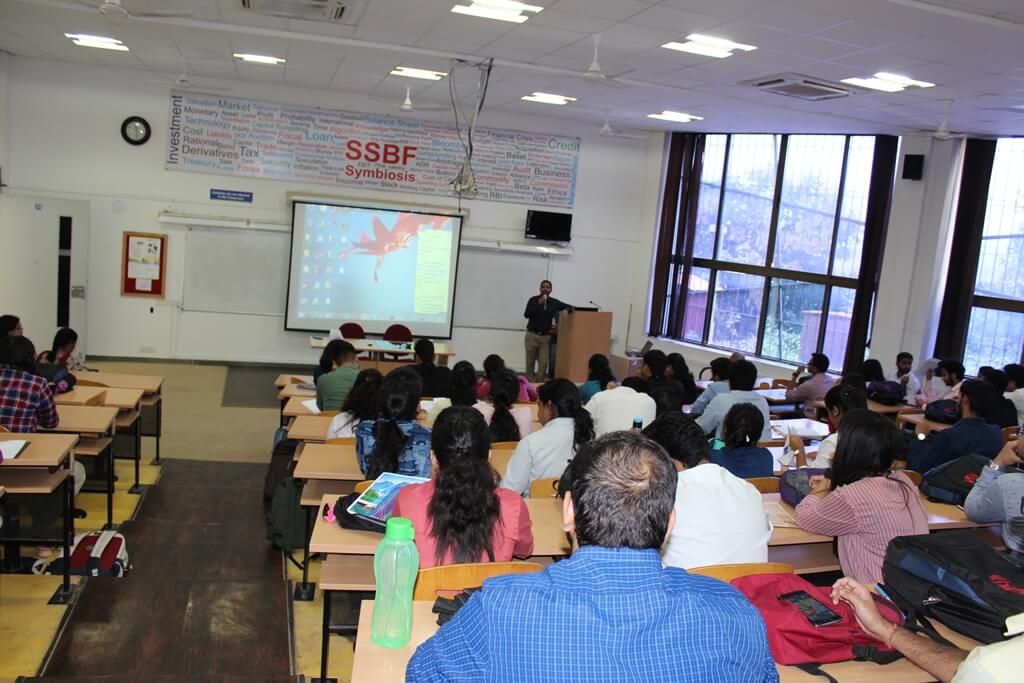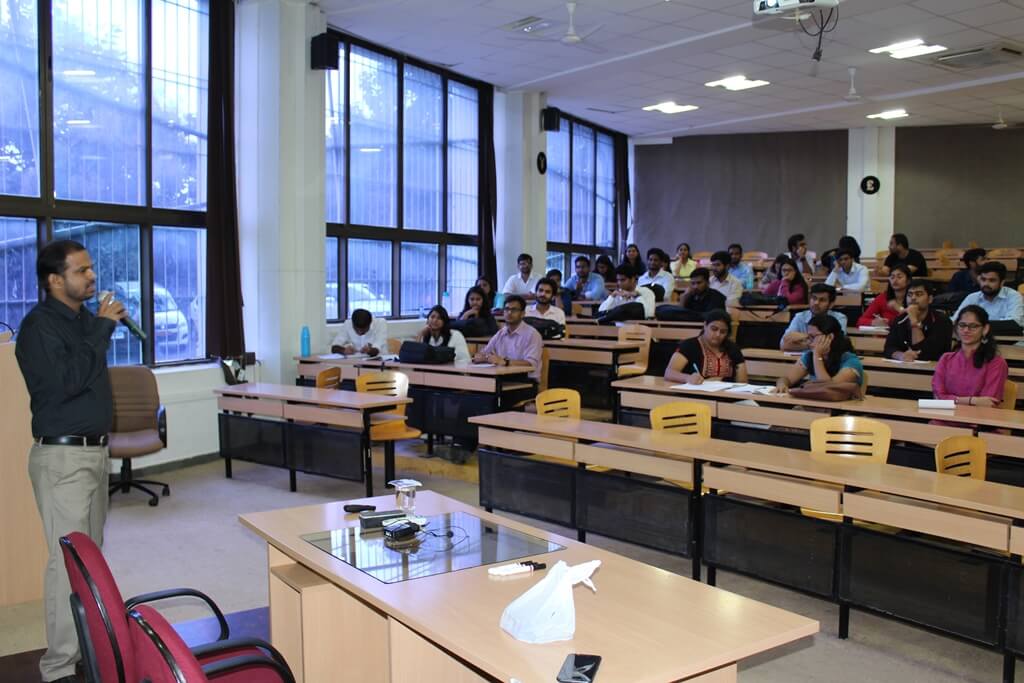 On Saturday, i.e., 8th of September, SSBF organised a guest lecture by Mr. Shantanu Sen Sharma, Chief Mentor and Co- Founder, Ozone Education Consultancy. Ozone Education Consultancy aims to increase competence, skills and employability of students and professionals. Mr. Shantanu is a veteran from the industry, having worked with companies like HCL Group and Tech Mahindra for over 25 years. He shared about current economic challenges and its effects on the banking industry.
There were four main topics which were discussed in the session:
Interplay of deficit, growth, inflation and fiscal deficit
Trade wars
Oil volatility
Changing facets in the banking sector
All the above scenarios are a part of the VUCA world which is an acronym for Volatility, Uncertainty, Complexity and Ambiguity. There is an ambiguity in the inflation and growth decisions because RBI is concentrating more on inflation, unlike the government, who is concentrating more on the growth of the economy.When inflation is the main concern, oil price is the primary distress and when growth is the main concern, oil prices and the trade wars are the main threats.
Oil prices play an important role in all the economic problems because of its increasing demand. If the demand is high, the supply side has an advantage regarding the price of the particular product. OPEC countries are the main source of oil production, they tend to increase the price if the demand is high and they cut the supply to increase the price of the product.
Shifting from the oil volatility, the trade war is an important economic problem which happens because of the continuous retaliation from the trading countries which may hamper the trade between the emerging economies with the development countries.
Next, Mr. Shantanu discussed consumer dynamics covering the following points:
Rise of millennials
Rise of the women investor
Silver tsunami (increasing population of the old people)
Money distribution within and across the countries.
He mentioned that previously the banks had an inside-out approach which is product centric. The banks used to concentrate more on the product features rather than the benefits. But now they have shifted from product centric approach to outside- in approach i.e. service-centric approach. Here the banks are trying to focus on:
Settlement assistance
Transfer pricing
Benefits and not features.
The new form of technology emerging in the banking sector is the omni-channel banking wherein the banker would know the details of each and every sector and could answer to all the questions put up by the customer. This can only be fulfilled if the companies provide robust training and development sessions.
Overall, it was an enlightening session and a learning experience for all.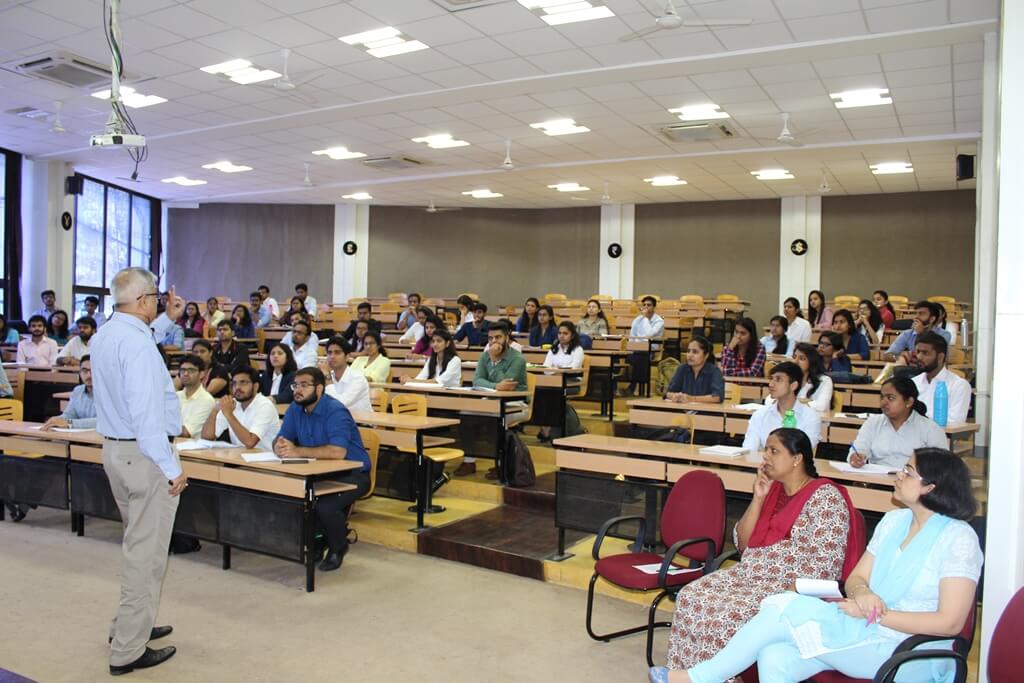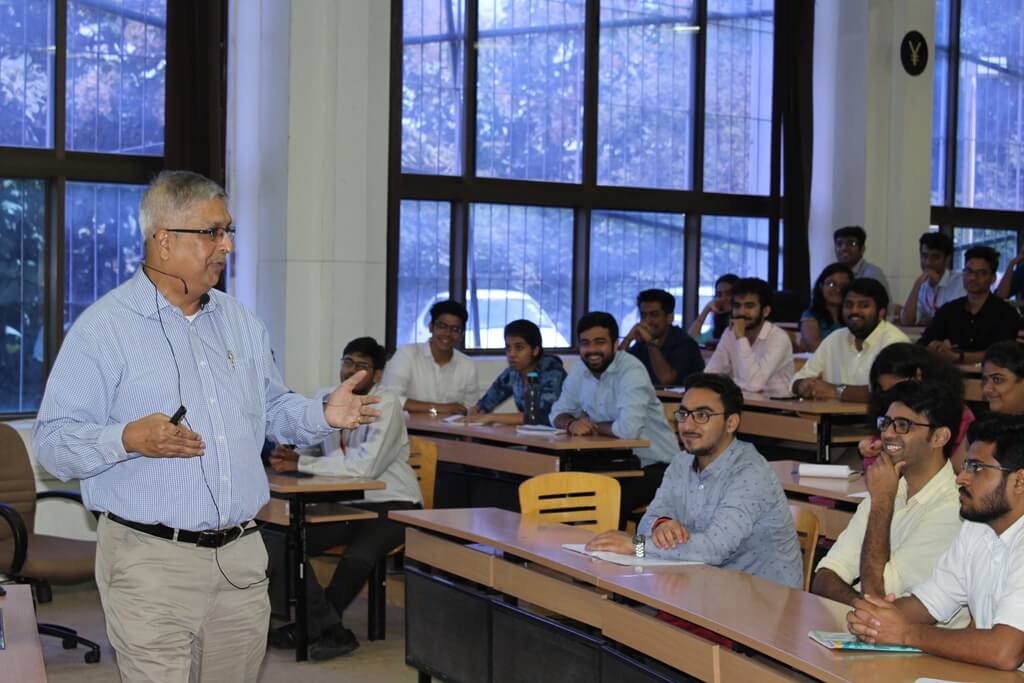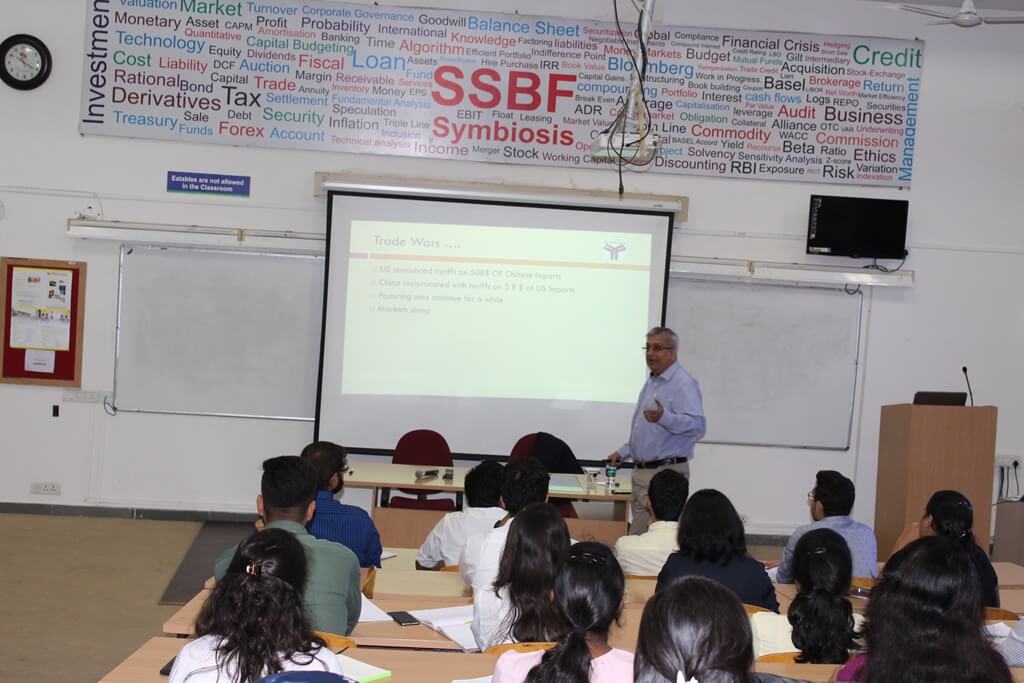 On 1st September, 2018, the students of Symbiosis School of Banking and Finance had an excellent opportunity of having Mr. Girish Joshi, AVP Market Data Service, Credit Suisse, for a lecture on 'Cryptocurrency'. Mr. Joshi has an industry experience of 17 years, having worked with organizations like Credit Suisse and SunGard. His skill set includes market data business analytics, equities, futures and knowledge of regulatory compliance and financial instruments.
The lecture began with Mr. Joshi giving a brief introduction about trading in equities and derivatives while also throwing light on hedge funds and their role in speculation in the market for cryptocurrency.
Cryptocurrency is a digital currency that uses cryptography as a security. While there are more than four thousand cryptocurrencies being traded currently, Bitcoin is the oldest and the most widely known cryptocurrency. Mr. Girish Joshi explained how the US failure of banks and subsequent financial crisis of 2007-08 played a role in the invention of cryptocurrency. He stressed upon its relevance and characteristics, i.e., cryptocurrency is digital, decentralized, pseudonymous, encrypted currency that is traded globally directly, without any hindrances, between individuals. He further explained the functioning of block chain, which is a public register where transactions are stored in a secure, verifiable, permanent way; and mining, which is the process by which transactions are verified and added to the block chain.
Bitcoin being the most popular cryptocurrency, Mr. Joshi took the students through some other examples of cryptocurrency, like Ethereum, XRP, Bitcoin Cash, EOS, IOTA etc , their current trading prices, last price, highest bid and liquidity in the market while also comparing them with Bitcoin itself. Further, he spoke about various exchanges like Bitforex, Binance, Huobi etc, that are working around the globe for the purpose of trading cryptocurrencies. Koinex was an exchange in India operational till 2017, after which cryptocurrency trading was banned in India. Next, he discussed cryptocurrency wallets, which are just like bank accounts and are used to store, receive and transfer digital currency between accounts or for shopping. Later, Mr. Joshi touched upon major hacking incidents that have taken place in the past in the realm of digital currency. Finally, he gave his personal views on the highly unpredictable future of block chain and cryptocurrency.
The session ended with the students asking questions that were readily addressed by Mr. Joshi. Overall, it was an interesting and enlightening session for all.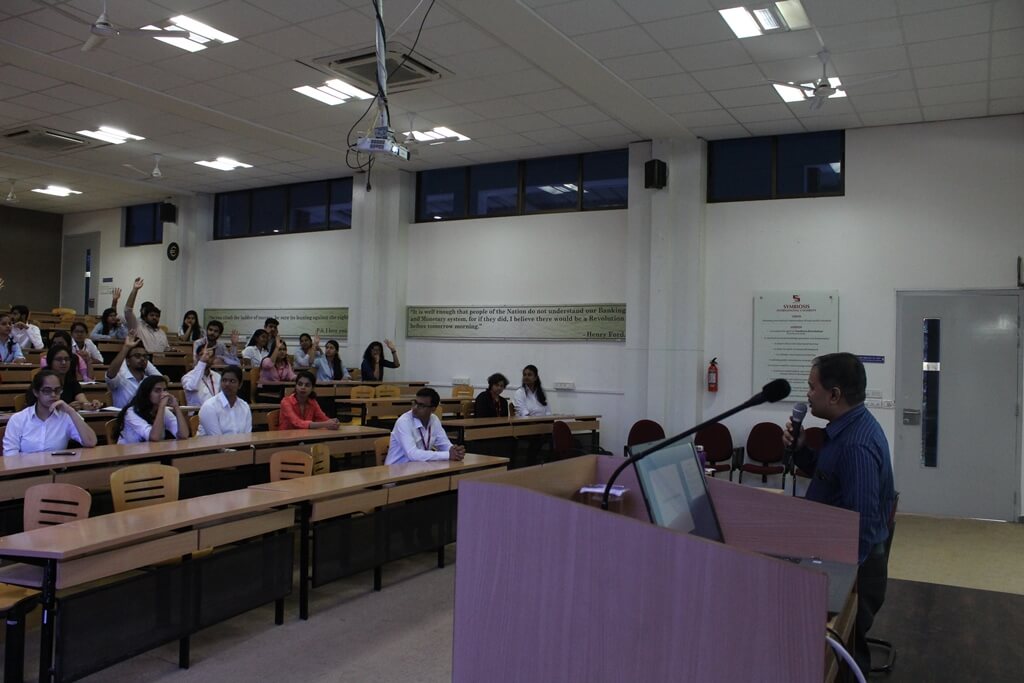 The students of Symbiosis School of Banking and Finance were privileged to attend a lecture by Mr. Divyesh Shah, DGM & Associate Director, Rating Head Pune, CARE Ratings, on 21 st July 2018. Also present for the lecture was Ms. Bhumika Jantwal, an alumnus of SSBF and an analyst at CARE Ratings.
CARE Ratings commenced operations in April 1993 and has established itself as the second-largest credit rating agency in India. It was listed on the BSE and NSE for the first time in 2011. Currently, it has offices in eleven locations while its headquarters are in Mumbai.
Having a skill set of company analysis, industry research, corporate ratings and credit risk analysis, Mr. Divyesh Shah gave an insight into CARE Ratings' functions and working. He explained the rating process followed at CARE Ratings, wherein, a client submits detailed schedules and information pertaining to their organization and responds to queries to provide all necessary additional information. He went on to discuss in depth the rating framework which entails business risk analysis, management risk analysis, financial risk analysis and factors that affect these. He also explained what diversification is and related it with risk by illustrating some very relevant examples from the industry. Further, he talked about different kinds of ratings that can be given to a company, like AAA, AA, A, BBB, BB, C and D, with AAA being the highest degree of safety and D having the highest risk of default. Later, he concluded by giving some insights about credit risk analysis.
Overall, it was a very insightful, interactive and motivating session.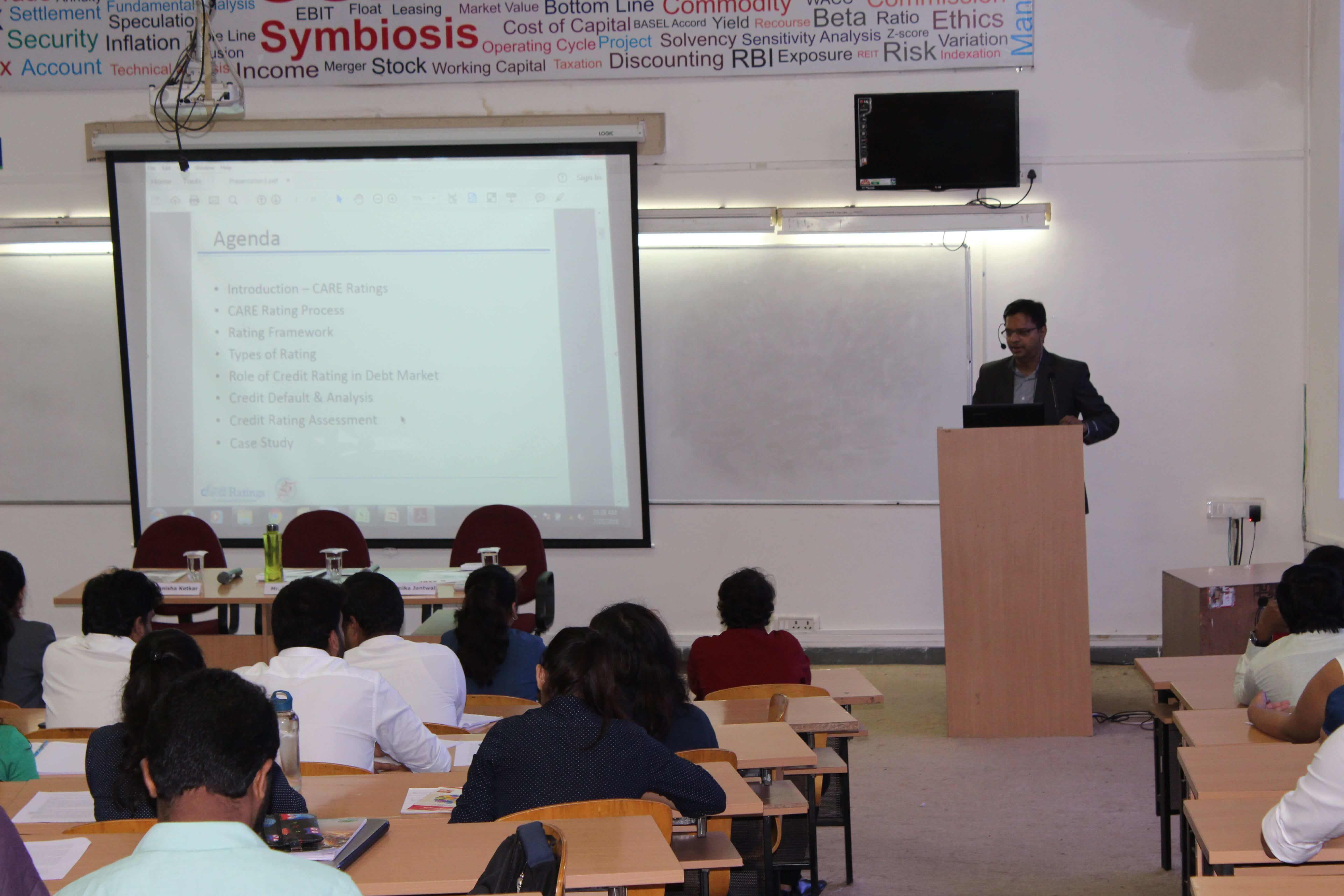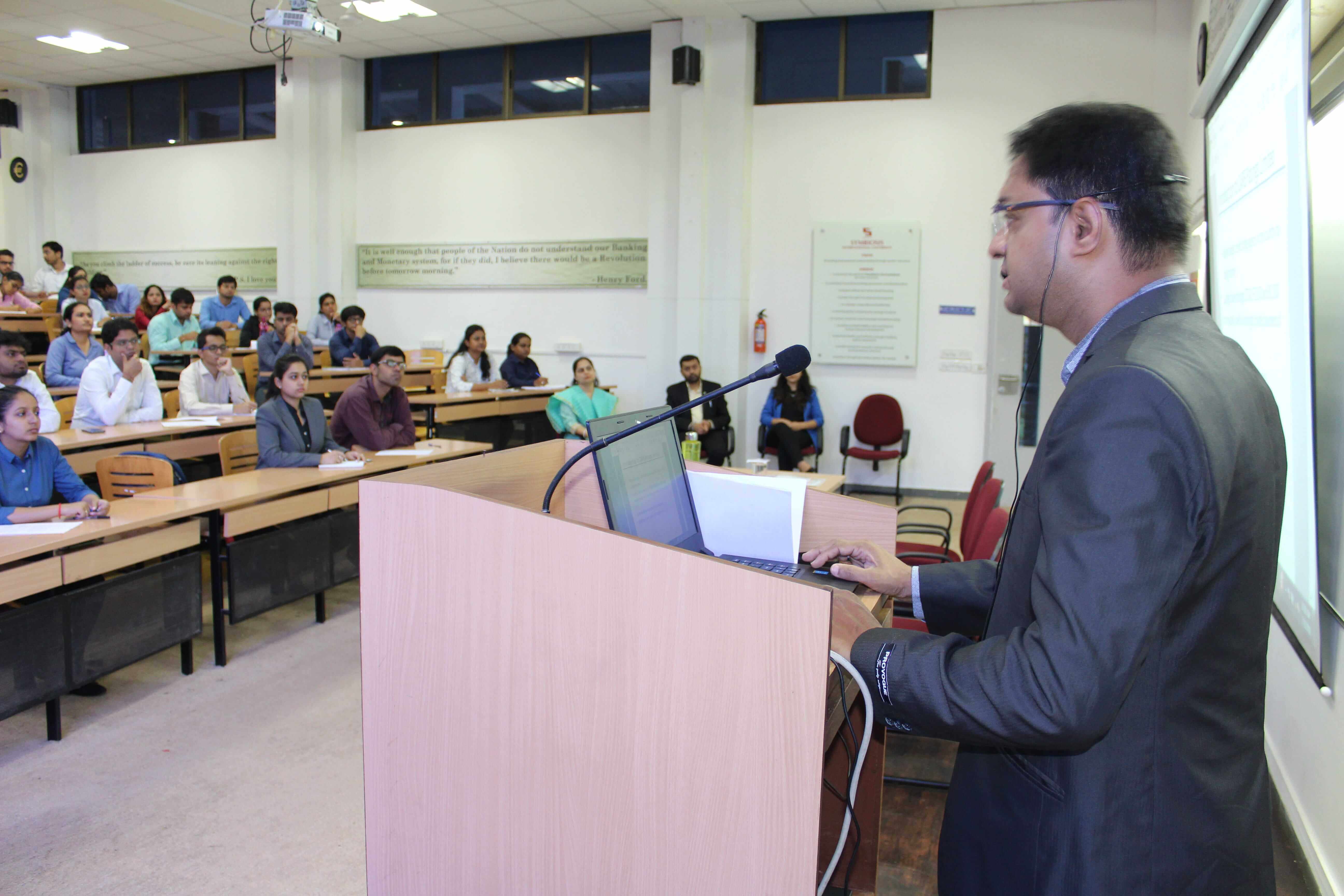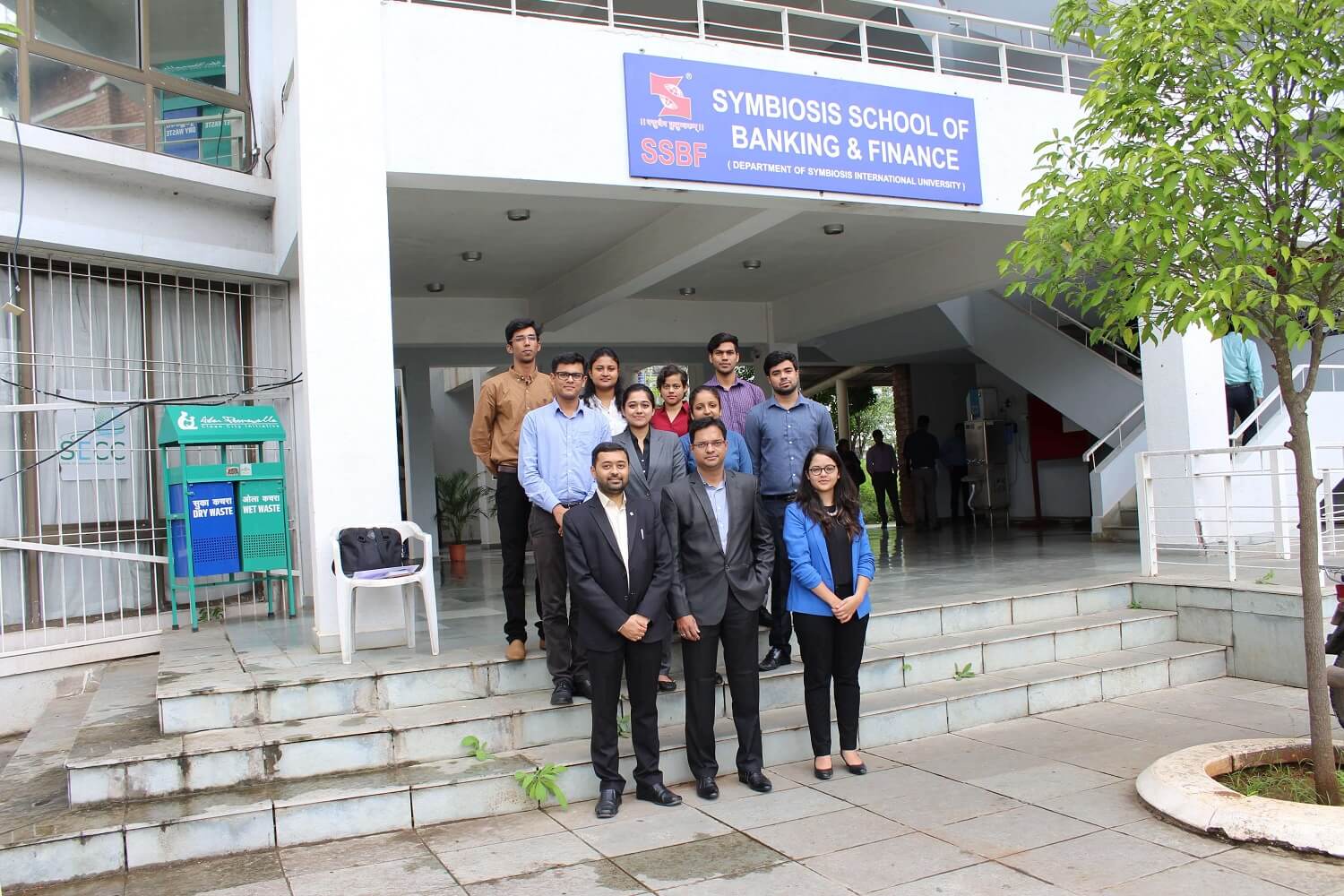 It is always an informative session when an experienced expert comes to give a seminar to the young minds like us and it becomes more fascinating when the expert is an alumnus of the college itself.
Mr Keshav Kumar (Batch 2011-2013) came to Symbiosis school of banking and finance on 22 nd of July to share his experience about the banking sector wherein he had been working for the past five years. He started off at a very light note stating that the session would be more of an interactive session than a monologue. He mentioned that the jobs don't match the number of people graduating every year. Banking sector is growing because of it being exposed to high grade technologies and artificial intelligence thus it is difficult for the graduates to get jobs in their interested filed.
He stated that an individual should be a polymath that is he shouldn't concentrate on one field all his job life. Being exposed to different fields will make you more aware about the challenges and risks a market will bounce on in future.
He discussed about the future prospects for all the MBA students. The job trends and the declining rate of generation of new jobs is a concern because a lot of MBA graduates aren't aware about the kind of information they should know to stay/ intact in the market.
He introduced us to different job perspectives offered by RBI and the other options to be targeted other than sitting in placements. Hew laid emphasis on the kind of internships that students do because that is the first experience for the students in the corporate world. He made us realize that with a lot of students graduating from MBA colleges specifically finance the job profiles of the students are looked into and thus we need to concentrate on the job profiles i.e. the portfolio in which we would like to work in. The pros and cons of working in public sector and private sector was mentioned as in which sector banks will a student be willing to start working for initial experiences.
He finally concluded by mentioning the kind of struggles he had when he was in the college and how he managed to get over those and made his way through the placements as well as his career path and made us realize that with vast facilities that we are exposed to , we should excel in the field we are working in.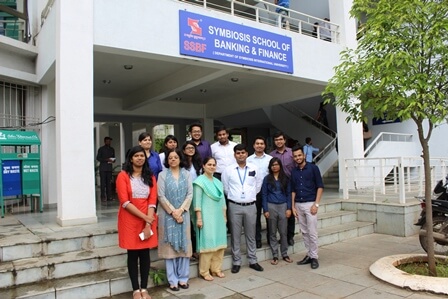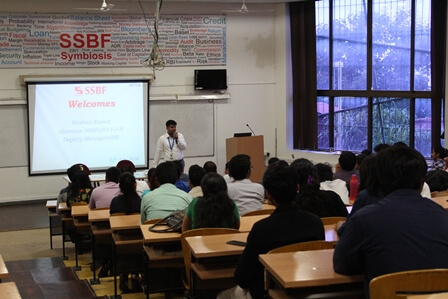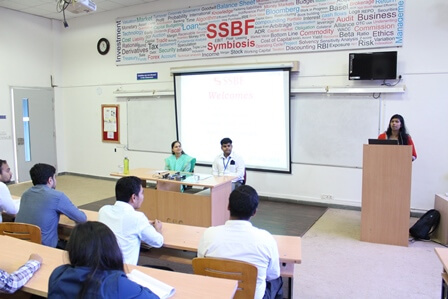 Recently, the students of SSBF had the opportunity of being in attendance of a lecture delivered by Dr. Holger Seebens, a highly accomplished academician. Dr. Seebens is an award winning economist who has published various papers in multiple forums. His work on the economies of gender is highly regarded and appreciated. He was honored with the Outstanding Dissertation award by Georg-August University, Gottingen in the year 2009. The lecture was held in two sessions. The topic of the first session was 'Finance and Growth', while the topic of the second session was 'Behavioral Economics'. The lecture was attended by the first as well as the second year students.
During the first session, Dr. Seebens spoke extensively of the role of financial sector in economic growth. He discussed various neo-classical theories of economics in detail. He also talked about the differing views put forth by various eminent economists regarding the role of financial sector in the growth of economy and the relevance of each of these in their own right.
In the second session, he spoke of economics as a social science where he discussed how economics helps us in decision making. He also discussed utility maximization and the factors based on which the brain processes and perceives information. He spoke in detail about the 'Dual System Theory', according to which behavior is determined by two parts of the brain.
Further, he explained how motivation, perception and information processing play a crucial role in behavioral economics.
Owing to his vast experience in the field, Dr. Seebens addressed all concepts in depth and successfully conveyed his views to the students. Overall, it was an informative and enlightening experience for all those who were present. Everybody got an opportunity to learn and understand things that lie beyond textbooks.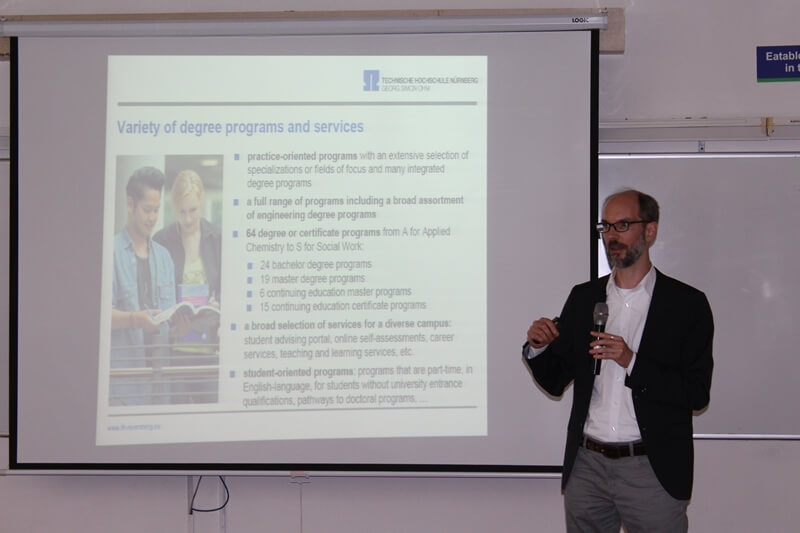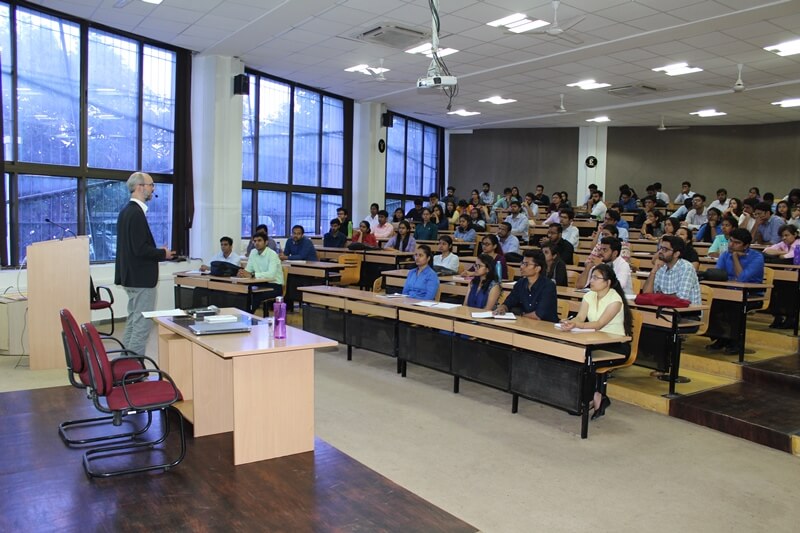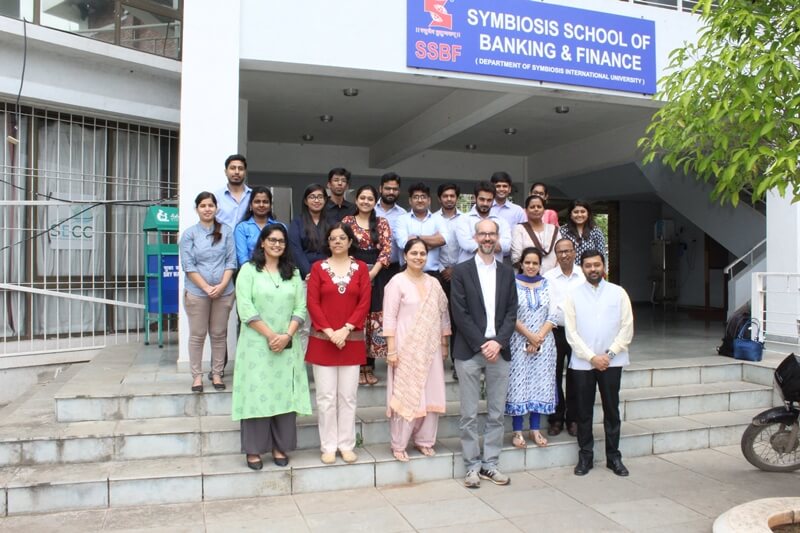 The students of Symbiosis School of Banking and Finance were privileged to attend a lecture by Mr. Mukesh Gupta – Principal Consultant (Business Intelligence & Corporate Performance Management), Infosys, on 20th January, 2018.
Having worked in numerous arenas across several companies, and with various certifications from some of the leading Indian and international universities to his credit, he gave an insight into the dual role of capital in managing risk and returns. He broadly classified people working in the domain of finance in two kinds- the finance experts, who have the knack of dealing with risk and returns in a business; and entrepreneurs, who are at the helm of the business. He also stressed on the need for businesses to control their costs, entice consumers by adopting appropriate pricing strategies, and minimise their inventory, by sharing a few success stories such as that of Toyota's Just in Time (JIT) inventory management system.
He also envisioned India taking over as the second largest economy in the world and emphasised on the need for job creation, which can give a boost to the Indian exports, and resolve the pressing issue of unemployment. He persuaded the students to promote their own country by establishing their own innovative business ventures, citing examples such as Patanjali and Jio, which gave the established business a run for their money.
He concluded the session by urging the students to work on disruptive ideas, which can make the lives of the consumers easier, since the latter do not invest in the product, rather in the idea behind the product. Overall, it was a very interactive and motivating session.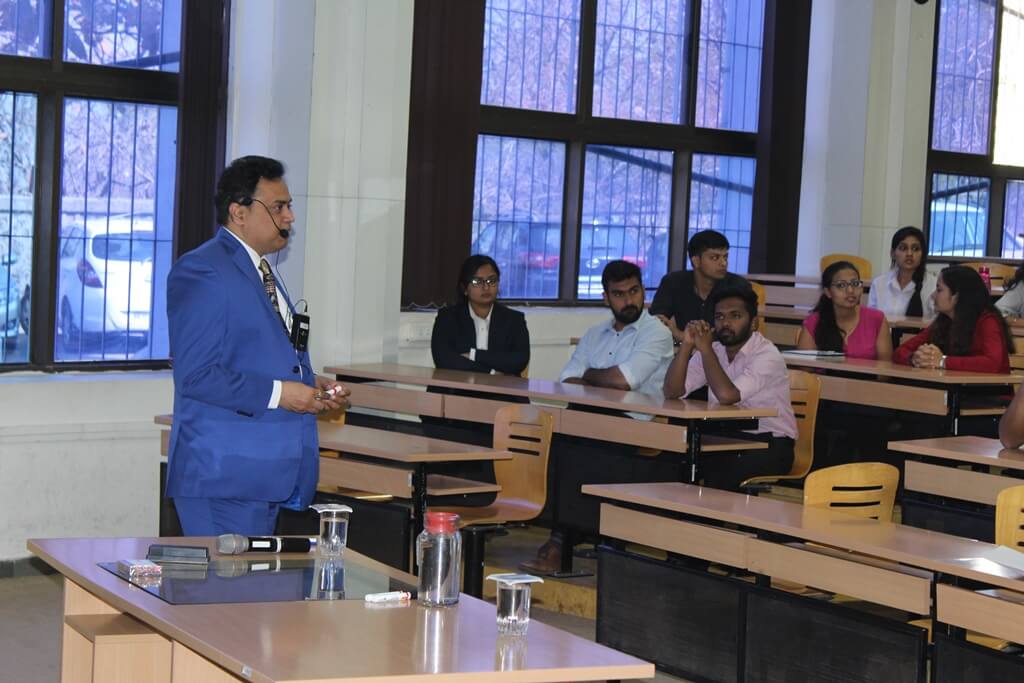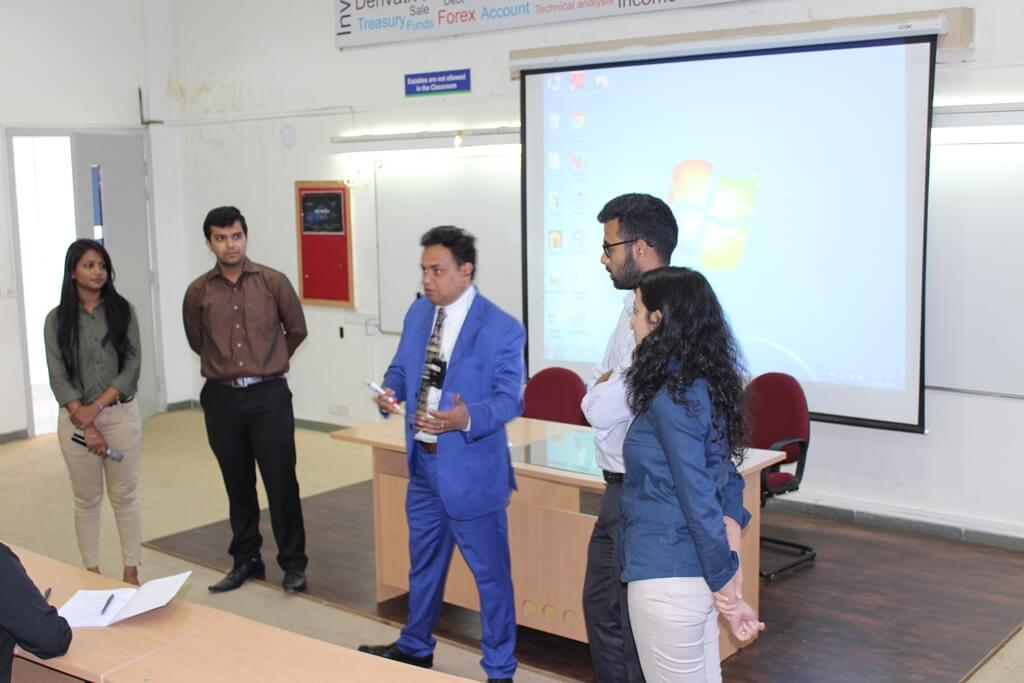 The Corporate Interface Team of SSBF, organised a lecture on "Union Budget Analysis – 2018" on 5th February 2018. The speaker, Mr. Chandrashekhar Tilak – Executive Vice-President at NSDL e-governance Infrastructure Ltd, a stalwart in conducting budget sessions made the session all the more insightful.
While he spoke briefly on how India would be the first country to state publicly that it doesn't recognize the legal status of Bitcoins, he spoke in depth on how the budget brings about contributions from various sectors. This is exactly why Sir, kept emphasizing that the password for understanding the budget is "Cluster". An example that he gave to emphasize this was the "Ayushman Bhava Scheme" which aims to cover a population of nearly 50 Crores. The resources for this can be raised only if the health department collaborates with the other departments such as Technology and Finance. The discussions on Operation Green and the provisions on Long Term Capital Gains were also very interesting.
Overall, it was a very informative session and the students understood the implications of the Union Budget 2018 better.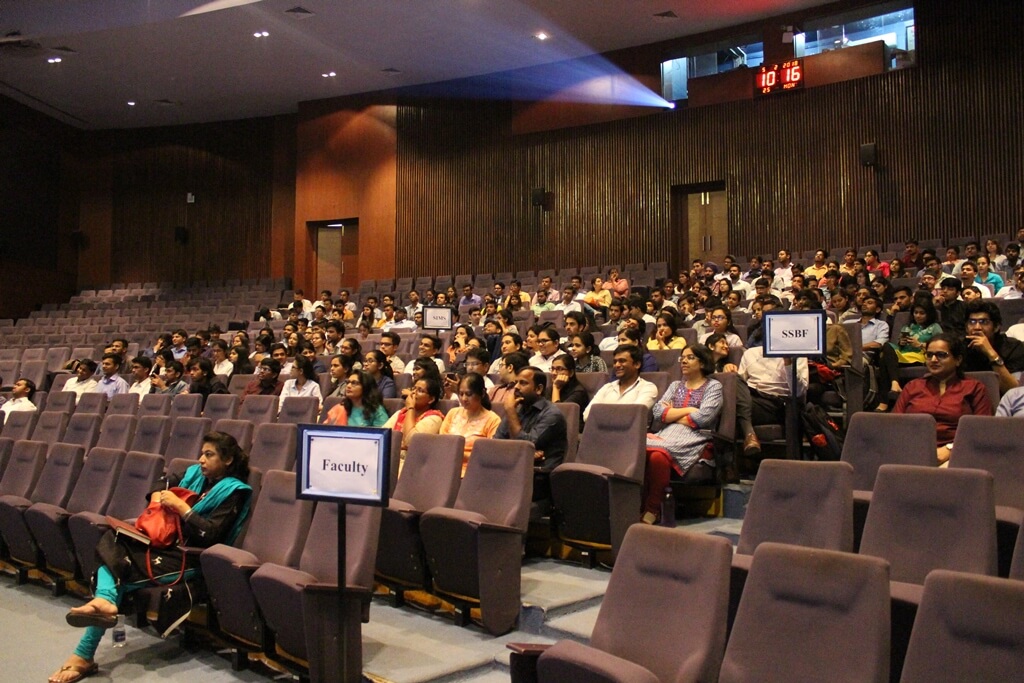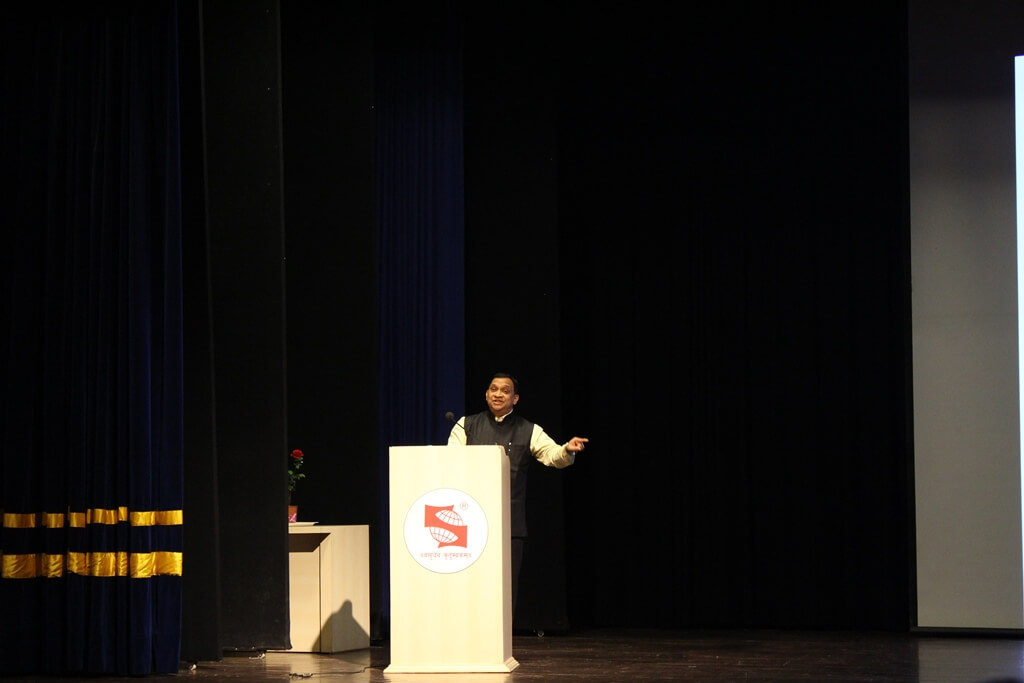 On 7th February, 2017 SSBF had the privilege of organising and hosting an analytical session on the Budget 2017-18 addressed by Mr. Chandrashekhar Tilak, Executive Vice President, NSDL e- Governance Infrastructure Ltd. Students of our sister Symbiosis Colleges like SITM, SIMS, SCE & SCMS also attended the event. The budget analysis given by Mr. Tilak was a departure from just a the normal analysis of whether goods would become expensive or cheaper due to the changes in tax structure, or what changes were made in allocation of funds to different sectors. The highlight of the session was his interpretation and explanation how demonetization was the crux of this year's budget and what role it has played in formulating this particular budget and its repercussions in the budgets to come.
The exercise of demonetization gave an idea to the government as to what sort of demands in the economy are price sensitive and what are not which helped in the formulation of the budget. He elaborated that demonetization gave the government a tool to analyse, accumulate, assess, relearn and unlearn whatever Indian economic policies had taught us so far; especially how the economic composition has changed over the decades from an agriculture dominated economy to an industry dominated economy and then moving to be a service dominated economy. He explained how housing and gold are the two major investments and the economic reality of how earlier generation purchased them from the retirement savings which has a stark difference from the current generation which purchases them at the beginning of their income earing cycle thus keeping their liquidity at stake throughout their income earning cycle.
He then drew the link between demonetization, GST and budget and the fact that Data Mining, Data Analysis and Data Extraction are the words used for the first time in this budget and how they will be important in the coming years in formulation of the budget. Moving on he showed us how the merger of railway budget is seen as a step towards integrated infrastructure development, which is very necessary for development of infrastructure in the country.
Finally, he showed us how demonetization has also helped the government to assess the assent of different states like Tripura, which is heavily reliant on funds from the central government and Kerala, which has the support of NRI remittances was mute which will help in proper allocation of funds to states. On the whole, it was a very enriching experience for all of the participants.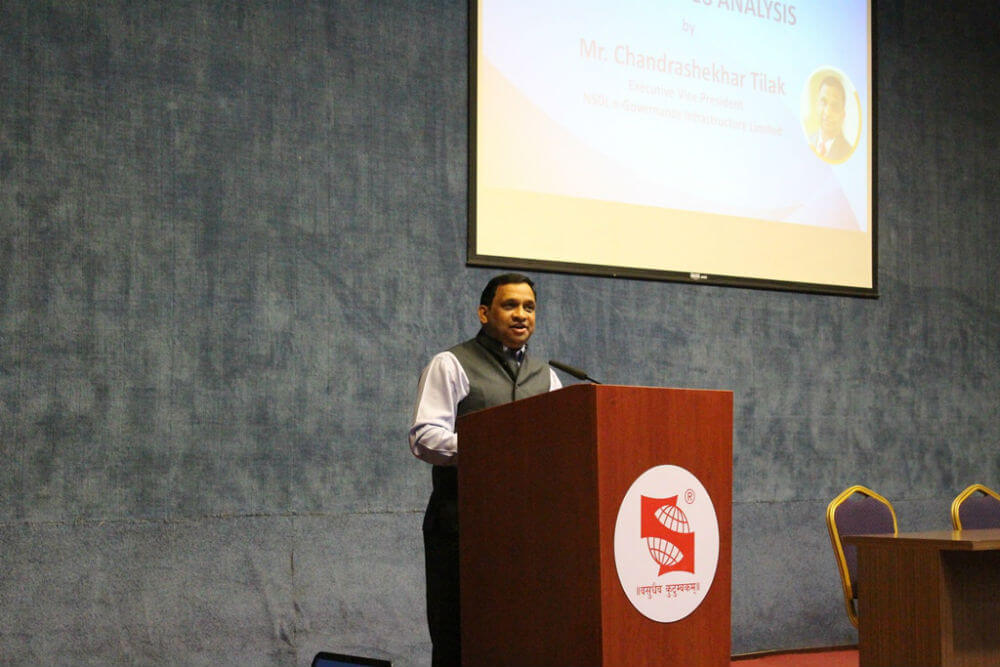 On 05th January, 2017 we had the opportunity of interacting with Mr. Sanjeev Nanavati, Ma on the topic of changing dynamics of Banking in India and all over the world and importance of entrepreneurship in the banking sector. The students had a great opportunity of interacting with an expert on this topic.
He began the session by discussing about the current scenario in the banking industry He then spoke about 'Fintech' a new arena in the banking industry. He also explained about the current trends in the banking industry with specific examples of increasing capital cost of banks, SME's being the maximum margin area for banks, wallet sharing, etc.
The session ended with the Q&A round, where students were able to clarify a lot of their doubts and misconceptions about the current scenario and trends in the banking industry. Overall, the session was very enriching for all of us and we all learned a lot from him.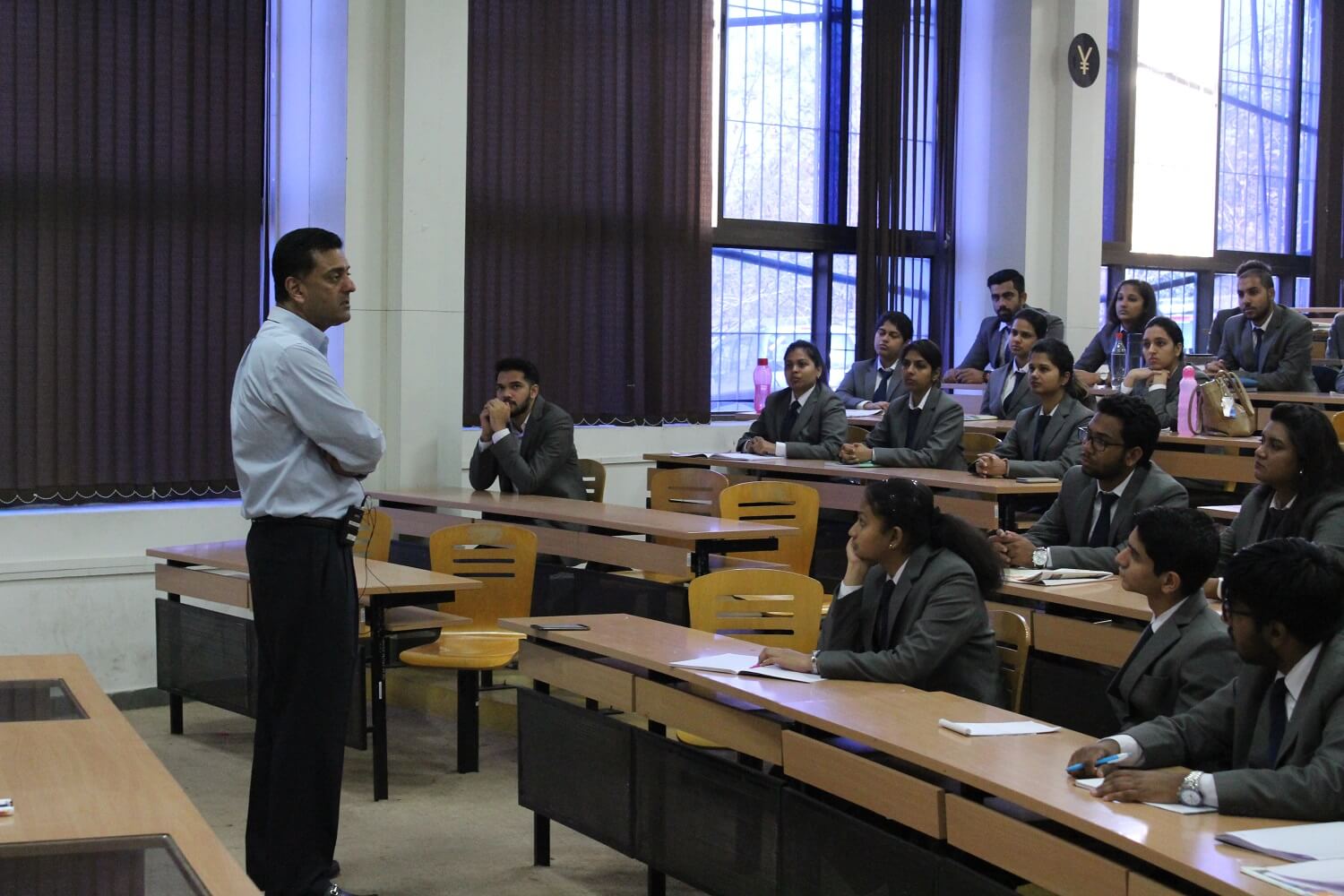 On 10th January 2017, we had the privilege of attending a guest lecture by Dr. Sandra Mortal on the topic of "Market Efficiency and Mergers & Acquisitions". Dr. Mortal is an Associate Professor, Dept. of Finance, Fogelman College of Business & Economics, University of Memphis. She has also been associated with SEC in the past and her areas of interest include Market Microstructure & Corporate Finance.
She began the lecture by explaining the concept of 'Efficient Market Hypothesis' & 'Random Walk Theory'. Dr. Mortal went on to explain the 'Random Walk Theory'; ensuring the lucid understanding of the underlying concept by involving everyone in the construction on an Excel worksheet by taking historical prices. She further went on to explain the different factors that affect market efficiency, various forms of Efficient Markets like Weak, Semi-strong and Strong Markets. Then she spoke about mergers or acquisitions and how the stock prices of both the target company & acquiring company behave upon such an announcement and how efficient market theory is linked to it. Finally, she put forth the various arguments that support as well as reject the Efficient Market Hypothesis and also discussed the veracity of whether markets can be 100 percent efficient or not.
It was an extremely enriching experience for the participants and helped us all to understand very important aspect of markets which were superbly explained in very simple terms by Dr. Sandra Mortal.
On 21st January 2017, we had the privilege of attending a guest lecture by Mr Sujit Honrao, Manager of Finance and head of Financial Planning & Analysis – BMC Software, India. Mr Honrao is a Chartered Account (CA) by profession and has extensive experience in the software & IT industry.
The agenda of the lecture was to discuss the budgets of the IT companies and its preparation using software like Hyperion, Tableau, etc. He talked about self-motivation and shared his personal experiences in the corporate sector.
He began the lecture by talking about his journey to becoming a CA whilst working for a software firm and handling the work pressure and studies at the same time. He also talked about how self-motivation is important and how it helps one achieve her/his goals. Then, he went on to explain the corporate culture and how one should handle the diversity of people coming across. All inclusive, it was a stimulating experience for us.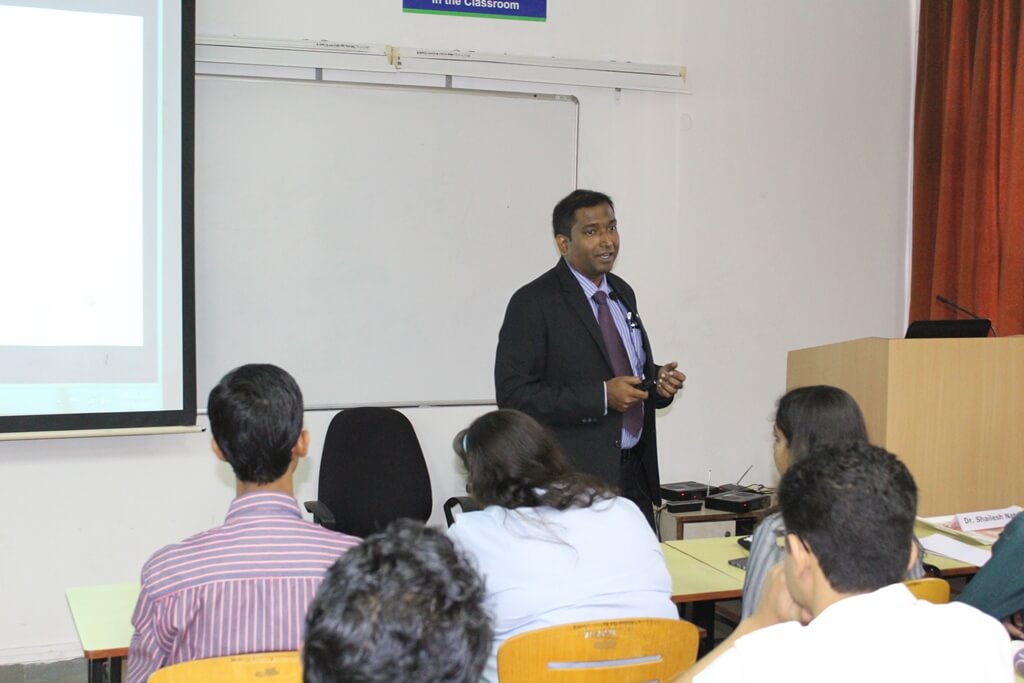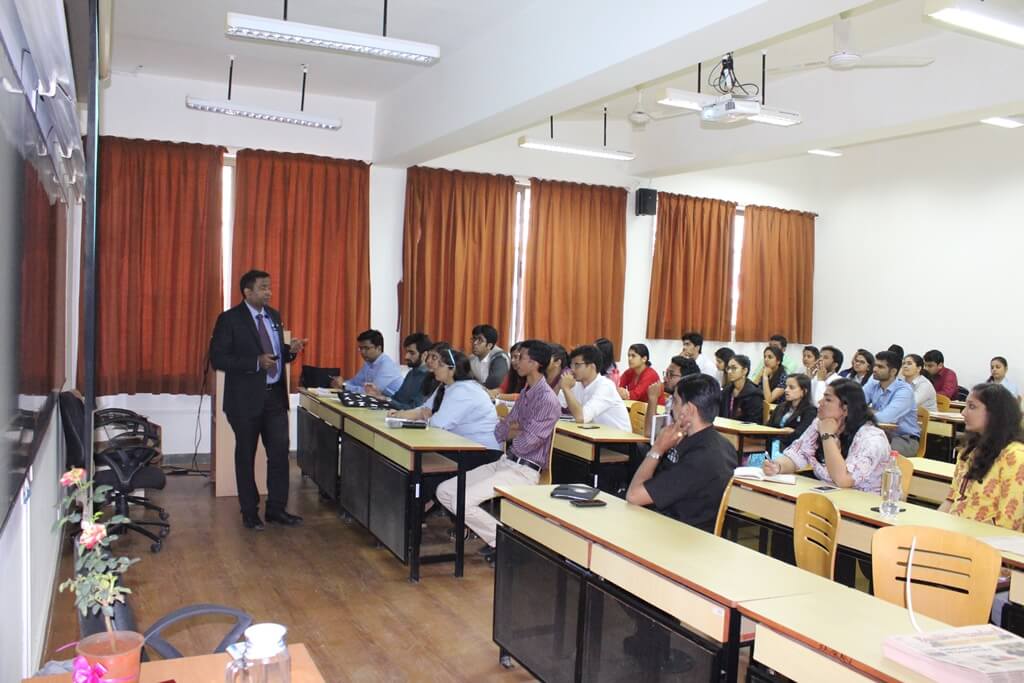 The students of Symbiosis School of Banking and Finance were privileged to attend a lecture by Mr. Gautam Puntambekar - Managing Director, Bank of America Merrill Lynch on 26th December 2017. The lecture was centered around "The Homeland Investment Act - Effect of Currencies and Issues to APAC" and "Financing alternatives in APAC"
Having managed large multinational corporations and NBFI relationships across APAC, Mr. Puntambekar gave a gist of the Act in very simple words. According to him, the Act covers all those situations where the money of the US multinationals is brought back into the country. He also stressed on the fact that the Act will be successful only if the countries are able to bring back their currencies which in turn would be possible only if they are freely convertible. He then discussed in detail about the Chinese economy with special focus on the possibility of China becoming a superpower.
Lastly, he closed the discussion by motivating the students to develop special skill sets. The world is a competitive place and it is these skill sets that will differentiate between people. One should always be open to ideas and money shouldn't be the driving force. At the end of the day, the successful people are those who are passionate about their work.
Overall it was a very insightful and motivating session.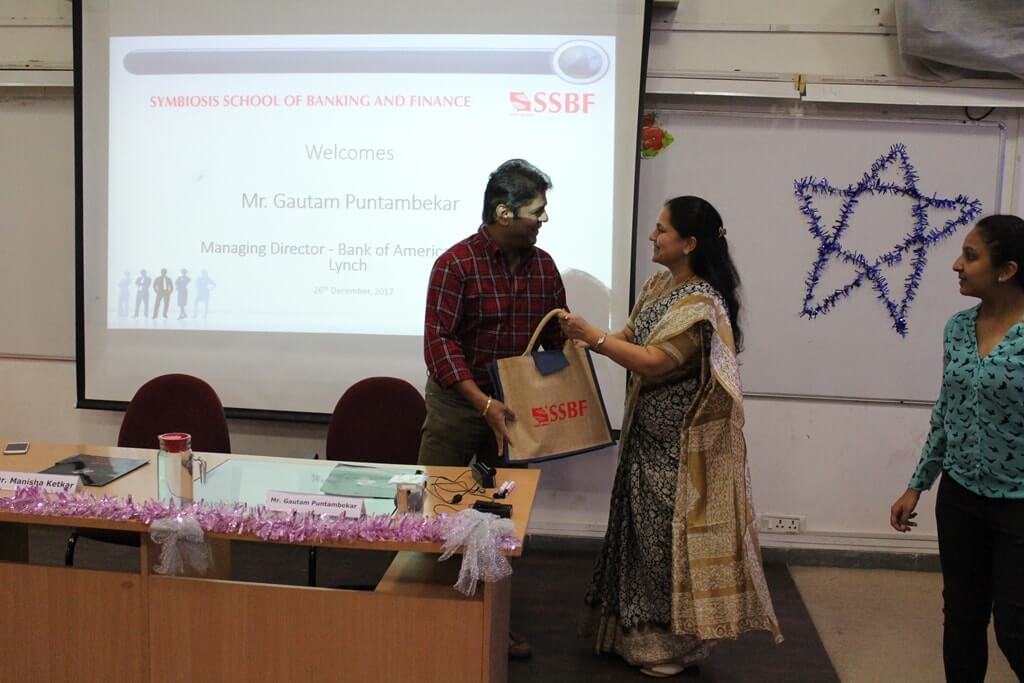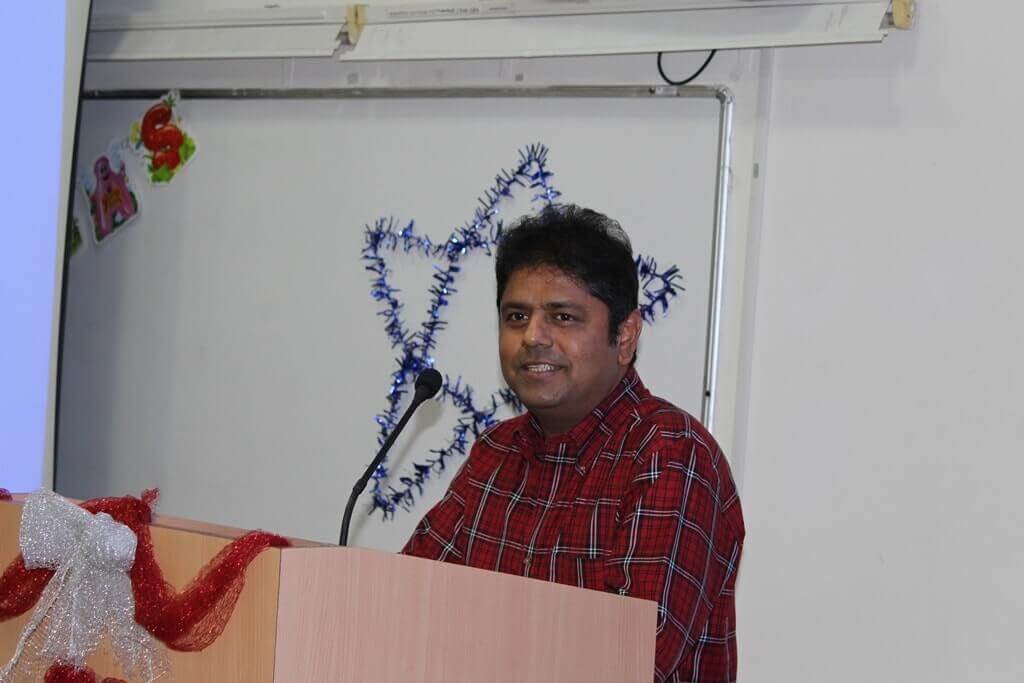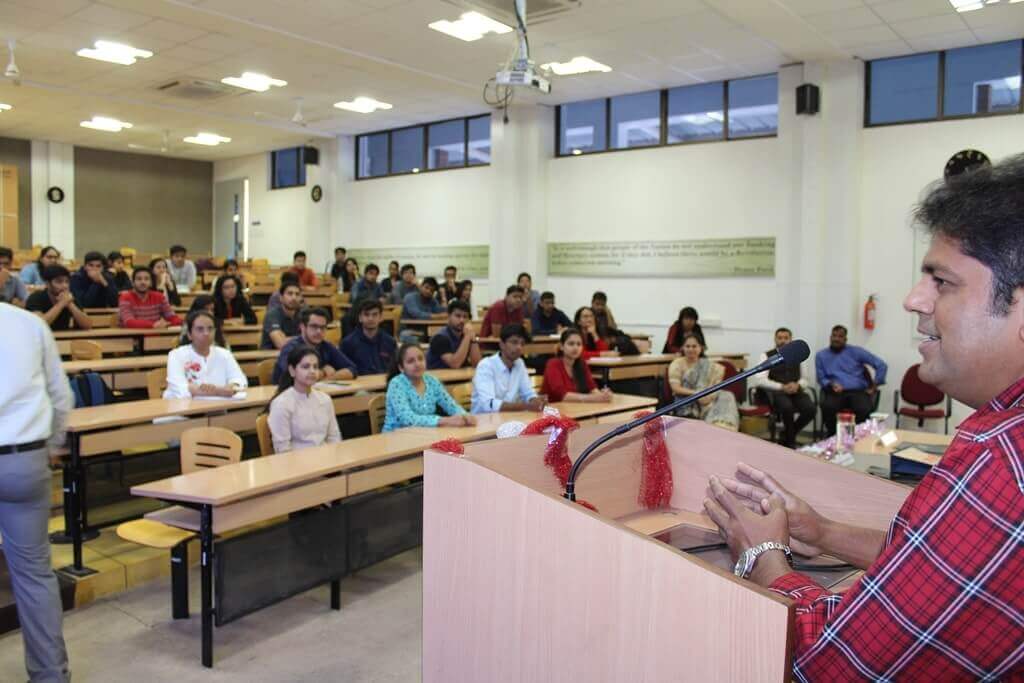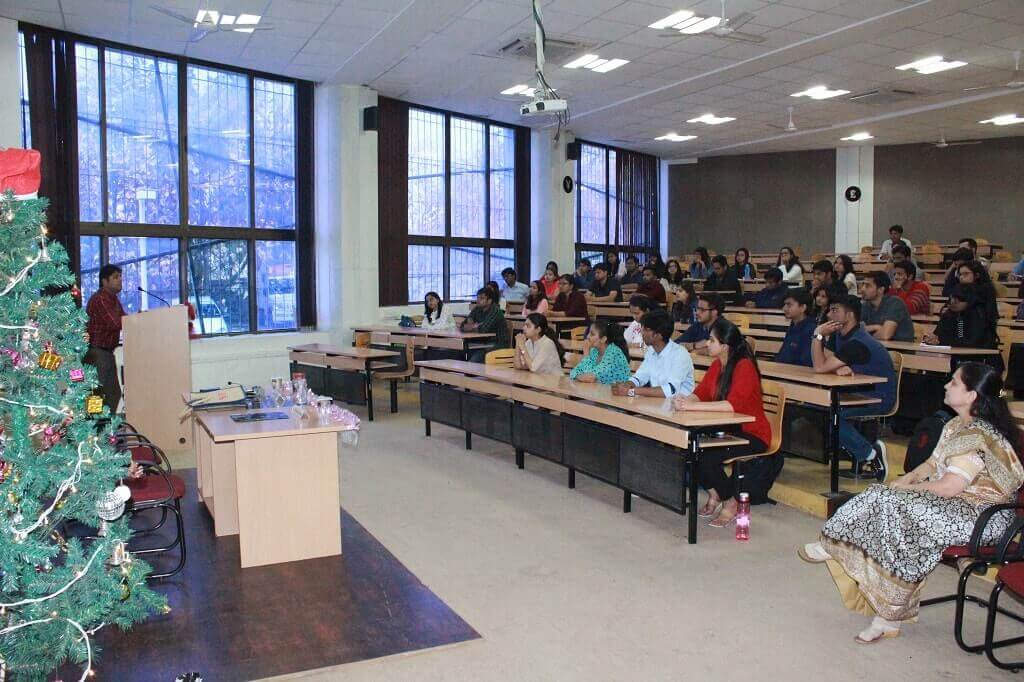 On 16 th December, 2017, The Entrepreneurship-Cell started its 'E-Series' at the Symbiosis School of Banking and Finance. A guest lecture was hence organized wherein the guest for the event was Mr. Sunil Shirole, Managing Director and CEO, Yen Capital Advisors Pvt. Ltd.
With a focus on understanding Entrepreneurship mindset, Mr. Shirole shared with the students his journey of being an entrepreneur. Form leaving a highly paid job and to purchasing a dream home on the famous Marin Drive of Mumbai, Mr. Shirole said that he had failed many times and it is this failure that made him better. He emphasized that 'failures are your teachers' and that one must be ready to ride the roller coaster journey on the way to success when it comes to being an entrepreneur. He explained how an entrepreneur needs to be highly positive, highly motivated and above all that he needs to be a better leader. Taking people along on the journey is the key requirement of being an entrepreneur. "If you are satisfied with what you have, you will stay where you are." Mr. Shirole said that an entrepreneur also needs to be hungry for knowledge and success, without which it is impossible to grow.
Talking about the traits of being an entrepreneur, Mr. Shirole asked the students whether an entrepreneur is born or is it a cultural upbringing that shapes someone to be an entrepreneur. Emphasizing the facts that education, cultural environment and family background can play a major role in being an entrepreneur, personality traits are something that a person is born with and that these traits cannot be taught or changed. The personality of the person has to be such that he should be hungry for more and be his own boss. Proper execution and timing of events are as important as any breakthrough idea. He added that timing can make or break things and that one must know when to start a business and when to exit.
Lastly, Mr. Shirole opened the platform to the students for Q&A session where students came up with their queries and got good insights and guidance from him. On a closing note he said that not all students can be entrepreneurs, but one must look inside to see whether one has the hunger to be one. In the end, he advised the students to "Stay Hungry, Stay Foolish".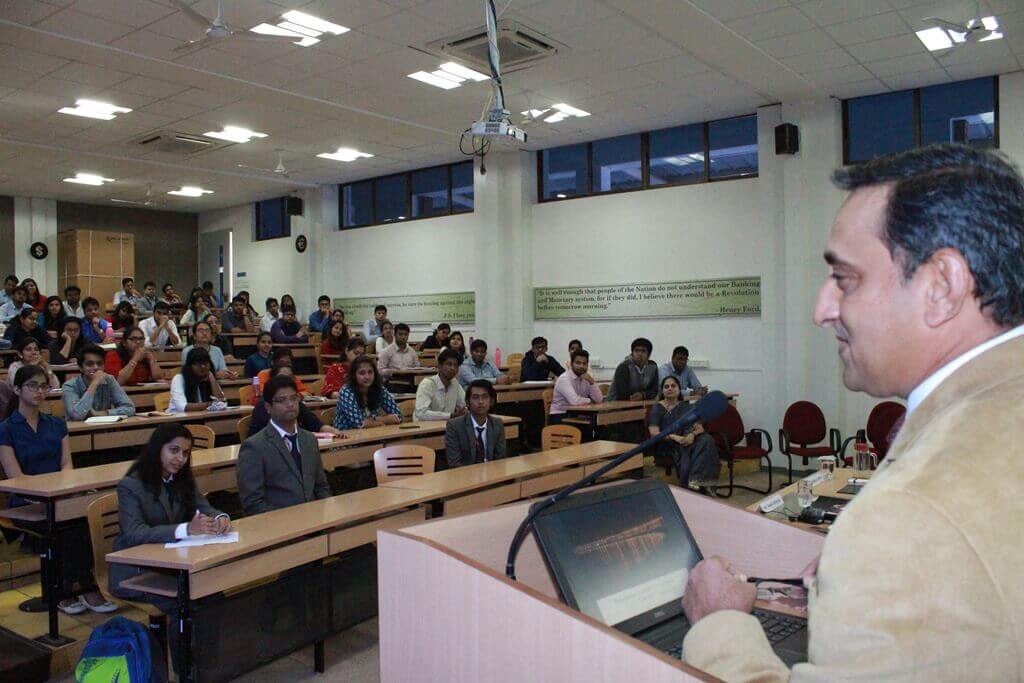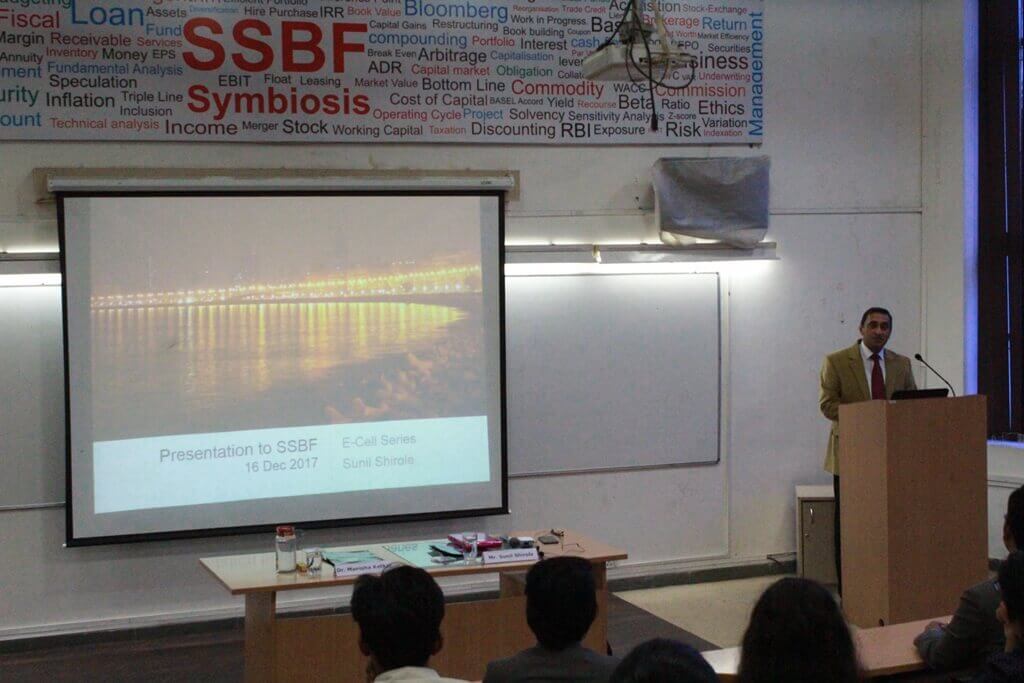 On 18th November, 2017, the students of Symbiosis School of Banking and Finance got the opportunity to meet and interact with Mr. Veerain Kaul, an alumnus of the college, currently working with ICICI Lombard. During the course of this interaction with the students, he explained different types of insurances and also talked about various misconceptions regarding insurance.
Mr. Veerain talked about the history of insurance and reinsurance as well. He also had a very frank conversation with the students about insurance fraud and misuse of insurance and gave real life examples that he himself had witnessed.
Mr. Veerain also advised the students about which departments and companies that he thought the students ought to join depending upon where they might find more learning opportunities and challenging situations that would help them to grow in their career.
We would like to thank Mr. Veerain for taking time out of his busy schedule and coming to interact with us and for providing us with guidance from his vast array of knowledge.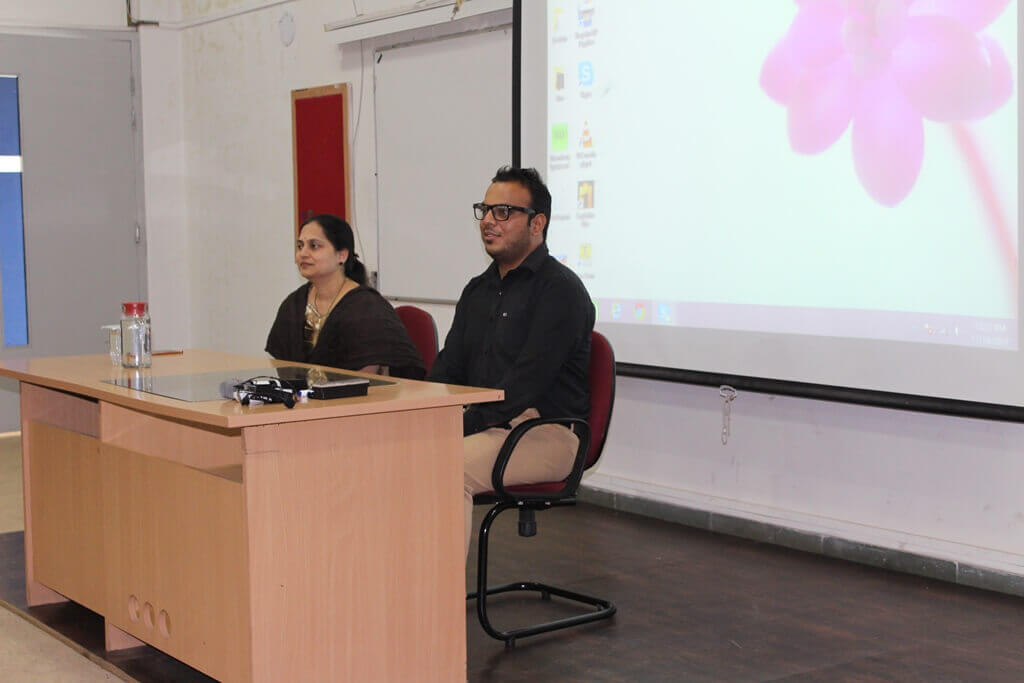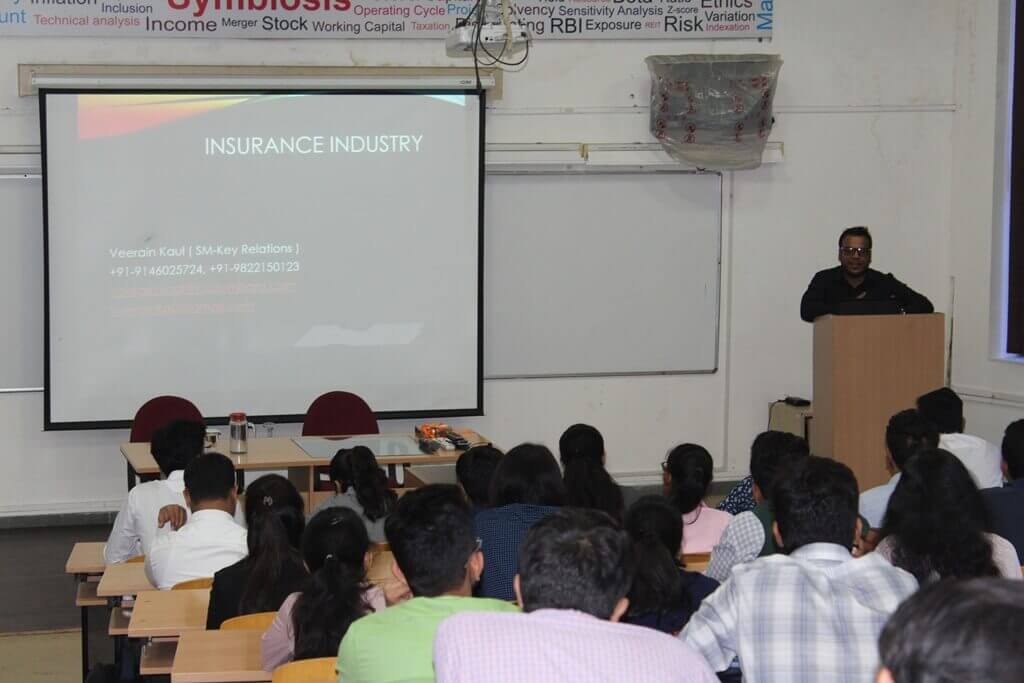 A lecture on "The Various Investment Avenues" was organized for the students of Symbiosis School of Banking and Finance on 10th November 2017. The speaker Mr. Ramprasad Murthy who has an experience of over thirty years threw some light on the same and also busted many myths relating to investing.
The speaker started on an energetic note and asked the students where they would put their money. Throughout the interactive session, he gave the pros and cons of Fixed Deposits, Insurance, Bonds, Equity and Mutual Funds. He emphasized on how important it is to not put all the eggs in the same basket. He also touched upon the difference between interest and risk. The two major takeaways of the session were, one, no investment is without risk. Which is why it is necessary, to have Vitamin P i.e. Patience and Vitamin D i.e. Discipline. Two, while investing, the formula to be applied is KISS – Keep It Simple Silly.
Overall, the session was very interesting. The students were privileged to have attended a very informative session.
The students of SSBF were privileged to attend a guest lecture by Mr. Rohit Kalghatgi, Assistant Vice President – SG Analytics on 4 th November 2017. The lecture, gave the students a brief idea about the requirements and profile of a Research Analyst. There is always more to this profile than what meets the eye.
According to Sir, a Research Analyst does an analysis on diverse topics. It could range from "analyzing the consumption of a particular good in a specific country" to "providing holistic consulting to understand customer problems". Mr. Rohit Kalghatgi, also touched upon the importance of being aware about the economy. One must know not just about the happenings of the country's economy but also the world as a whole. This is because, a person, as a Research Analyst, has to deal with clients from various fields.
He closed the discussion by urging the students to always take the first step. One can be successful and grow, only if he or she takes initiatives on their own. Overall, it was a very insightful session.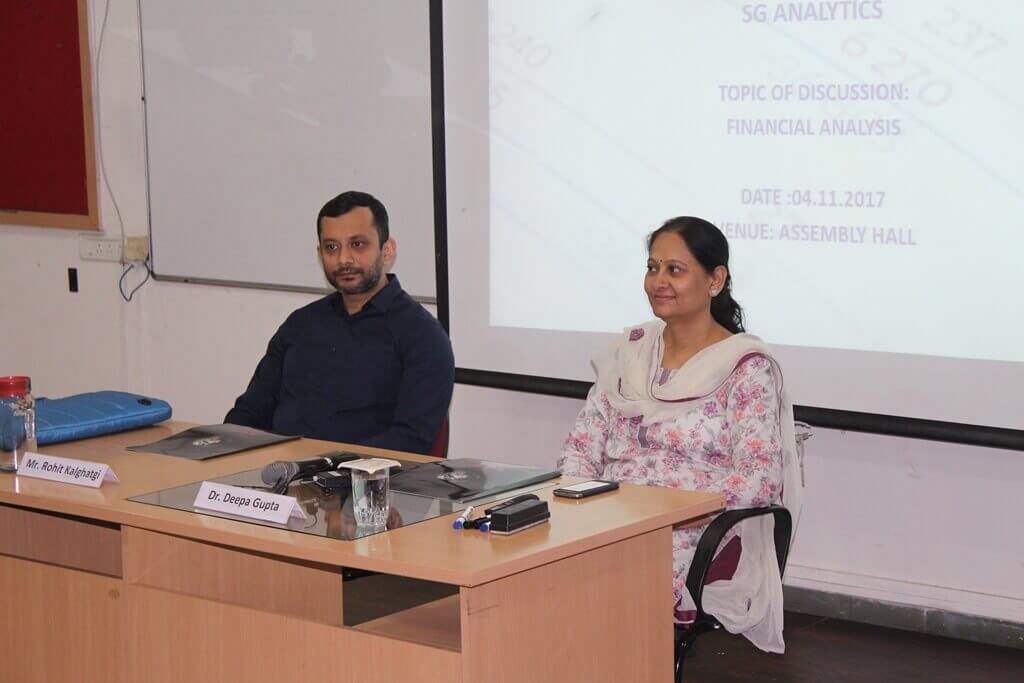 Inflation is something that eats away the value of money over time. And to protect the value of money, one must invest. Of course, investment is not just an ordinary day to day task, but one which requires the understanding of the factors and principals governing the type of investment.
30th October, 17, the Corporate Interface Team organized a session of Mutual Funds with Mr. Prateek Tiwari, Assistant Vice-President, Sales and Cluster Head, HDFC AMC as the guest speaker. With a profound experience of 20 years in corporate sector, Mr. Prateek Tiwari shared with the students the types of assets and wealth management concepts. Assets are of four types viz., Real Estate, Equity (& Commodity), Gold and Bonds. While real estate requires huge initial investments to begin with, they also have the disadvantage of least liquidity as compared to other assets. Gold in turn offers no utility to the average person and hence is a stagnant source of investment. Bonds are the safest means to invest money in return of a fixed rate of interest. However, Equity (& Commodity) market are one such means where the amount of returns depends on the underlying asset. Investment in shares, preference shares, convertible shares, commodities are the financial instruments of the Share Market.
What do Indian people do with their money? Well as per the figures of 2015-16, the following pie chart describes the average investment pattern of most Indian people.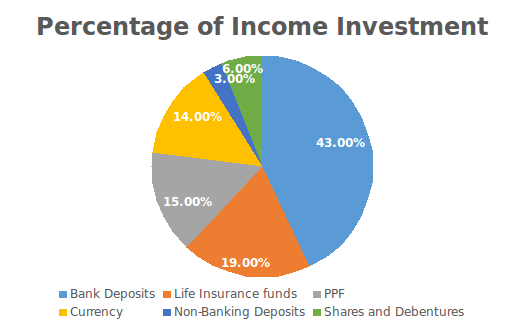 Equity are safe to invest and generate money, of course, one must understand their behavior before taking the plunge.
To add context to the subject matter, Mr. Prateek Tiwari cited various examples for the financial world to give a better understanding to the students. Sir discussed about how the sub-prime crises took shape, and how the American Economy helped Warren Buffet become the world's richest investor with the help of Equity market.
With the world moving towards fast paced growth and entrepreneurs coming up with market disruption ideas, Sir elaborated on how new theories of economics is shaping the world. Mental accounting and Nudge theory are the driving concepts of companies such as Visa and Master Card. Uber is based on Share Economy and WhatsApp earns profits on the need of people to share instantly. The world is witnessing the 4th Industrial Revolution of Internet of Things. The technology driving major companies to change the way they work and make money.
In such a fast paced world of rapidly changing forces driving the money, it is important to ensure that the common man is not left behind to protect himself against the fluctuating nature of money. While inflation eats away a value of money each year, there's little a man can do to ensure financial stability. One such way of doing so is to invest in Equity and its derivatives (commodities, debentures, shares, etc..)
With Q&A session giving the students an opportunity to clear any doubts, the students felt contended and privileged by the presence of Mr. Prateek Tiwari. The knowledge shared by the speaker will surely help students gain a better understanding of the nature of Equity and its derivatives.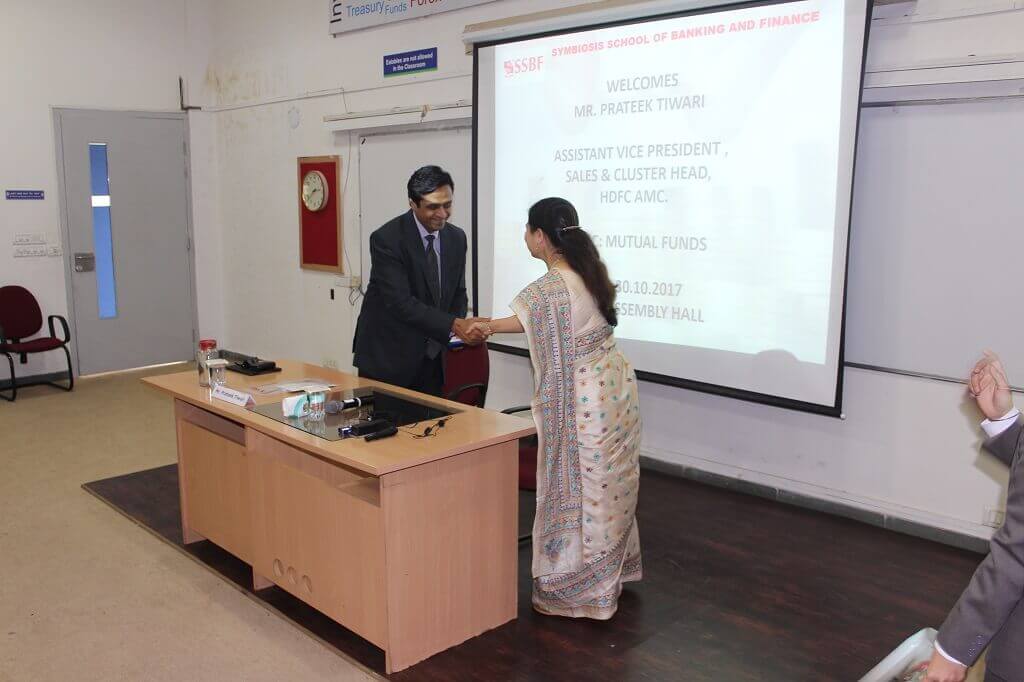 Many people know what corporate governance is but few really understand what "good corporate governance" is, and how it is essential for the growth and prosperity of an organisation. To address this, our Corporate Interface Team had scheduled a guest lecture on corporate governance, more specifically, the Sarbanes-Oxley act.
On September 21st 2017, the students of SSBF had the honour of interacting with Dr. Mita Mehta, faculty in charge of Academics and Internal Quality Assurance Cell, Symbiosis Institute of Management Studies, who has done her doctorate in Corporate Governance in Indian Corporate Sector. She has various international and national publications in reputed magazines, journals and refereed books related to the area of Business Ethics and HR. She has also authored a book on "Corporate Governance in India".
The session began with Dr. Mehta briefly giving an introduction about corporate governance and its relevance, prerequisites and objectives while also throwing light on scams that had happened in India as well as abroad.
The Sarbanes-Oxley Act of 2002 was passed by the United States Congress as a way to protect investors from the risks of fraudulent accounting conducted by corporations. This act put strict reforms into place to improve financial disclosures and prevent fraudulent accounting practices. There are also regulations within the act that apply to privately held companies, such as the wilful destruction of evidence to interfere with Federal Investigations. The need for this Act arose after one too many large-scale corporate accounting scandals such as Arthur Andersen, Enron and WorldCom. She also discussed the various titles under the act such as Public Company Accounting Oversight Board, Auditor Independence, Corporate and Criminal Fraud Accountability etc.
The session was extremely informative for all the students and ended with Dr. Mehta answering various questions from the audience. The students were very thankful that Dr. Mehta took some time out of her busy schedule and enlightened them with her knowledge.
It is important to know what business the company is doing. The overall performance of the sector, the implications of government regulations, the market history of the sector and the company on watch are as equal a parameter to understand as the financial statements of the company.
On 16th September, 2017, Corporate Interface Team of SSBF organized a session of Financial Statement Analysis with Guest Speaker Mr. Kalpesh Jain to shed some light on the same. A member of ICAI and E&Y Global with a diverse experience of 19 years in audit and assurance services, mergers and acquisitions, Mr. Jain began the session by focusing on the importance of sound understanding of financial statements viz. the sources of financial information.
He started by explaining each line item in the financial statements and explained its various implications. He supplemented it with live examples which enabled the students to understand it better. The session ended on a very energetic note with an interactive session where the students got all their doubts clarified.
Overall, it was a very enriching and an interesting session which the students enjoyed.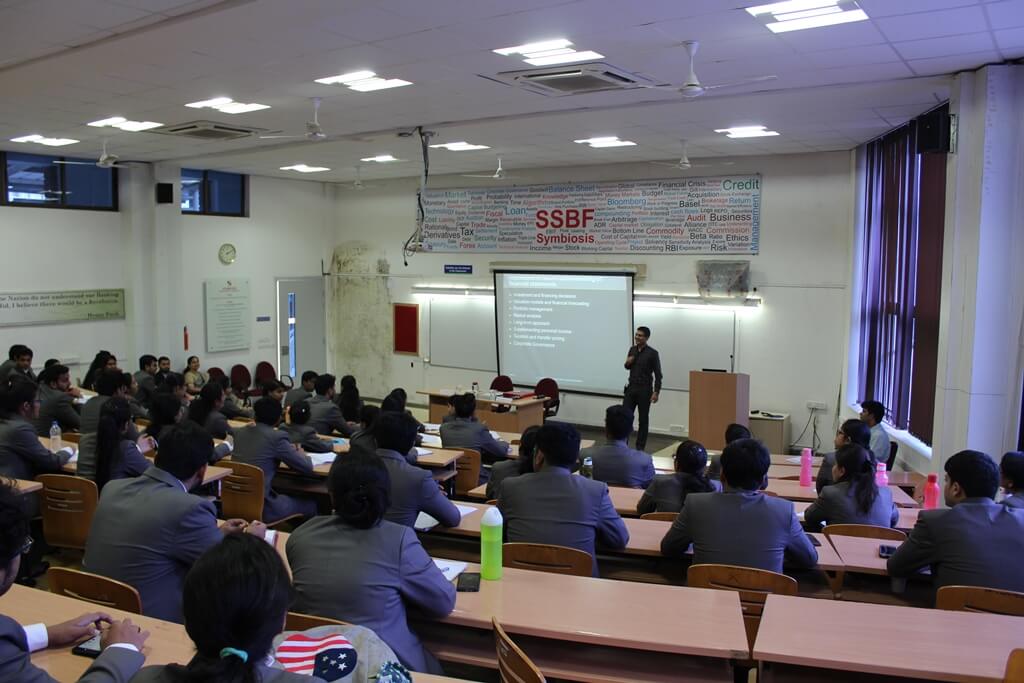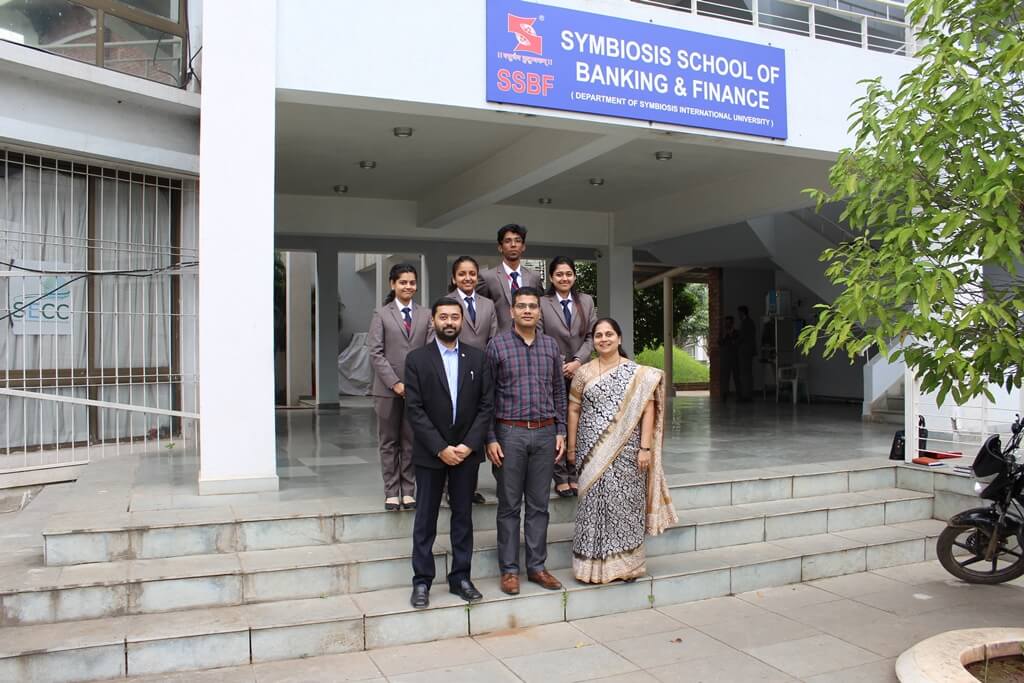 "Live with dignity, Live like a king"
"It is said that a journey of a thousand miles begin with a single step". These are the words of Lakshya foundation and students of SSBF, SITM, SSP had honour of attending a guest lecture by the founder herself, Mrs.Anuradha Prabhudesai. The lecture started at 10:00 am with the director of SSBF Dr. Manisha Ketkar felicitating the speaker. Among the others present were (director of SITM) and (deputy director, SSP)
The lecture that was held as a part of the 71st Independence Day celebrations, gave the students an insight on the life of our soldiers at the borders, about how fearlessly they look at death and protect us. She spoke about many soldiers, their contribution in the Kargil war and how we can take their examples and live life with dignity, determination, discipline and dedication. She also shared her experience when she was caught in the middle of a firing and how she know that the young solider would not let anything happen to her. She encouraged the youth learn from those who laid down their lives for us. Lastly, she narrated an incident about a young boy who eventually grew up to be a soldier. So touching was the story, that everyone was chocked with emotions by the end of it.
The intense and inspiring session resulted in the students respecting the soldiers even more than before.
JAI HIND!
The Corporate Interface Team had organized a lecture on 26 th August 27, 2017 on Insurance for the MBA students. The speaker, Prof. Garde, a Qualified Insurance Broker with a Fellowship in Insurance spoke about the dynamic nature of the Insurance Industry in India. He also gave the students some insight on the trends and the scope of the insurance sector.
Having an experience of almost 39 years, he highlighted the ways in which the sector has evolved, especially with the advent of technology. The students got an idea of how, "Insurance is hot and happening" and also got to know about how the six sub-sectors within the Insurance Industry namely Life Insurance, Health Insurance, Non-Life Insurance, Risk Management, Re-insurance, Actuarial Science is developing. He clarified all the doubts of the students with very humorous and spontaneous examples.
By the end of the session, the First Year MBA(Banking and Finance) students had a better understanding of the sector and understood what the experts meant when they said that the insurance business will grow exponentially in the forthcoming years.
On July 1st, 2017, the much awaited Goods and Services Tax (GST) had been implemented. Even though, it was one of the most trending topics in the news at the time, there were a lot of people who were conceptually not clear about GST. To address this, our Corporate Interface Team had invited Mr. SS Nathan, Professor and tax consultant (Indirect tax, foreign trade & corporate law) to speak to our students and give an overview on the same.
The session began with Mr. Nathan briefly giving an introduction about GST and also throwing light on how the taxation system had worked before GST was introduced. After that, Sir began his extensively informative presentation and explained how GST was going to subsume 17-18 different taxes into a single one. He also helped us understand the different components of GST, that are SGST (State Goods and Services Tax), CGST (Central Goods and Services Tax) and IGST (Integrated Goods and Services Tax) and how heavy documentation and its cost will be saved by registering on the online portal. The basic technical and legal details like the ratio in which the taxes will be collected by the state and central government, anti-profiteering provision, composition scheme, GST compliance rating and reverse and forward charge mechanism were also discussed. Sir also briefly talked about how on the banking sector 18% GST would be applicable and state wise registration of the bank branches will be required. Lastly, sir told us about the problems that the government will have to face while introducing GST and that India is a large country due to which it'll be extremely difficult to get everyone on the same page regarding the biggest tax reform to have happened since the independence.
The session was extremely informative for all the students and we are very thankful that Mr. SS Nathan could take some time out and enlighten us with his vast array of knowledge.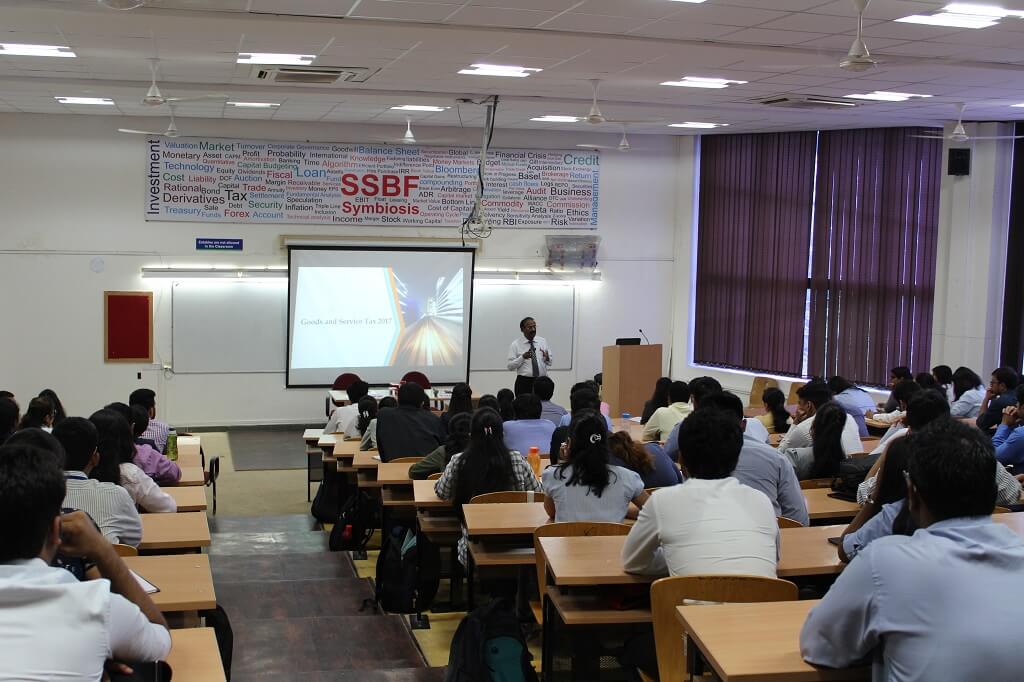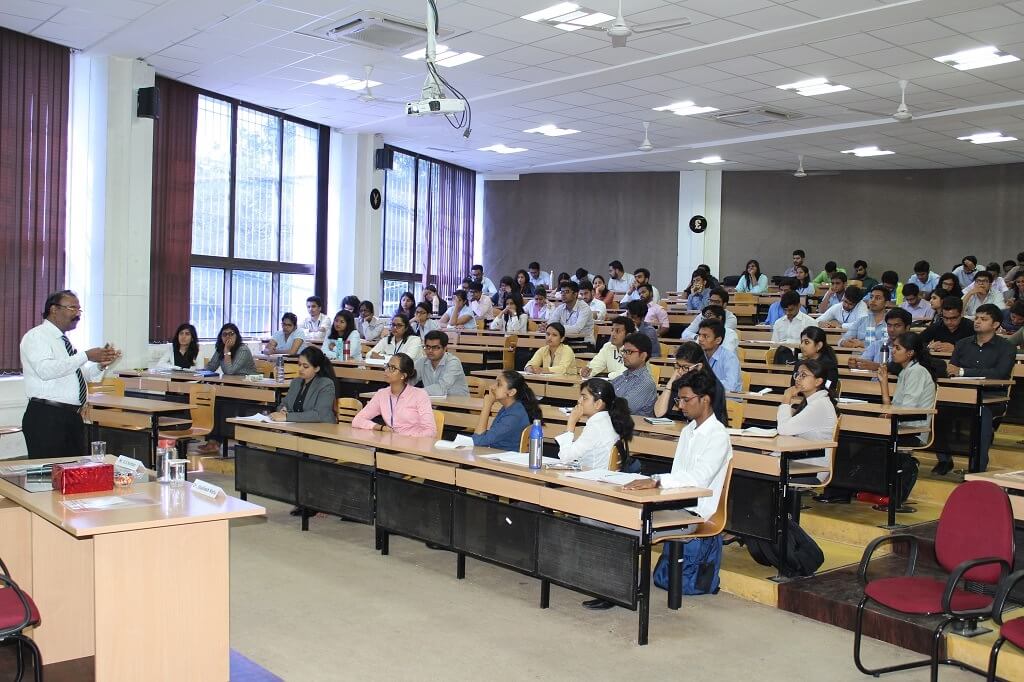 On 7th July, 2017, the students of Symbiosis School Of Banking and Finance had an excellent opportunity of having two eminent personnel from Pricewaterhouse Coopers (PwC). Mr. Vivek Iyer is a partner in Financial Services Risk Advisory at PwC whose domain is risk and controls space in the financial sector. The other dignitary of the event was Mr. Shiva Iyer, Director of Financial Services Risk Assurances at PwC whose expertise encompasses around MiFid 2, IFRS, Basel 3, prudential requirements in the financial sector and many other such fields.
The discussion took the first step by a brief introduction about the background of PwC by Mr. Vivek Iyer. He touched upon various intricacies regarding the emergence of IFRS 9 and implementation of BASEL 4 in the world economy. He briefly introduced the concept of Global Liquidity Risk Requirement which is gaining prominence day by day. The wheel of discussion was then steered by Mr. Shiva Iyer who elucidated the divergent situation of the market in London and that of in India. Furthermore, the organizational structure and the various profile of the experts in the risk management team of PwC was shown to the students.
One of the most important takeaways of the session was about "the constant urge to know more". In the BFSI sector where trends are ephemeral, it is of utmost importance to keep oneself abreast of the surroundings continuously. The students indeed had an enlightening session and they are looking forward to many more such events in the future.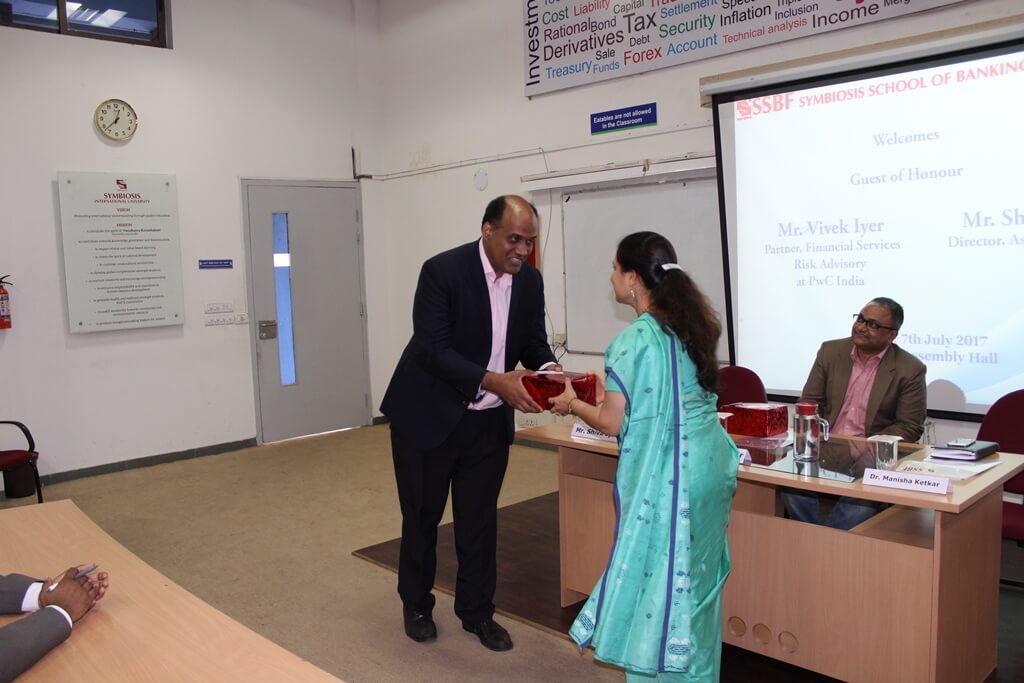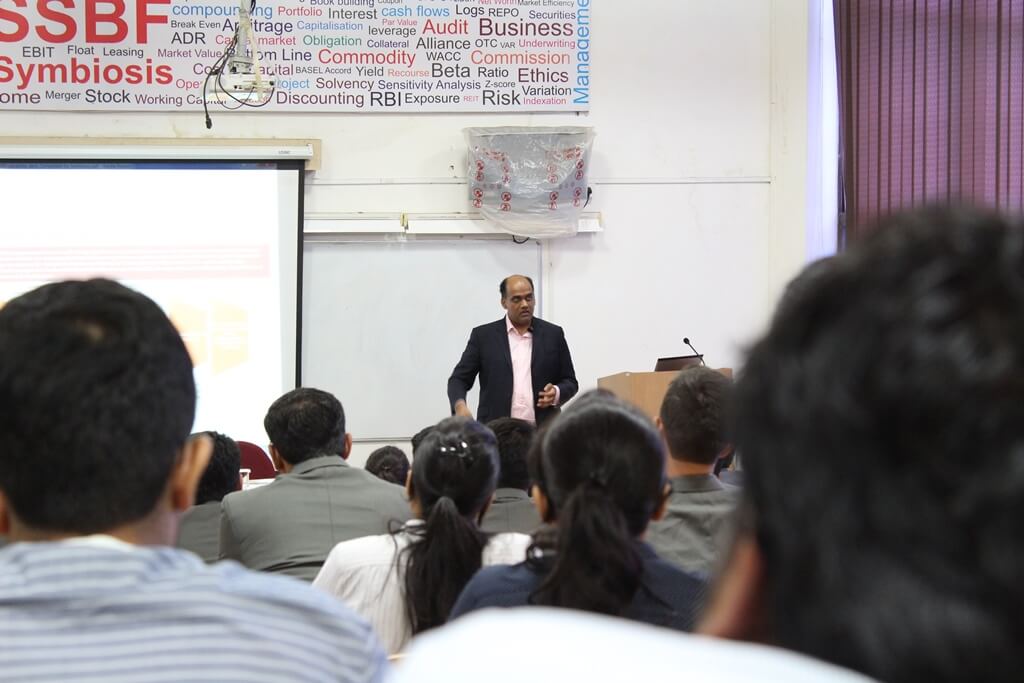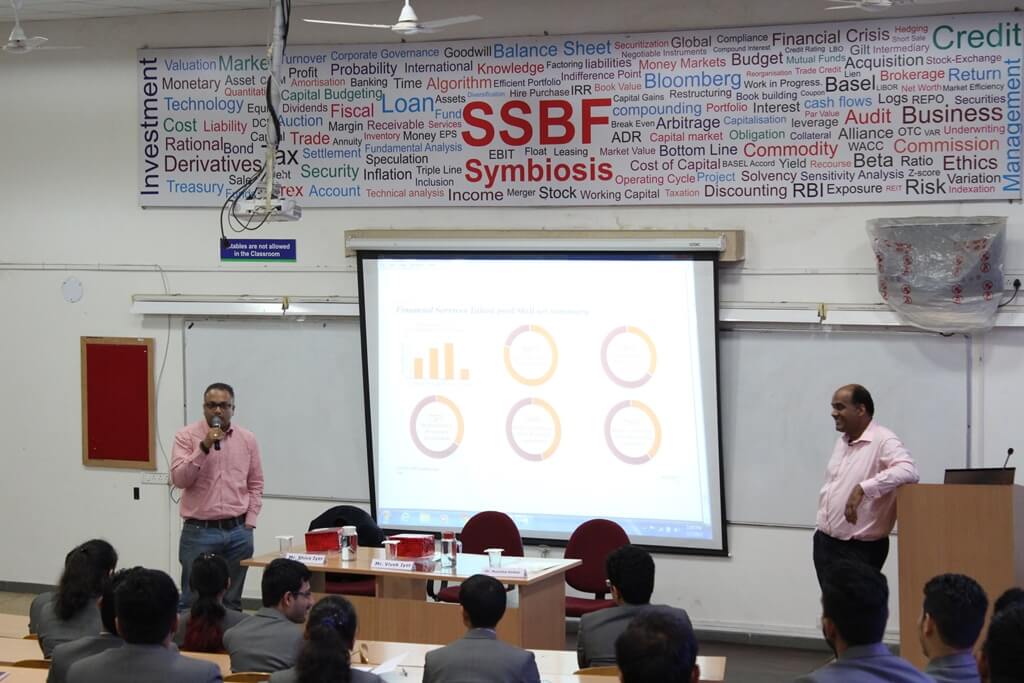 On June 22, 2017, Symbiosis School of Banking and Finance got the opportunity to interact with Mr. Hardik Mehta, All India Rank One in RBI Grade B Exam, 2016 and Alumni of SSBF Batch 2011-13.
The session commenced with Hardik sir discussing about the RBI Grade B Exam pattern, further comparing it with SBI Bank PO Exam. This discussion began with segregation of the exam sections, their respective question patterns and cut offs. After this, he explained how he aced this exam and secured an All India Rank One. He elucidated the exact strategy that he had followed during the examination (which included the number of questions of a section and time given to them) and gave insights of his interview after he had cleared the written examination. His preparation for the exam included reading Economic Times every day, conceptual clarity and taking one mock test daily (two-three on weekends). This, he mentioned, helped him to work on his mistakes and plan a better strategy for the main exam. He believes that one should not stick to a particular job profile, hence, while preparing for placements she/he should take such exams, in order to expand the domain for getting a good job. Eventually, the session took an interactive form, leading to discussions on various topics like internships in RBI, job profile in the finance industry, individuals with work experience versus freshers, recent acquisition of banks by SBI, NPA and banks, Payment banks' current scenario and future expectations in BFSI industry, financial inclusion objective and current state, farmers' loan waiver move, oil prices, Basel norms, GST and Demonetization, its objectives and its consequences.
Sir's words of wisdom included importance of discipline, setting priorities, perseverance, having patience and being sincere. These are a must if one wants to succeed especially in competitive exams. He also stressed on the fact that students should focus more on knowledge addition rather than income package because knowledge will stay with us even when money won't. "We should work what we like and like what we work", this, according to him is how we can crystallize our learning and use it to the benefit of not only one individual but the whole mankind.
The session was informative as well as motivating for all of us. On the whole, it was an extremely informative experience. The students of SSBF extend their sincere gratitude to Mr. Hardik Mehta for sparing his precious hours and enlightening us.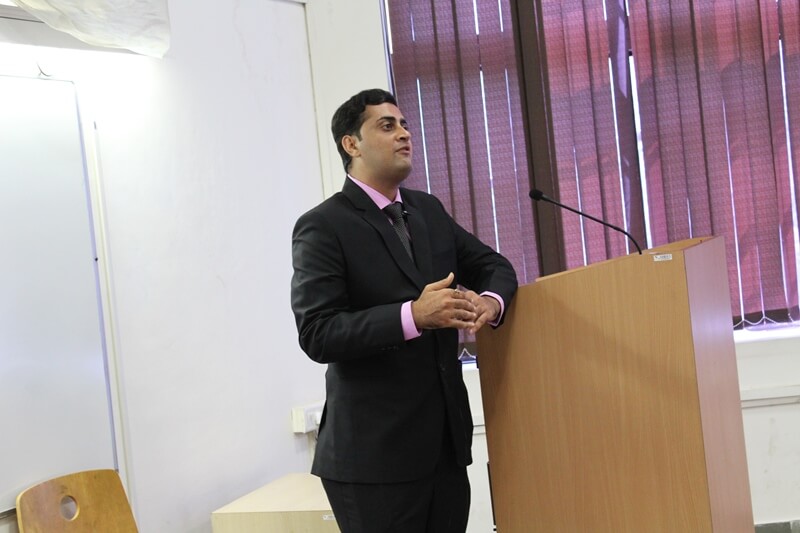 Title/ Topic: Demonetisation & Banking Sector in India
It was a very informative and engrossing interaction on recent move by the Government to demonetize and its impact on the Banking sector. Demonetisation a movement to curb corruption, terrorism as well as crack down on black money in the country. The decision of ban on 500 & 1000 currency notes met with mixed reaction. The Government claimed that demonetization would clean the complete economic system increase the size of the economy & revenue base.The interaction focused on the key aspects of how its going to change banking per se & the economic environment thereof. The students got to understand the nuances & were able to have an insight into this economic phenomenon of "Demonetisation". We are thankful to Mr. Gautam Puntambekar for sparing his valuable time and interacting with our students.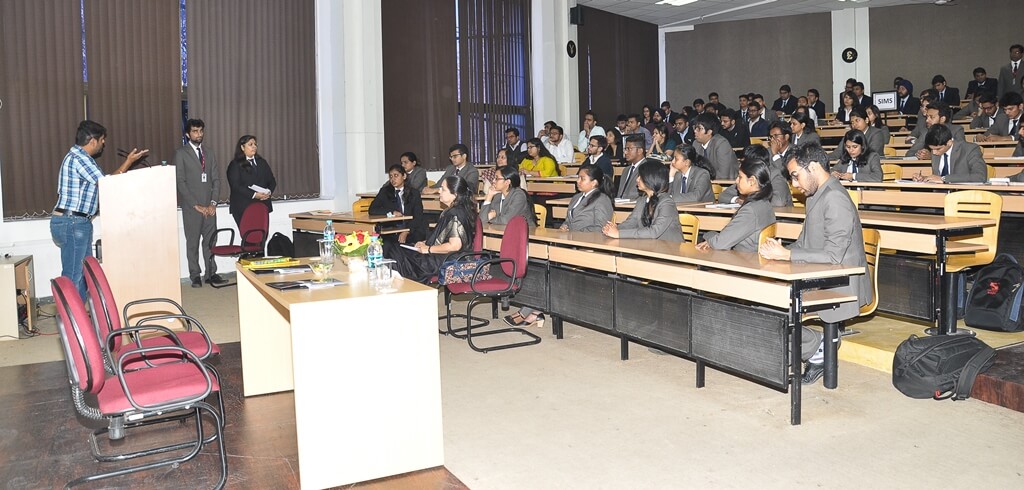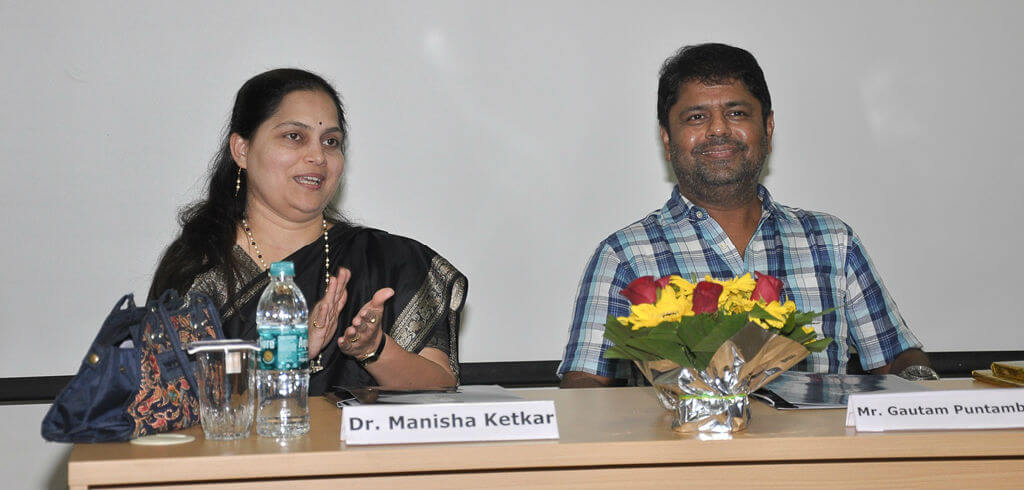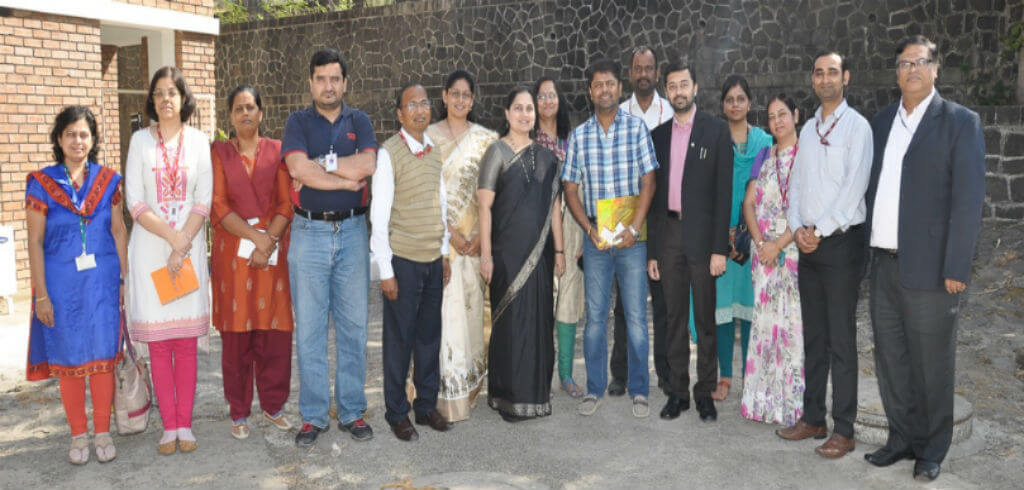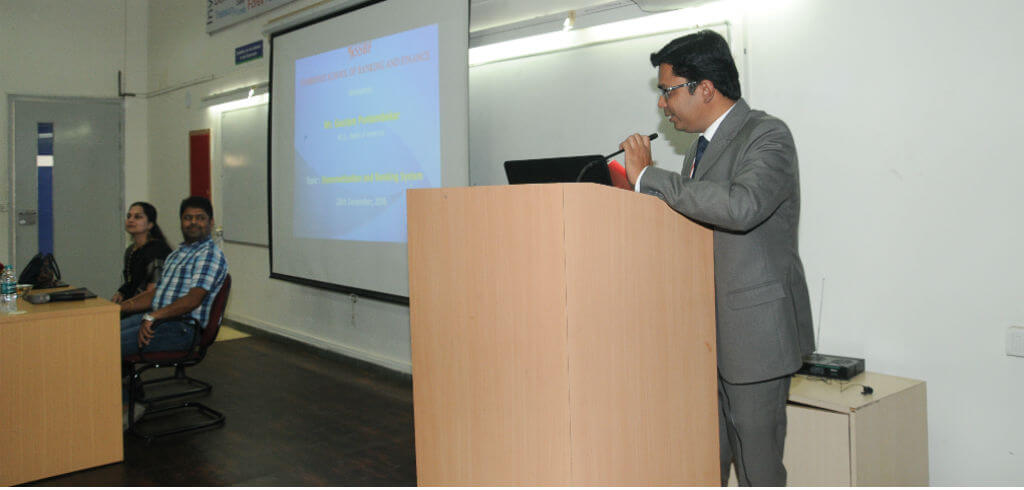 The Edelweiss Group is one of India's leading diversified financial services company providing a broad range of financial products and services to a substantial and diversified client base that includes corporations, institutions and individuals. They are dedicated to building long term relationships with clients and their approach is to understand the financial needs of customers and recommend investment options in a simple manner.
In December 2016, Edelweiss conducted a Financial Learning Seminar at SSBF. It was a skill enhancement seminar on Stock investing, Financial Planning and Wealth Management. It was activity based learning session which made students realise the importance of recognizing their risk appetite. The focus should not only be on the goals but also on the risks involved in achieving those goals and the level of risk one can take.
By the end, the take away of the session was to invest sensibly and enjoy its benefits and to achieve this one should focus on the below points:
Start early
Know the risk involved
Know your ability to take risk
Select the right investment instrument
Give time for your funds to grow
Review your portfolio every quarter or 6 months
Along with this, they also gave the students tips for selecting the most suitable financial instrument:
Nature of the need – your basic purpose for investment
Time horizon- locking period involved
Rate of return that you can earn
Liquidity of the product
Tax benefits attached to it The seminar was extremely interactive and filled with learnings. It left the students enriched for life time.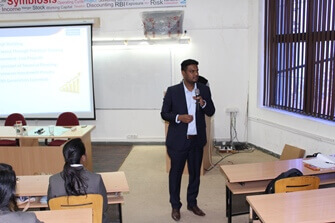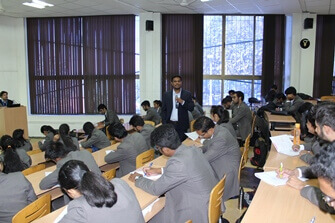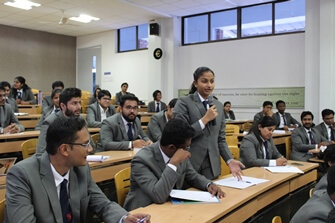 Honorary Fellow, Macquarie University, Applied Finance Centre Dr. Patrick McConnell, having a varied experience of more than 30 years in the field of finance, working with banks and other financial institutions in the U.S., Europe and Australia, gave us an insight into the reasons of 'Why strategies fail?'. By taking up various case studies on the big shots of the financial world like Citibank and JP Morgan he taught us how risk plays an integral role in determining the success of the strategy followed by a company. In the current economic scenario which is dominated by dynamism factoring in the risk while making various decisions related to the organization becomes integral.' There were various questions put up by the students on how to handle the risk faced by the firms, which led to a healthy discussion on contemporary topics. The lecture was attended by students and faculty from SIBM, Pune, SIMS, Khadki, Pune. Hosted by SSBF faculty and students.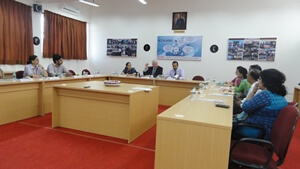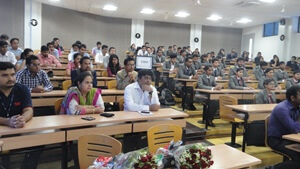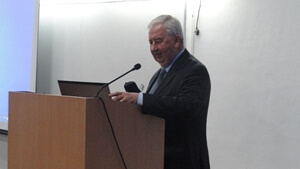 We the students at SSBF had the privilege to interact with Mr. Prateek Tiwari, Assistant Vice-President & Cluster Head at HDFC AMC regarding "Financial Market and Economy". He started off with discussing the GDP growth and its factors and interestingly drew our attention towards how India's economy is consumer driven and not investment driven. He then educated the class regarding the different Asset Classes and its importance for Wealth generation.
He cautioned us about the disruption that is coming up in various fields due to technology advancement and supported his point with examples of Robotics in banking and Tesla's latest launch. He also explicated the opportunities available in the future.
He concluded the session by motivating us to keep updating ourselves with the changes in the field of Finance and Economics and introduced the concept of "Mental Accounting".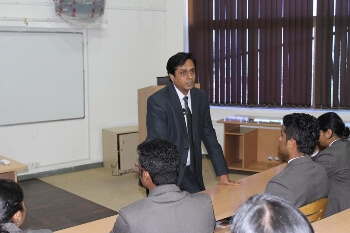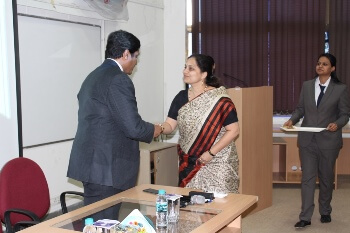 On 16th November, 2016 the 2016-18 batch of Symbiosis School of Banking and Finance had an opportunity to interact with Professor Kevin Jameson – Executive Dean, Faculty of Business and Economics, Macquarie University, along with Professor Philomena Leung - Associate Dean, Ms. Deidre Anderson -Deputy Vice-Chancellor (Students) and Registrar, Ms. Zarana Shah (Country Manager, India) and Mr. Abizer Merchant - Director (South Asia & The Middle East).
Prof. Jameson started the day's session by speaking on "Future of the Finance Industry - 10 tips for aspiring finance professionals". He began by introducing the group to the current picture of the finance industry covering the opportunities available as professionals of the Banking Financial Services and Insurance sector and possible future scenarios. He laid stress on describing the evolution of the BFSI industry over time, to what it is today and what it is expected to be in the future. The session gave the young, bright minds the much needed clarity. Mr. Jameson threw light on how, as young professionals of tomorrow, to be well equipped to deal with the changes in the time to come. He also spoke about how technology has evolved to be of vital support in this promising sector and how it will keep evolving. The interaction concluded with a discussion session giving students the opportunity to speak with the guest lecturer for further clarity. The guests also shed some light on the opportunities available at Macquarie University and in different universities across different countries as exchange students and as full time students.
The knowledge shared on and briefing of the domestic and global financial industry left the students motivated and enlightened with a deeper insight on the varies roles and careers that await for them in the months to come.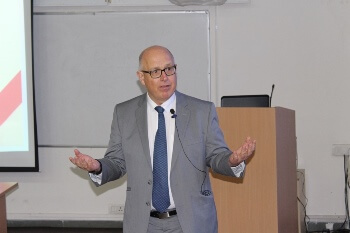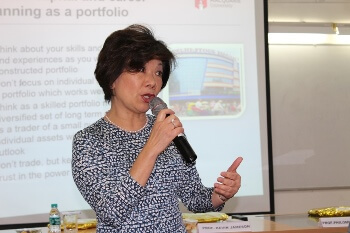 September 2016 : Guest Lecture By Punit Shah On 3rd Sept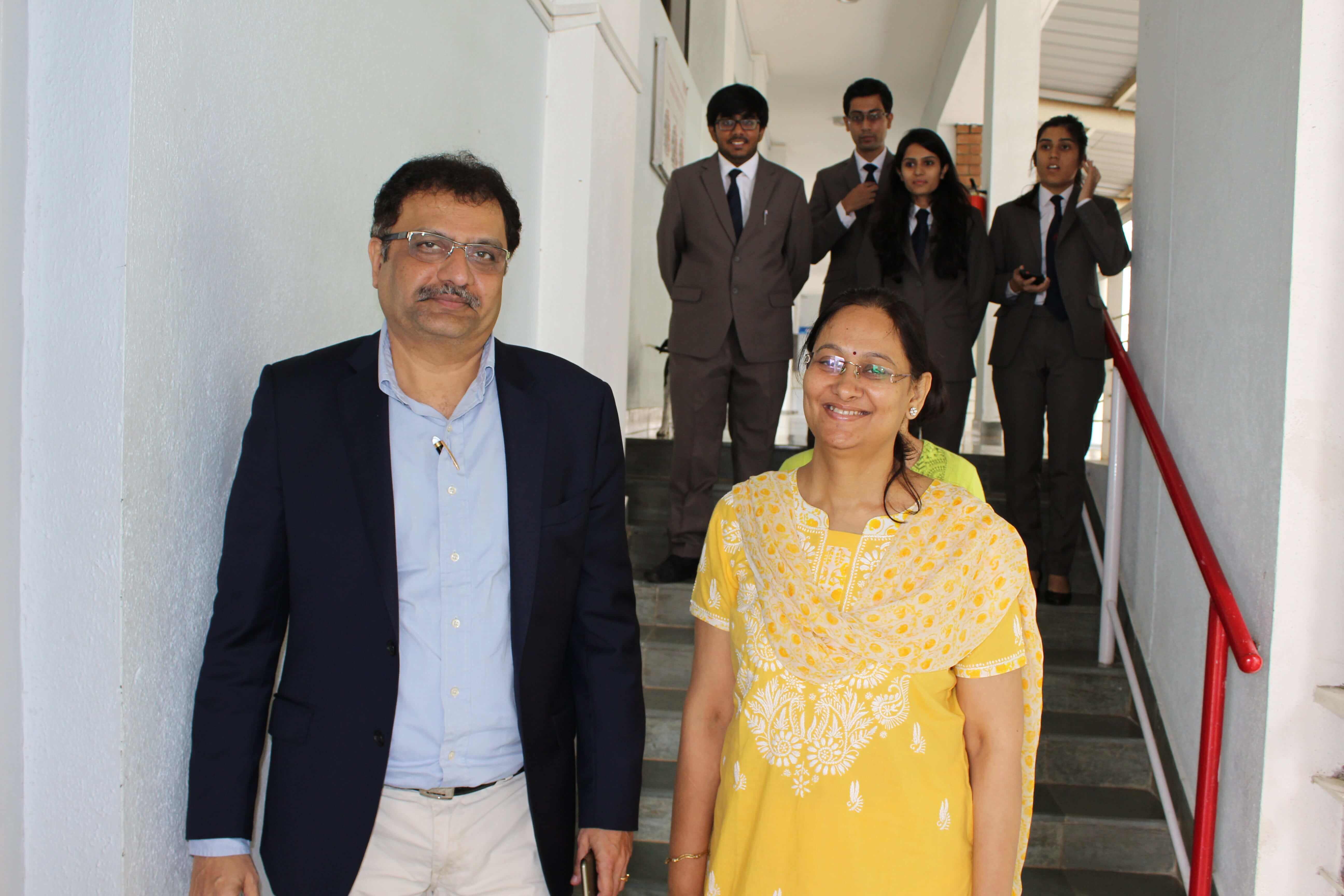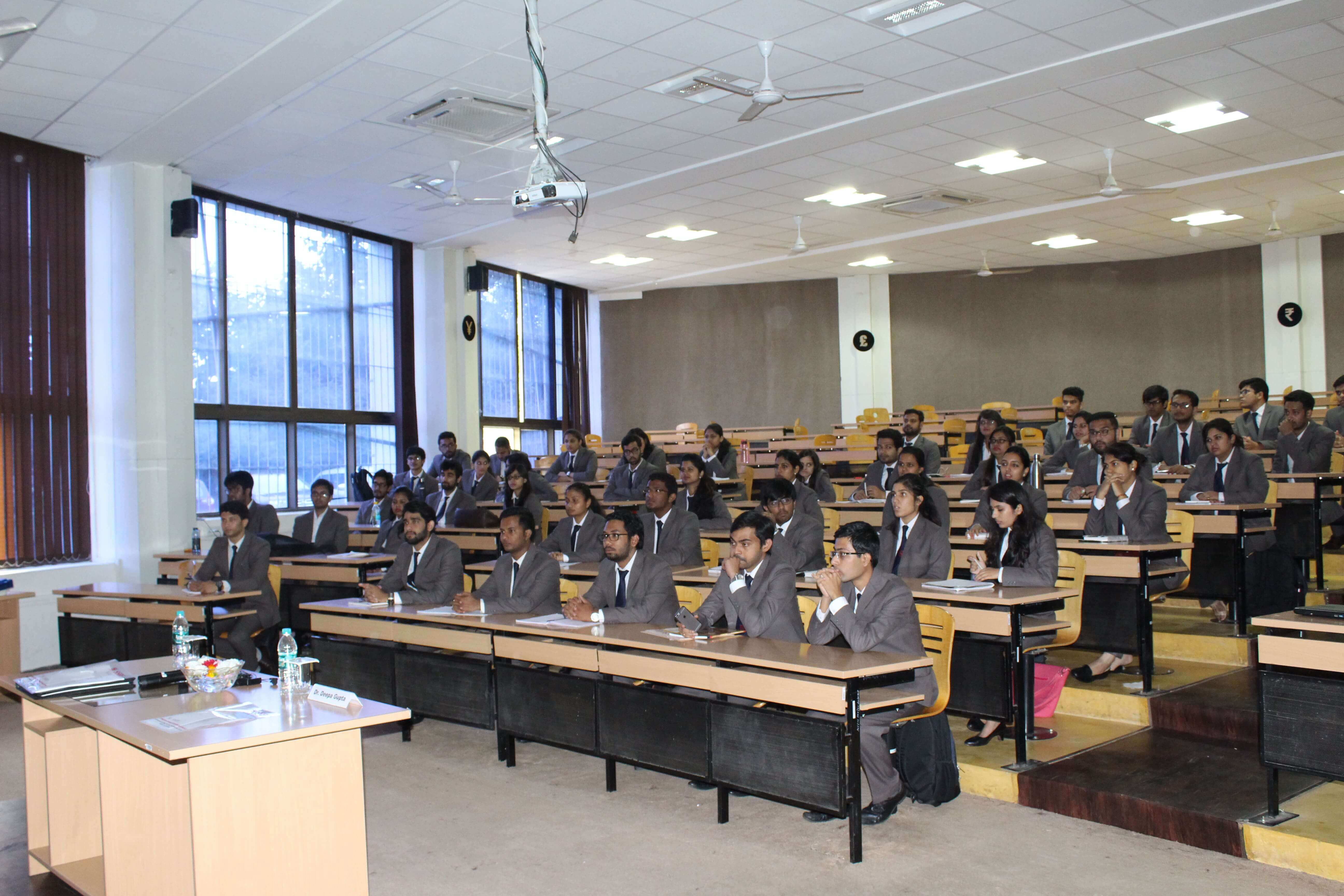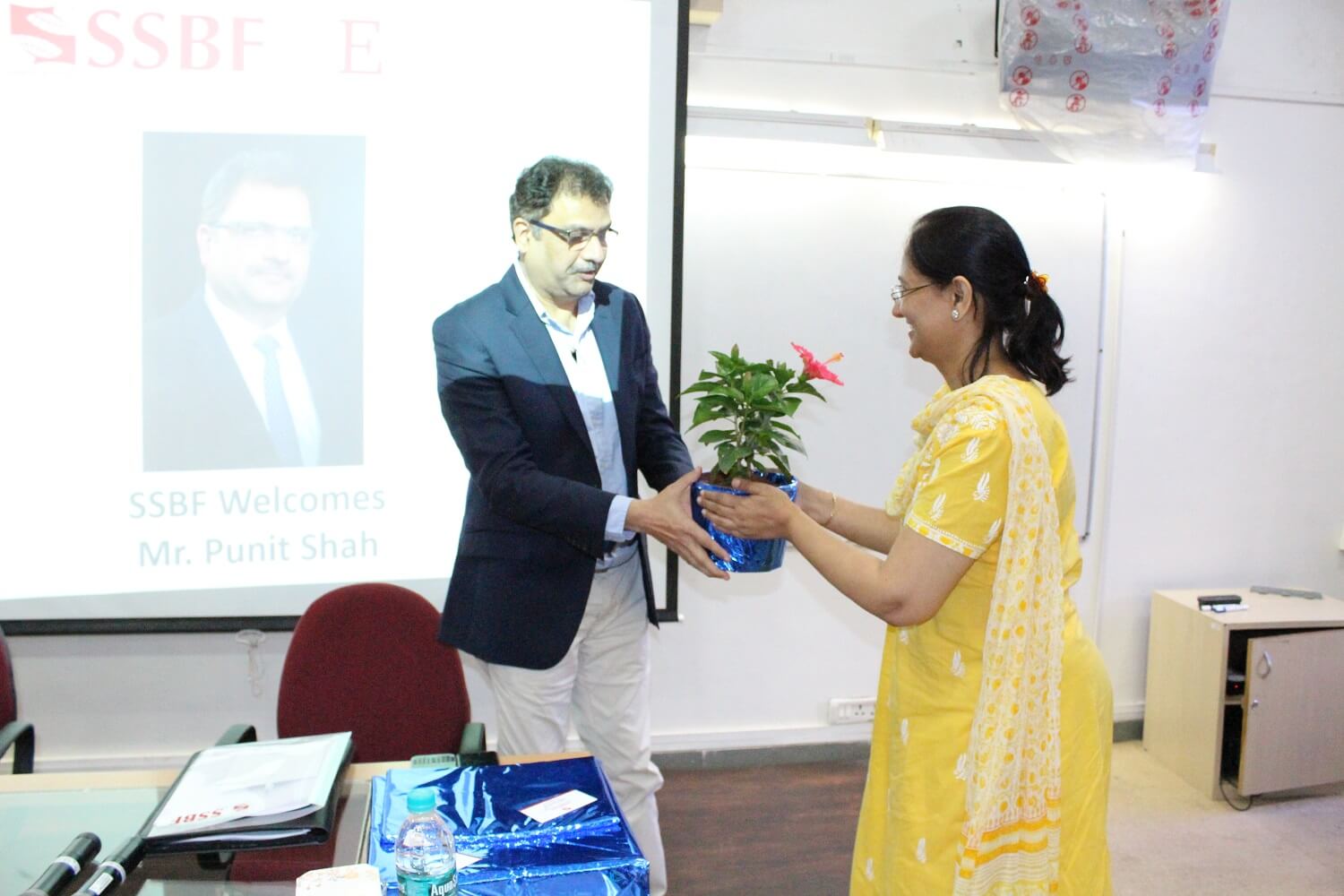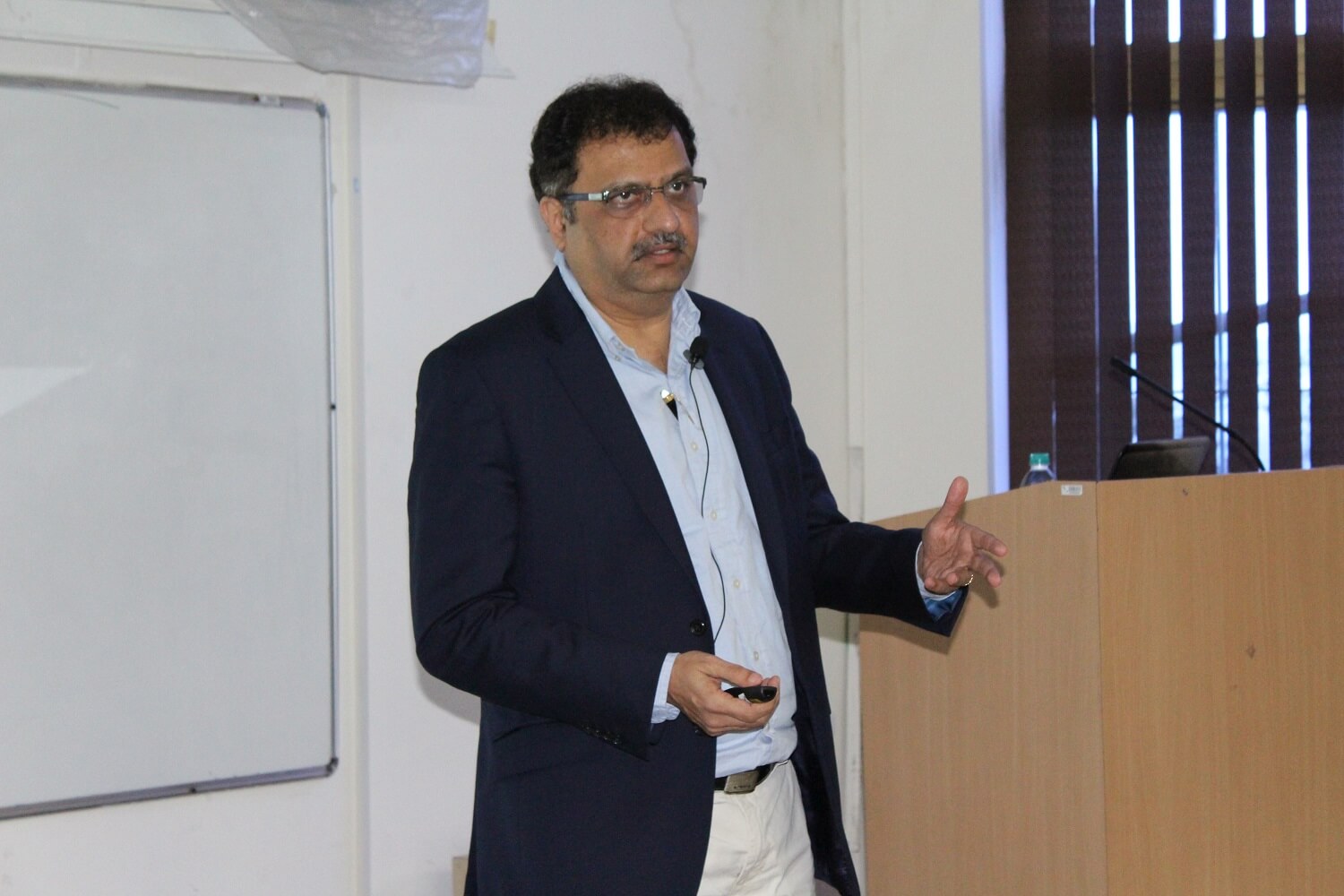 The 2016-17 academic year started off on a bright note with the young future bankers from SSBF having the privilege to be addressed by a very distinguished lady, Ms. Sonia Gandhi, who has served as the Vice president at J P Morgan and the Director at BNP Paribas, who presently is an active volunteer with Indian Association of Investment Professionals, CFA India Society to promote the highest standards of ethics, and professional excellence in the Investment Industry, represent the society on CFA Institute's global 'Society Brand Council. The topic for discussion was "Ethics in Investment Management/ Financial Markets".
The talk opened with the concept of good judgement by taking us through a brief history of the various crises and bubbles of the financial system such as the Tulip Speculation of 1633, the Railroad Boom of 1860 and Panic of 1873 and the Bull Market run-up of 1920.
She further drew on scandals involving VW, Mitsubishi and Suzuki which have rocked the automobile industry of late; emphasizing the need to be ethically conscious and vigilant. Various issues common to the financial crises were pointed out, especially the convenient tendency of suiting the condition of borderline legality. Quite truly, she pointed out how we seldom ask the question of whether an action is unethical as long as the action it is not illegal.
Ms. Gandhi proceeded next to the fundamental ethical principles. With the detailed example of the very prominent case of 'Insider Trading' perpetrated by Rajat Gupta at Goldman Sachs, she highlighted the need for enhanced ethical mindfulness and the importance of reasonable care and prudent judgement in our lives. She next spoke of Situational v/s Dispositional Influences with reference to the stirring examples of young and ambitious investment banking professionals Tom Hayes and Kweku Adoboli who had tried to work the system and ended up being on the wrong side of the law. She emphasized on the fiduciary duty to work for the benefit of the clients; warning us at the same time to perceive change correctly and to manage conflict of interest in the minefield of our professional lives and careers and full and fair disclosure should be the order of the day. Being in the BFSI sector, one should bear in mind the principles of confidentiality and due diligence.
It was a very insightful and inspiring talk by Ms. Gandhi which had the whole audience captivated. The interaction helped many to do soul searching and is sure to leave a positive and long standing impact on the minds and judgements of the students. The student fraternity of SSBF is highly gratified by the experience and whole heartedly thanks Ms. Gandhi for her time and effort.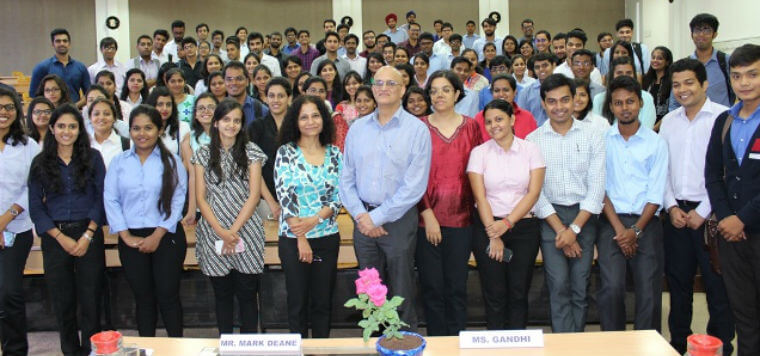 The event commenced with the welcome of the chief guest by the student comparers Simon and Nikita. The guest students for the event were SIBM Finance students.
The Principal Director of Symbiosis , Dr. Vidya Yeravdekar delivered the welcome address. She spoke about what colleges like SSBF can give students beyond classrooms and to facilitate the same, stalwarts from the industry like Mr. Sanjiv Bajaj are called to grace important occasions like CEO interactions and Q&A sessions.
The chief guest was introduced by Ms. Nikita. The guest Mr.Sanjiv Bajaj addressed and enlightened the gathering. He commenced his speech by talking a bit about education at Harvard, back in 1995, wherein he stated that some of the finest people in the industry back then were the oldest. Technology was only for the geeks. Changing times have brought the youth to head important positions in any company. Access to capital played an important role back then. Companies now are not following the traditional norm of business. He received the best CFO award in 2005. Mr. Bajaj highlighted the importance of ambition and dreams stating that, "Dream and money will find you."
Mr. Bajaj shared some important life lessons which were:
It's okay to be stupid-Ask questions, build a very strong foundation of basic knowledge
Failure is the only path to stupendous success- Mr. Bajaj spoke about the time when Bajaj Finserv was founded in 2007 and how the company sailed through tough times to become one of India's leading companies.
Innovation only comes through thinking different- Bajaj Finserv started focusing on their insurance business by concentrating on top 30-40 cities. This was done through their Joint Venture with Allianz. In the first year of the company, only 30000 consumer durable loans were given among banks which has grown to 350000 loans p.m, present day.
Be passionate-Referring to passion for one's aims, Mr. Bajaj said that building a business is like running a marathon. Growth in the last 7 years is driven by the top management; every successful person believes in the impossible.
Mr. Bajaj also focused on the importance of networking for MBA students and the importance of long lasting friendships. He mentioned that the Financial Services are growing up to 2-3% p.a. Investment in financial technology companies in the country is important. August is a significant time for business. He stressed that the finance is simple and how new emerging companies can leapfrog and adopt new technology more easily than the established ones.
Some of the questions that were discussed as a part of the Q&A round were, the next step for Bajaj in innovation, focus of e-commerce companies to attract customers, what private insurers should do to increase penetration, difference in the style of management of Rahul Bajaj and Sanjiv Bajaj, how did Bajaj react when they were not issued the banking licence by RBI, how can finance be taken to the common man etc. The event ended with the Director of SSBF Dr. Manisha Ketkar delivering the vote of thanks. The event was a grand success and very fruitful which left the students of SSBF and fellow attendees of SIBM finance with greater confidence to pursue their goals.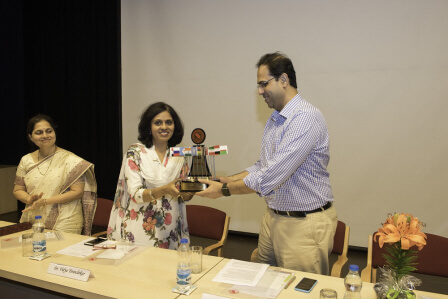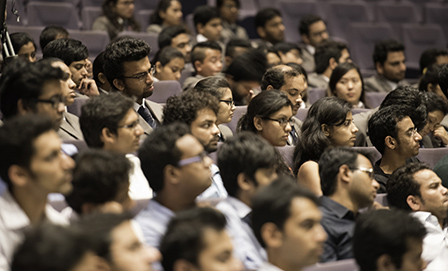 In order to provide more insight into the field of stock market functioning, our college arranged for a guest lecture by inviting Mr. Soumya Padhi, Head of Prop and Retail Desk, Bombay Stock (BSE) for an interaction with our students on 19 September, 2015.
The session was kick started with an introduction of Mr. Soumya Padhi. Mr. Padhi spared a couple of minutes for a quick run through the profile preferences of the first year students which enabled him to understand the batch composition. There were a number of basic questions in the beginning that Mr. Padhi put across and dealt with; "Why do you think that anyone is going to give you one's hard earned money to manage in the first place?", "How would the credit and the risk analysts of tomorrow be well equipped unless they had the prior exposure of safeguarding their own investments by trading in the stock market?", "As a fund manager whose funds is one going to manage?".
Throughout the lecture, talked about the skills, competence, confidence and flexibility requirements related to various job profiles in the BFSI sector in order to enable the students gain more clarity. The profiles he covered were of wealth manager, fund manager, relationship manager, venture capitalist, credit analyst, risk analyst/ manager, business analyst and sales and marketing executive. He enlightened the students with simple but effective techniques to smoothly sail through job interviews. Besides the above, Mr. Padhi also gave some entrepreneurial ideas at the end of the session to instill a thought provoking note in the young minds.
Mr. Padhi ended the session with a quote, "Life is all about learning, comes lesson by lesson and in the end, an experience" and an assurance of a guided BSE tour for the students of Symbiosis School of Banking and Finance. In short, this discussion was very fruitful and helped the students to gain a more clear perspective regarding the scope and their standing in the BFSI industry.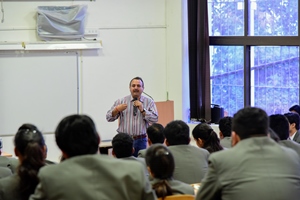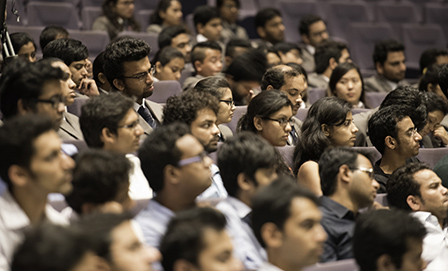 In order to reinforce academic knowledge with practical insights in the learners, SSBF invited Mr. Sameer Gokhale of Reliance Capital on 8th of August 2015 to enlighten the students and future investment bankers, on the merits of investing money intelligently especially through Mutual Funds investments. Customized Financial Planning pans our finances at different points of time. Hence, Mr. Gokhale stated that to fulfill the desires and the needs at various stages of life earnings, consumption, savings and inflation must be taken into account.
He then explained the Investment menu card, specifying the returns on various asset classes and illustrating that while the return on a Fixed Deposit ranges between 5.7 – 8.5% it is linked to the market conditions in case of Mutual funds. He also cautioned the audience to be careful while investing in a financial instrument and advised them to invest only if need be. Then, he highlighted the important factors like Liquidity, Convenience, Post-Tax returns and Inflation that must be considered while making an investment. He pointed out that the returns on Mutual Fund investments are made tax free after 1 year, and are compounded annually.
Mr. Gokhale demonstrated the power of Compound interest and quoted Albert Einstein: 'Compound interest is the eighth wonder of the world. He who understands it, earns it ... he who doesn't ... pays it'.
The students gained in-depth knowledge on Mutual Fund investments and were encouraged to get into the habit of saving and Investing as it will aid in shaping our future.
In times when talks on the need for equality between men and women are gaining popularity, the topic of Gender sensitivity marks its prominence. Being a college focused towards holistic development of its students, SSBF took pleasure in inviting two eminent women academicians Ms. Renuka Mukadam, a Consultant at SATHI-CEHAT, Pune and Prof. Surya, a Faculty of Symbiosis Law College, Pune for a workshop on "Gender Sensitization" on the 6th of August 2015 from 3pm to 5pm.
Ms. Renuka Mukadam focused on the importance and need for gender sensitization and the concepts of sex and gender. A small activity on gender reversal was conducted wherein the students were asked to express their views while assuming themselves as one from the other sex. The other areas that were touched upon were the discrimination between male and female sexes in the society, the concepts of patriarchy, masculinity and femininity, the oppression of women in media and college campuses and also what responsible colleges like ours can do to tackle these. Besides the above, Gender stereotyping and its ill-effects were also highlighted through videos.
Prof. Surya made us aware of the various laws in place to safeguard the interests of women in campuses and at workplaces. Some of the prime topics covered were constitutional provisions, legal frameworks, women specific legislations, legislative safeguards, remedies available to women in difficult situations and how men can show their support etc.
On the whole, the workshop left the students of SSBF enriched and sensitized to the call for equality between the sexes and the need to eliminate stereotypes against women in all walks of life.
The Stalwarts From The BFSI Sector On SSBF Campus

Mr.Sanjiv Bajaj
MD Bajaj Finserv Ltd.
MD Bajaj Holdings and Investment Ltd.
Mrs. Shikha Sharma
MD and CEO
Axis Bank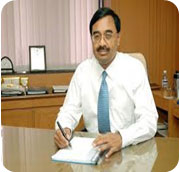 Mr. S Vishwanathan
MD
State Bank of India
Mr. C V Rajendran
Chairman and MD
Andhra Bank
Mr. Hemant Contractor
MD and Group Executive
State Bank of India
Mr. Anand Sinha
Ex Deputy Governor
Reserve Bank of India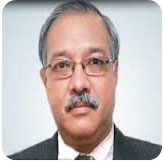 Mr. V G Kannan
MD, Group Executive of Associate & Subsidiaries, Director and Member of Central Management Committee
State Bank of India